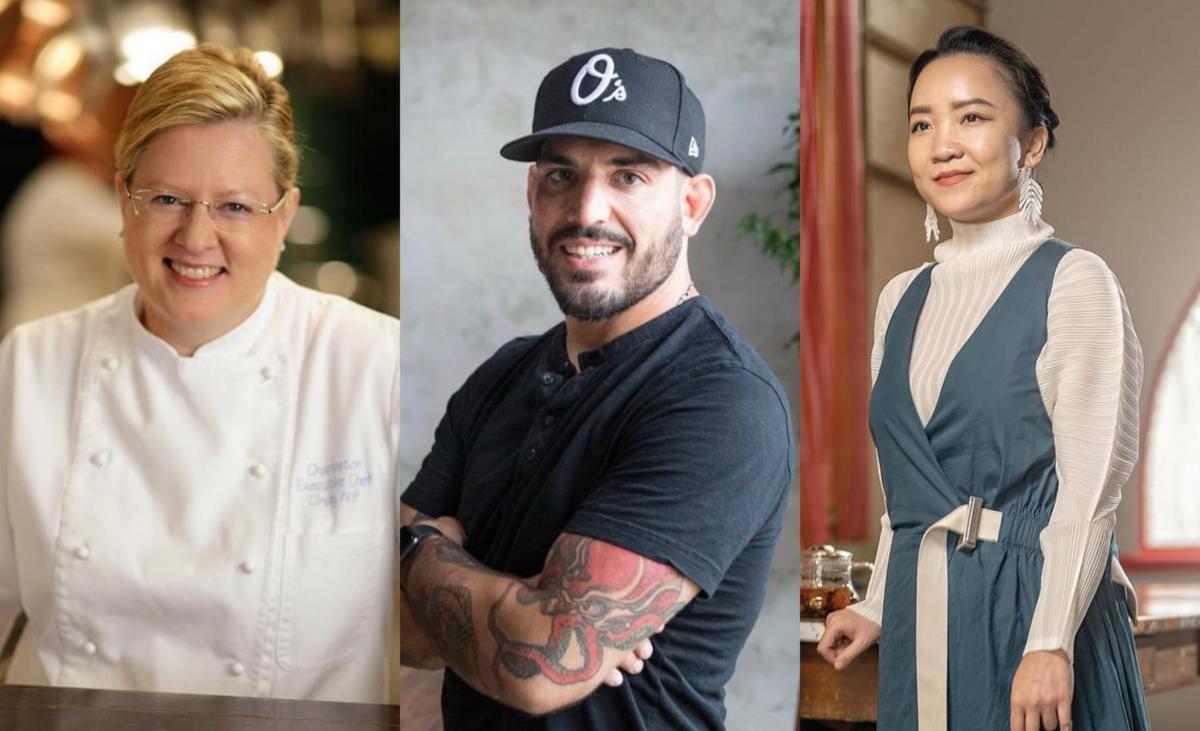 —Foreman Wolf; Clavel via Facebook; Christopher Myers
After a two-year hiatus, the prestigious James Beard Foundation Awards—known as the Oscars of the national food world—have returned with a renewed method for how its nominees are narrowed down. In August 2020, in an effort to create a "more inclusive and transparent process," the foundation announced that it would take a break from hosting its annual ceremony to conduct an audit of its policies. 
"We know that seismic changes continue to take place within the food and media industries," Dawn Padmore, the foundation's Vice President of Awards, said in a statement at the time. "The James Beard Foundation's programs exist to serve and bolster people at different points in their careers. These initial changes give us an opportunity to honor, recognize, and celebrate the rich diversity of the industry."
Now, with a new code of ethics and procedures geared toward removing systemic biases, the organization has announced its list of semifinalists for 2022. And this year's noms mark a new chapter for Baltimore contenders—with two local names making the list for the first time, as well as a different award category achieved by our beloved chef Cindy Wolf of Charleston. 
The chef and co-owner of Foreman Wolf Restaurant Group—a 13-time James Beard semifinalist in the Best Chef: Mid-Atlantic category—has been named among this year's semifinalists for Outstanding Chef. In our 2015 profile of Wolf, she quipped that she's the "Susan Lucci" of the James Beard Awards, having attended many ceremonies but never won the medal. We're hopeful her luck might change this year, and that she can claim a title that would earn her well-deserved praise spanning beyond the Mid-Atlantic. 
"I am so excited and honored," Wolf says, adding thanks to her business partner Tony Foreman, chef du cuisine of 15 years Everardo Florentino, and all of the Foreman Wolf staff—some of whom have been with the restaurant group since it began in 1997. "[Tony and I] have both worked so hard for all these years, and tried to do our very best for this city that Tony grew up in."
Though Wolf has moved to another category this year, the organization still gave love to Charm City on the Best Chef: Mid-Atlantic list. Chef Carlos Raba, of taqueria and mezcaleria Clavel in Remington, was nominated for his first solo James Beard Award (Clavel was a semifinalist for Outstanding Bar Program in 2019 and 2020) among other regional chefs like Cristina Martinez of South Philly Barbacoa in Philadelphia and Yuan Tang of Rooster & Owl in Washington, D.C. 
Raba was on one of Clavel's routine research trips to Oaxaca, Mexico with his team when he heard the news Wednesday. Although he's nominated as a chef, it's clear that he—like Wolf—attributes the praise to his Clavel family. "It's a blessing that we can [be here together] and enjoy the news," he tells us. When asked how he was feeling when he heard: "Proud," he sums up, "for what we are doing."

The team at NiHao, the authentic Chinese restaurant that took the local scene by storm when it opened in July 2020, also has reason to be proud, after receiving a nomination for Best New Restaurant. The James Beard recognition comes on the heels of NiHao ranking No. four on Esquire's Best New Restaurants list in 2020.

"We're honored and pleasantly surprised," says owner Lydia Chang—whose father, renowned restaurateur Peter Chang, was nominated in the Outstanding Chef category with Wolf. "We want to thank Baltimore City for the love and support over the past year and a half."

Finalists will be announced on March 16, and the awards ceremony will take place at the Lyric Opera of Chicago on June 13.
Representing Baltimore on the national stage isn't something that the nominated chefs take lightly. As Wolf sums up: "I love this city, and I'm thankful to be here. I'm very thankful to the James Beard Foundation for this recognition." 
Additional reporting by Jane Marion.