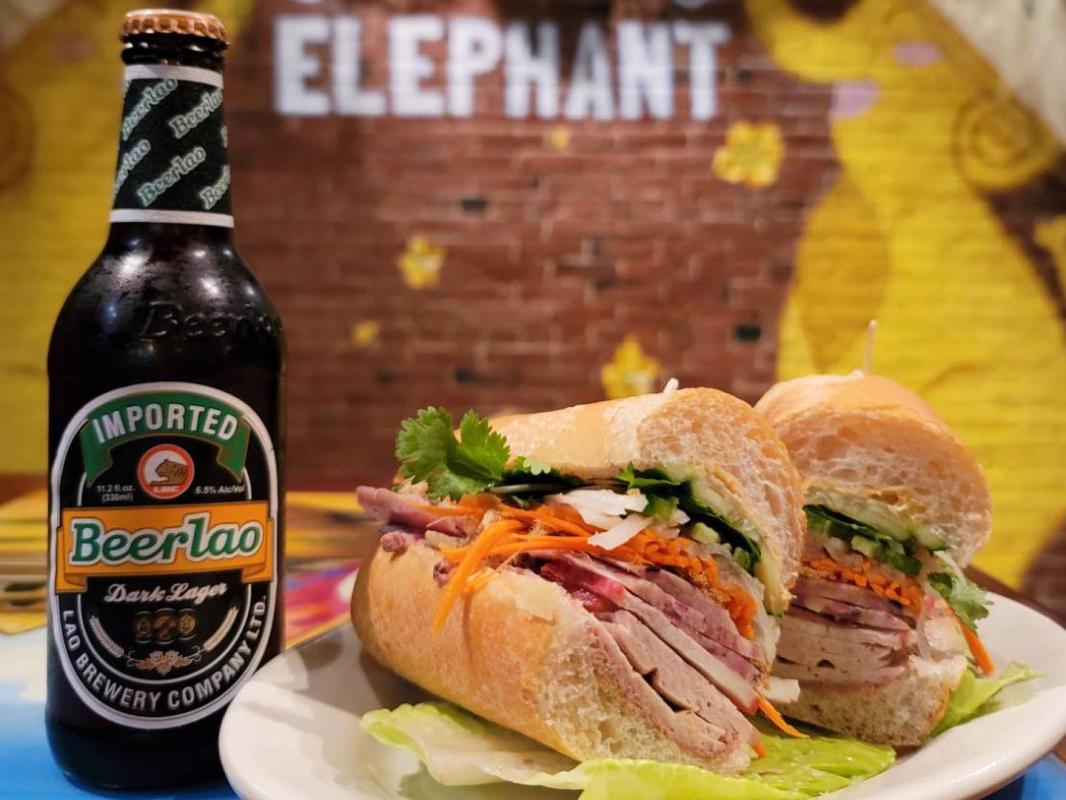 —Courtesy of Charming Elephant
OPEN
Charming Elephant: This new Boston Street spot is bringing the flavors of Laos to Canton. In just a few weeks since its grand opening, Charming Elephant has already captured a following with dishes including a traditional papaya salad (shredded green papaya with house fermented fish sauce and cherry tomatoes), skewered sweet-and-sour meatballs, pork sausage with lemongrass and sticky rice, and a Lao banh mi filled with shredded pork and pickled papaya. Order takeout or delivery via Grubhub and UberEats, or check out the catering menu if you're planning a small feast for Thanksgiving. 
818 Market: For more than two years, Catonsville locals have been patiently awaiting the debut of this gourmet grocer and restaurant on Frederick Road. Earlier this week, co-owners Pat Baldwin and Dan Zakai officially cut the ribbon. The hybrid concept not only features thoughtfully curated bakery, cafe, flower, cheese, produce, butcher, and deli departments, but it also houses its own restaurant, full bar, and bottle shop upstairs. Safety protocols are in place for in-store shopping, or, if you're hoping to stock up on holiday essentials without leaving home, 818 Market is offering Thanksgiving delivery within 10 miles of Frederick Road. 
Bondhouse: Throughout the years, Fells Point locals frequented the building at 701 S. Bond Street for live music at Fletcher's, epic dance battles at The Get Down, and stiff drinks at Sir Duke. Now, owner Bryan Burkert—who also owns The Sound Garden in the neighborhood—is breathing new life into the space yet again. This time, he's exploring an American farmhouse restaurant and cocktail bar. "When the inspiration comes, it's exciting to be able to switch things up and do something new," Burkert told us in 2017. Highlighting rustic woods, flowery wallpaper, and lots of interior greenery, Bondhouse offers "farm-to-harbor" fare that makes use of local ingredients. Dishes to look out for include chicken and dumplings, an ember-roasted beet salad, braised short ribs, and wild-caught fish with lemon and tomato orzo.  
THB Bagelry + Deli Columbia: When Tony Scotto first moved to Maryland from Italy in 2005, he got his start at his family's restaurant, Strapazza, in Columbia. Now, the owner and CEO of THB Bagelry + Deli is returning to those old stomping grounds to unveil THB's fifth location—which officially opens to the public today in the Columbia Crossing shopping center. Featuring 74 seats and custom Italian furniture, the cafe's largest eatery yet will offer the same scratch-made bagels, spreads, sandwiches, and coffees that loyalists have come to know and love in Towson, Timonium, Canton, and Charles Village. But diners can also look out for a few exclusive menu items such as honey-walnut spread, jalapeño cream cheese, and an avocado-mozzarella panini. THB's expansion efforts are expected to continue next year with a new location in Owings Mills. 
NEWS
NiHao Tops Esquire's Best New Restaurants List: Earlier this week, Esquire's food and drinks editor Jeff Gordinier reaffirmed what we already know—NiHao is one to watch. Coming in at No. 4 on the magazine's annual list of the Best New Restaurants in the country, the raved-about Szechuan spot was lauded for its "categorization-defying" food that "pays loving, absurdly delicious tribute to the ways that Chinese cooking is interpreted around the world." Read about the owners' journey to open their Canton restaurant during the pandemic—and learn more about their famous Peking duck and other takeout staples—here.  
True Chesapeake Teams Up With MOM's Organic Market: Just in time for the holidays, the team from True Chesapeake Oyster Co. has partnered with MOM's Organic Market to bring the signature Skinny Dippers and Huckleberries straight from their St. Mary's County farm to stores across the region. Shoppers can pre-order boxes of 12, 25, 50, or 100 oysters by Wednesday for pickup at their local MOM's on Friday or Saturday. The best part? The True Chesapeake team–which includes farmer Patrick Hudson, chef Zack Mills, and shucker Nick Schauman–has posted tons of oyster recipes in an effort to bring a taste of their Hampden restaurant to your table at home. 
EPICUREAN EVENTS 
11/19: Pints + Pies Cajou Tasting at TreeHouse Cafe
Nothing ends a Thanksgiving meal quite like pie and ice cream. Tonight, the chefs at TreeHouse Cafe are offering a chance to stock up. The team will be outside of their Hampden storefront from 5-6:30 p.m. offering samples of their vegan and gluten-free pies paired with local Cajou ice cream. Stop by to pick up an apple crisp, sweet potato pecan pie, or pumpkin cheesecake paired with a pint of Cajou's vegan horchata ice cream. If you can't make it, the cafe is offering a 10-percent discount on online orders throughout the day.
11/21: Kitsch x Fond x Grace Pizza Party
Kitsch, the new breakfast-sandwich haven in Tuscany-Canterbury, is hosting its first culinary crossover this weekend. Not only will the event offer pizza and ice cream from chef Ryan Westover's retro food truck, but it will also serve as a sneak peek at Bond—the after-hours pop-up featuring Korean barbecue sandwiches, bibimbap, and other snacks that is expected to debut inside the cafe next month. Swing by to chow down on classic margherita, chili-braised brisket, and pepperoni pies alongside orders of veggies (think swiss chard kimchi and butternut squash Jorim) off of the Bond menu. 
SHUT
Baby's on Fire Fells Point: Sadly, this cozy coffee shop's days are numbered. Owners David and Shirlé Koslowski took to social media earlier this month to announce that Baby's on Fire in Fells Point, which is attached to The Sound Garden, would be closing its doors on Dec. 30. "Unfortunately, the pandemic kicked our ass at this location before we were able to really dig into the Fells community," the owners candidly shared. They went on to thank their customers, and assured that their flagship record store-cafe in Mt. Vernon would (thankfully) remain open.