Review: Marta Breathes New Life into Former Salt Tavern in Butcher's Hill
The 62-seat boîte has provided chef Matthew Oetting a place to pursue his passion for taking classic dishes and transforming them with his own sophisticated spin.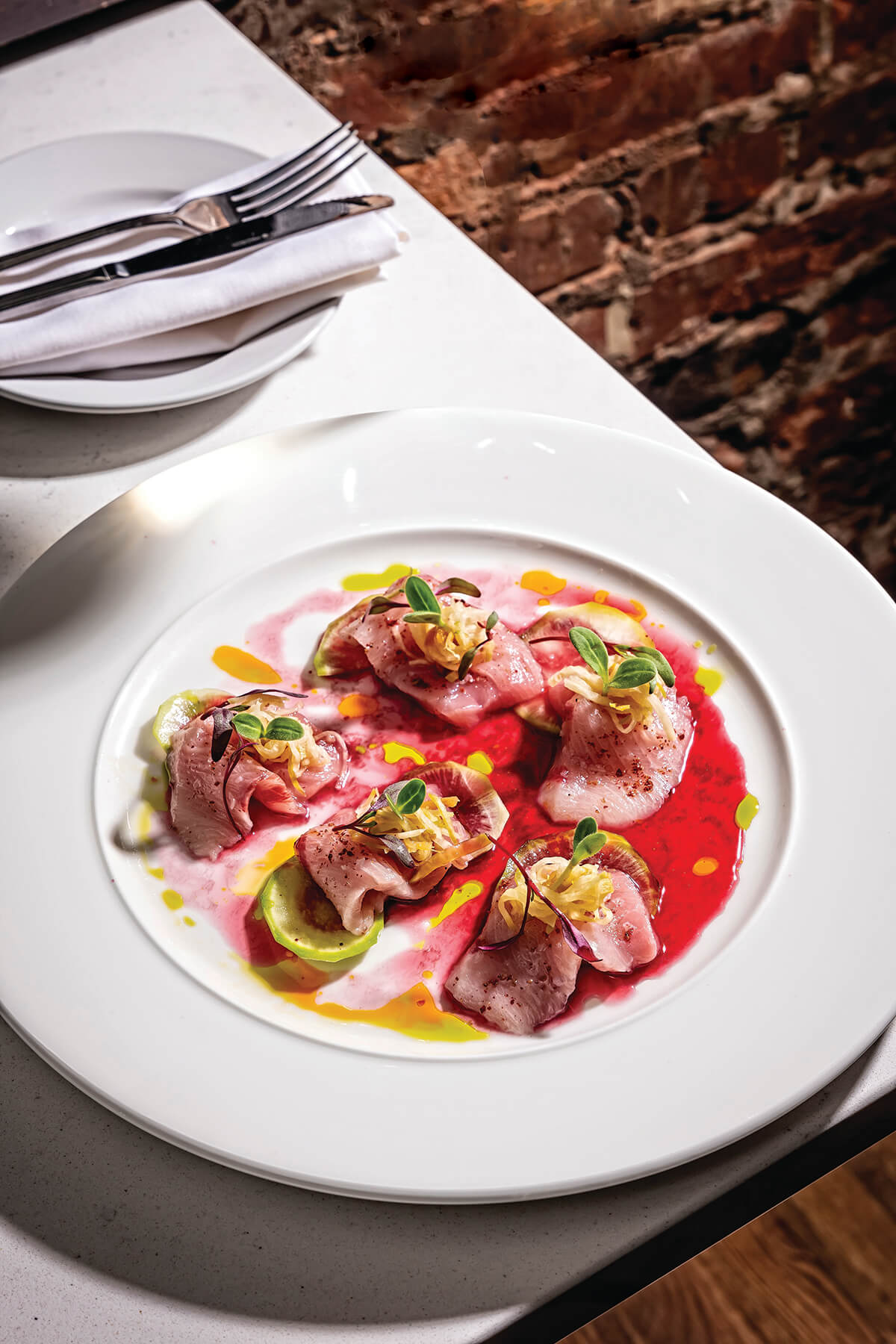 Opening a new restaurant in a once-beloved space can be a tall task—after all, comparisons to the former spot are inevitable. Such could have been the case with chef Matthew Oetting's Marta, a 62-seat boîte set inside the old Salt Tavern, once a neighborhood mainstay with its duck fat fries and Wagyu burgers crowned with foie gras.
But that hasn't happened. In fact, on a late fall night, as patrons poured into the place, the memory of Salt, which closed in 2018, has worked in Marta's favor.
"People have so many great memories of Salt," says Oetting. "The neighborhood was salivating at the idea of something opening back up in the space and being an anchor for that community again—it was a huge help."
Gone are the lime-green globe lights that were the hallmark of Salt. In their place are trendy table lights, a gleaming new bar, and granny-chic, floral wallpaper chosen by Oetting's wife Martha, the restaurant's namesake (translated into Italian to reflect the menu mission).
"Being a chef is hard," says Oetting. "Being a chef's wife is much harder. It was important to me to show her how much I appreciate her support."
After more than two decades in hospitality, Oetting's career has taken him all over the Big Apple, from Danny Meyer's famed Union Square Café to Scarpetta, where he learned the intricate art of pasta-making. Before arriving in Baltimore in 2015 to open Loch Bar as executive chef (and later The Bygone), he ran the back of the house at Stephen Starr's martini bar, The Continental, in Miami. After such varied experiences, the peripatetic chef was ready to be his own boss.
"It was time for me to finally do something of my own," he says.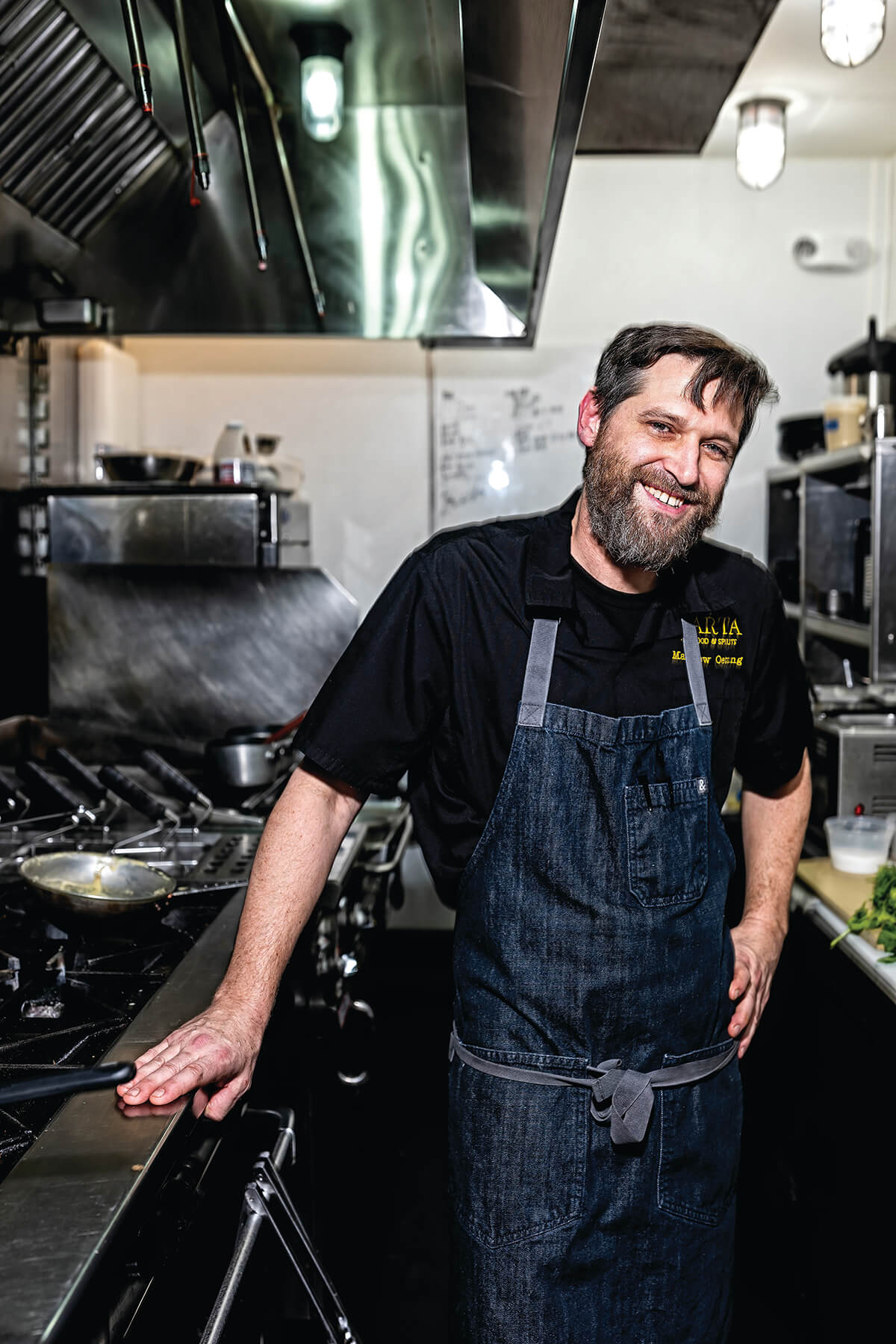 Marta has provided him a place to pursue his passion for taking classic dishes and transforming them with his own sophisticated spin, which includes employing luxury ingredients. To wit: a cacciatore dish substitutes the chicken for lobster and onion dip is jazzed up with caviar.
Beyond the food, Oetting envisioned, in his words, "a neighborhood eatery that has a warm glow even before you walk in. I wanted a place that the community would cherish."
(While it does aim to serve as a neighborhood place, the chef's reliance on luxury, albeit authentic, Italian ingredients can make eating here a pricey proposition.) That said, there are many ways to enjoy a night at Marta.
As you enter the circa-1904 building, turn to the left if you're looking for a space that feels intimate and a world away from the city streets. Go right and snag a barstool or a table in the bar for a more boisterous vibe and a lovely view of the early 20th-century architecture and the twinkle of string lights hung between the rowhouses. Whatever experience you choose, there's something to match the mood.
If you sit at the bar, consider one of five Negronis on offer or pick from an array of apéritifs. Pair your potion with the addictive truffle and Parmesan potato chips or an indulgent piece of grilled ciabatta smeared with ricotta and truffle honey.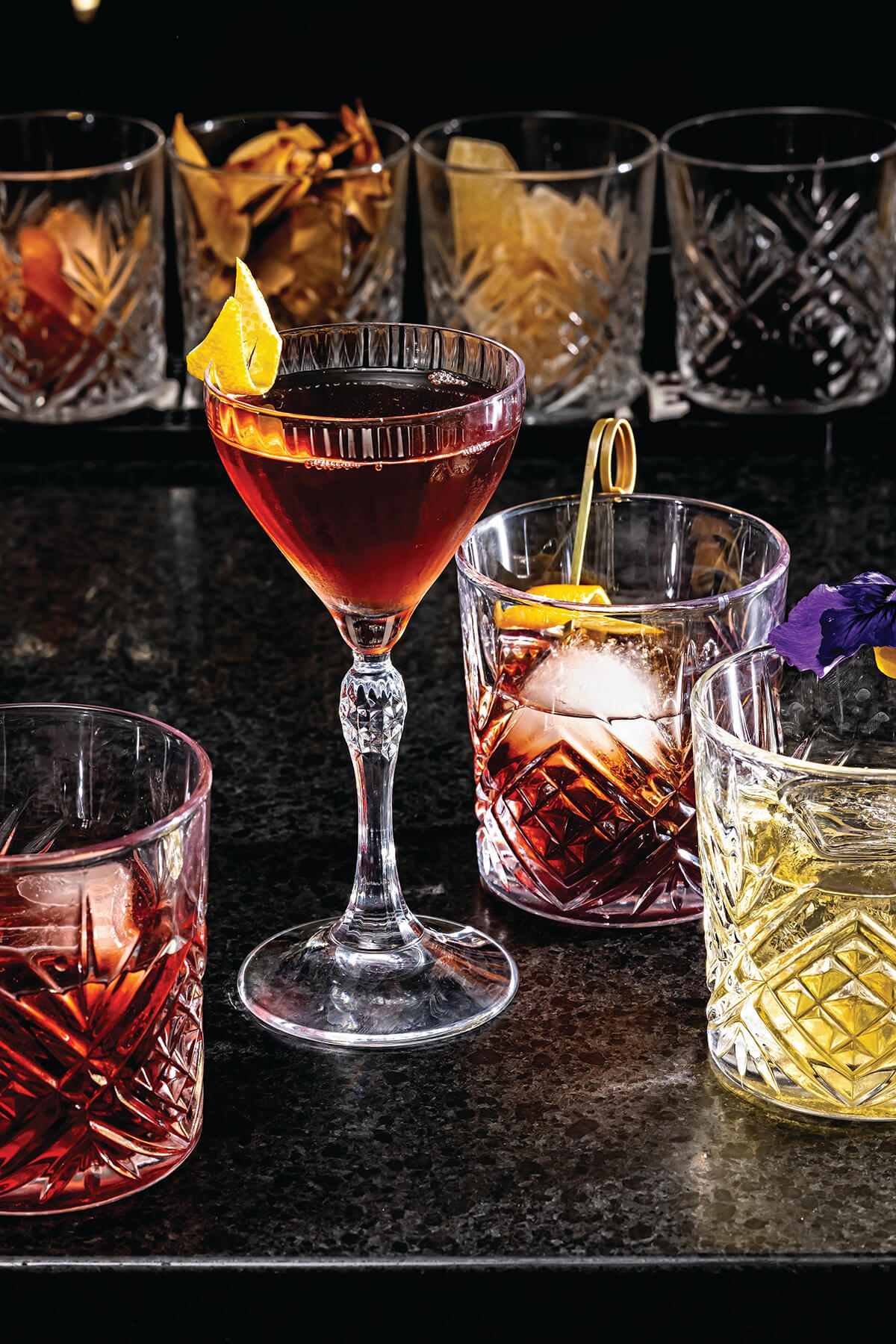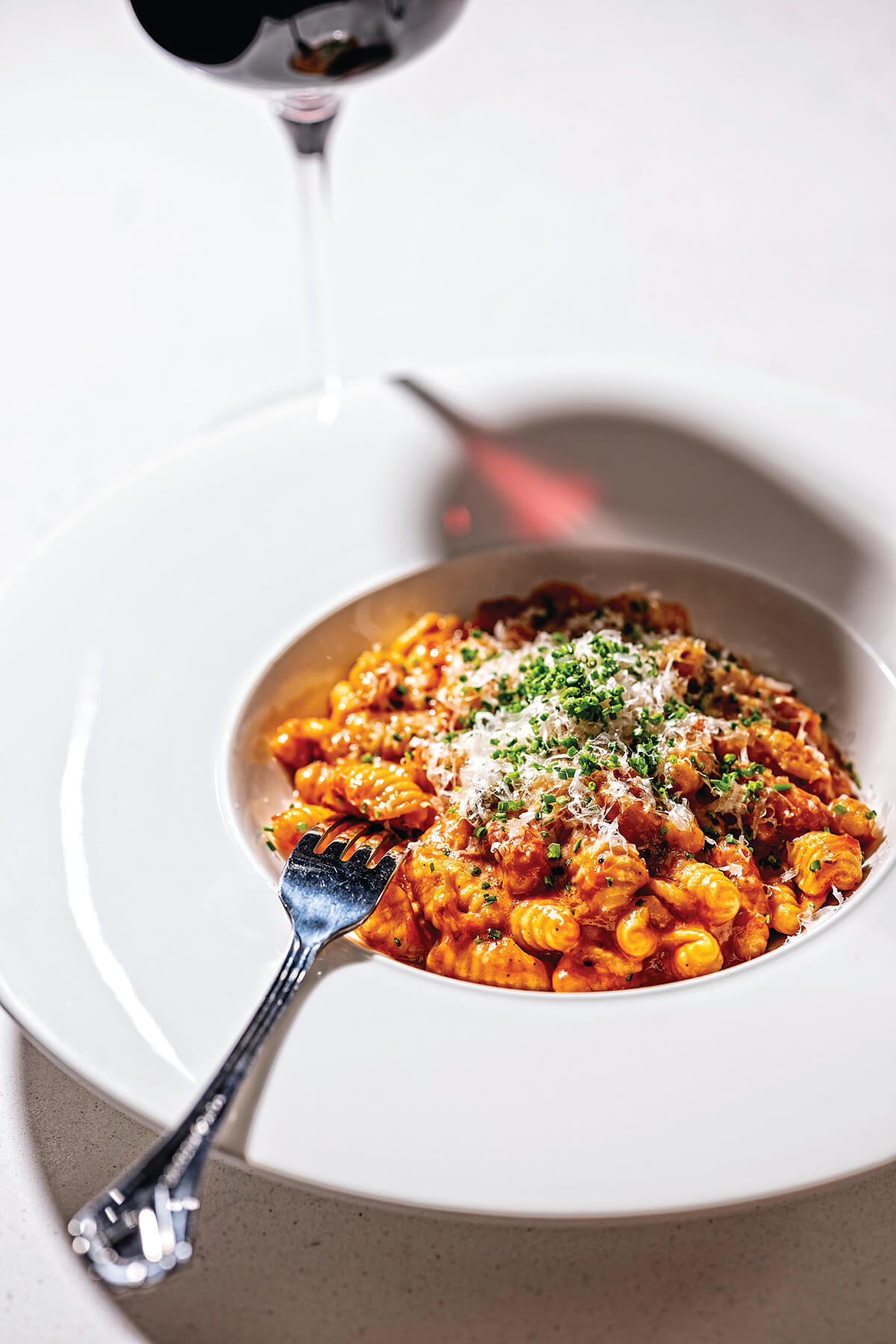 If you go with a group and sit at a table in the bar, make a meal out of shareable starters and crudos. Favorites include the tuna cannoli—a fried shell encrusted in sesame seeds, pistachios, and garlic chips, and stuffed with yellowfin—and the prettily plated yellowtail with its thin pieces of sashimi and slivers of green apple scattered across the plate like a collage and doused with apple-hibiscus sauce.
An array of antipasti, including the chicken wings stacked like a modern sculpture, is also a nice way begin a meal. The wings were coated in a hot-honey glaze, then paired with pickled vegetables as a cooling counterpart. The roasted beet carpaccio drizzled with truffle vinaigrette, topped with whipped goat cheese, shaved fennel, and gooseberries, and capped with crushed hazelnuts was bright and beautiful and a great vegetarian option.
As for entrees, there's an excellent Roseda Farm-sourced skirt steak served with dabs of an herbaceous olive salsa verde (think Italy's version of chimichurri) and a must-order pan-seared scallop piccata dish, bathed in butter sauce and studded with capers and artichoke hearts.
But the real star of the menu is the house-made pasta section. Over several visits, everything we sampled was excellent, including a tangle of carbonara-coated spaghetti entwined with blue crab and miso egg yolk for added umami; the Sardinian-style gnocchi (made from pasta dough not potato) slicked with tangy tomato sauce; and an intensely earthy tagliatelle coated with truffle butter and shaved king trumpet mushrooms.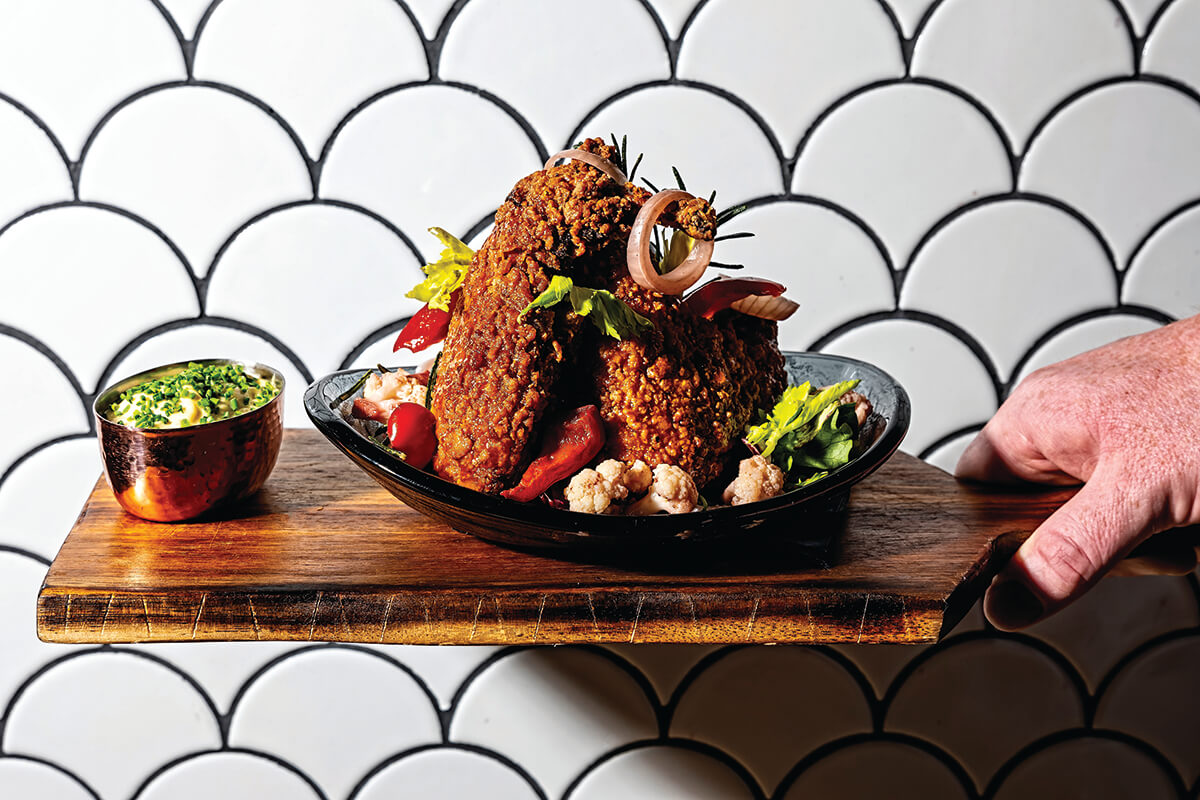 Plating is paramount here and most dishes are flecked with flowers or herbs or a handful of microgreens to add a pop of color and texture. This artistry was not lost on diners, as every dish seemed caught up in the social media klieg lights across various tables.
As the saying goes, when one door closes, another one opens. In a city like Baltimore, with its loyal foodies who tend to fall back on their favorite hangouts, change isn't always welcome. But nearly five years after Salt's closing, Marta seems a worthy successor.
This feels like the beginning of a beautiful new relationship.