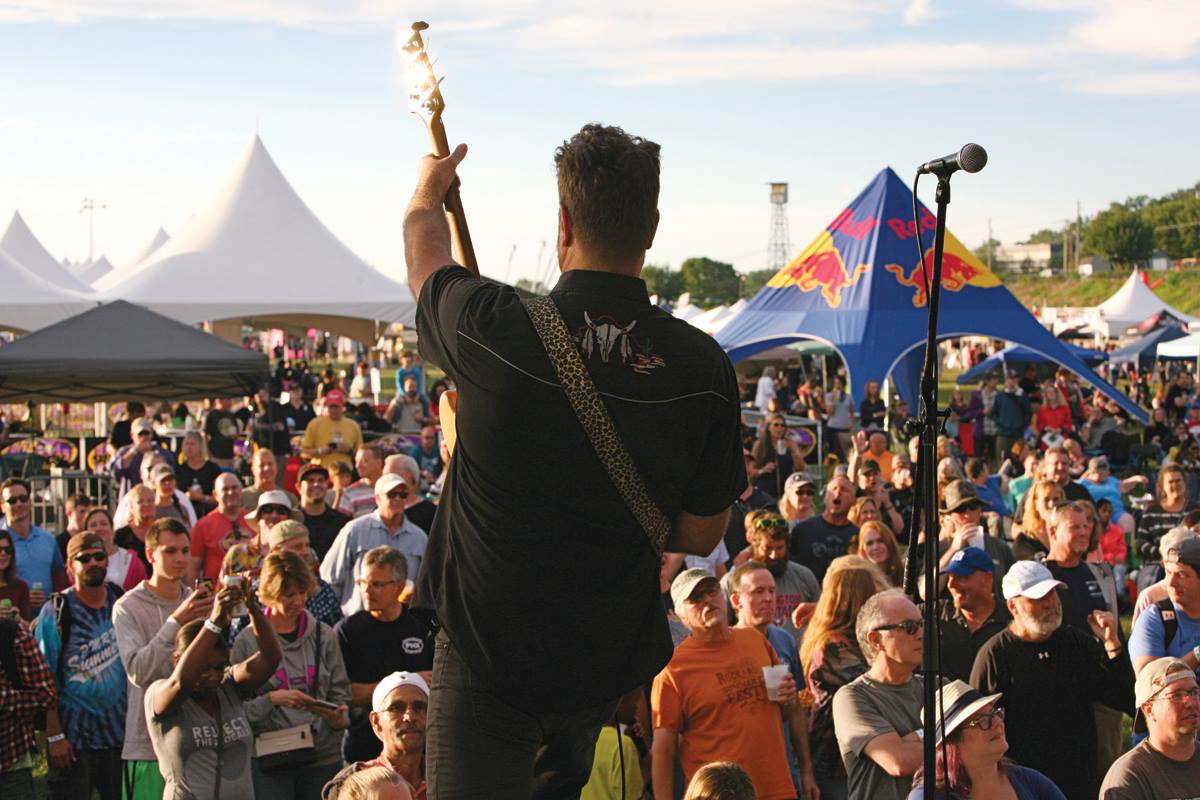 --Courtesy of 24-7 Entertainment
Dead Heads, Led Heads, and Talking Heads, oh my!
Rock and roll die-hards, and foodies alike, are gearing up for the Trifecta Food Truck & Music Festival—which is once again returning to the Timonium Fairgrounds in its sixth year of live music, shopping, and filling food on Saturday, Sept. 24. Gates open at 11 a.m. and general admission tickets start at $30.
This time around, the lineup is saluting rock and roll classics with tribute bands paying homage to the likes of The Grateful Dead, The Cure, Neil Young, U2, R.E.M., Tom Petty, and The Smiths. Headliners include Several Species: The Pink Floyd Experience and Kashmir: The Live Led Zeppelin Show.
"I wanted to program the band lineup a bit differently this year," says Paul Manna, owner of 24-7 Entertainment, which organizes and promotes the event. "So I picked some of the best tribute and cover bands in the region and beyond. People love a good cover band."
Performers are getting excited as the big day draws near. Christopher Quinn, the on-stage faux Morrissey of The Smiths tribute band, Caligula Blushed, says it's the group's first time performing at a festival like this. "One of the reasons I'm hoping for a large early crowd is that I want to send otherwise indifferent people away with a different take on this music," says Quinn, who will take the south stage at 11:30 a.m. "I want them to say, 'Wow! That's The Smiths?'"
At 4 p.m., Unforgettable Fire will bring their U2 covers to the south stage. The group played with original members The Edge and Adam Clayton when the two crashed a New York performance in 2015. George Levesanos—a.k.a. drummer Larry Mullen Jr. when he's in front of a crowd—says the band is excited to mingle with the other performers and meet new fans in Maryland. "People should feel as if they are at a U2 concert," Levesanos says.
Doc Marten and the Flannels, a Baltimore-based '90s rock band, will be appearing at the event for the first time on the south stage at 5:30 p.m. Lead vocalist Billy Fisher says they have wanted to play the festival since it came to fruition in 2016: "I'm excited for the sounds of the music and the smells of all the amazing food trucks," Fisher says. "It's awesome that the festival is all-ages, as well. Little ones making lifelong concert memories touches my heart."
Another Trifecta first-timer is Charm City's own Psycho Killers, a Talking Heads tribute that has played in the area for almost 15 years. They go on at the north stage at 6:30 p.m. "We are so pumped to get out there," says bassist and founding member Ryan Porter. "Our show spans the broad catalog of Talking Heads and expands on some of their classic grooves to create a once-in-a-lifetime experience." (We see what he did there.)
While attendees jam out to the familiar tunes, they will also be able to browse more than 40 local kitchens on wheels, including 410 Empanadas, Bmore Greek, Blowfish Poke, Chessie's Food Works, Jammin' Flava, Kooper's Chowhound, Fun-O-Kake and Fried Chicken, and Conrad's Oysters. New additions this year include Banditos, Lyfe Cafe, PhoWheels, and Fuzzies Burgers.
Josh Vecchiolla, one half of the pair of brothers who founded Fuzzies, says he's excited to introduce their food truck—lovingly dubbed "Stumpy"—and its mouth-watering burgers to a new crowd. (If you're searching for Stumpy on Saturday, you likely won't be able to miss it: "It's bright and loud," Vecchiolla says, "and our designer, Luis, absolutely nailed it with the design to incorporate the Baltimore City skyline, Ravens stadium, and all of our fun colors and elements that scream '80s/'90s retro vibes.")
And if you're wondering about the third element that the festival's name alludes to—Trifecta also boasts a local vendor village with more than 45 makers, including Pick Which Craft, Chesacanna Wellness, and Fed Thrill Sunglasses. Expect to find art, clothing, and accessories from some of the community's small business owners who have a knack for handmade pieces.
Erica Lambart, the creative mind behind the crafty events and handmade goods of Pick Which Craft—which peddles Baltimore garb, sunglasses, handbags, and more—is now a Trifecta Fest veteran embarking on her second year. "The festival is definitely a party atmosphere," Lambart says. "[My products are] the perfect blend of quirky, cutesy, and rebellious in accessories, art, and clothing size small to 3x—because size inclusivity should just be a thing already."
For Towson resident Corey Jensen, his favorite performance last year was Better Off Dead, the Grateful Dead tribute. He says he is looking forward to seeing them perform again (they play the north stage at 5 p.m.) while also chowing down on eats from Dave's Smoke and Tacos.
"The festival is such a wonderful time and great for bringing the community together," Jensen says. "I'm huge into music, so having something like this we can plan to attend and enjoy so close to our home is wonderful."
Overall, the goal behind the hyper-local community event, says Manna, is to provide something for everyone.
"There's something special about the vibe of a good festival, and I think that's palpable at Trifecta," says Manna, who was born and raised in Baltimore. "From the bands and the food truck owners to the vendors and the fans, we're all your average Joe's who work hard and enjoy what we do. There's definitely a unique camaraderie among all of us."