Photography by Grace Hebron
Five years ago, while visiting a friend in New York City, Michael Cohn was introduced to his first board game bar and became enamored with the spot.
"It was this little, tiny thing. I was just like, 'I want to do this,'" recalls Cohn, who had been working in construction management. As he started drafting plans to launch his own spin on the concept back in Baltimore, he met Mark Brown, the owner of No Land Beyond, a gaming hub and retail space in Station North that was looking for a new space. "We serendipitously fell into each other's laps," Cohn says. The fact that Brown's spot also featured board games made it even more perfect. Soon enough, the two men would combine forces for a new No Land Beyond in Old Goucher.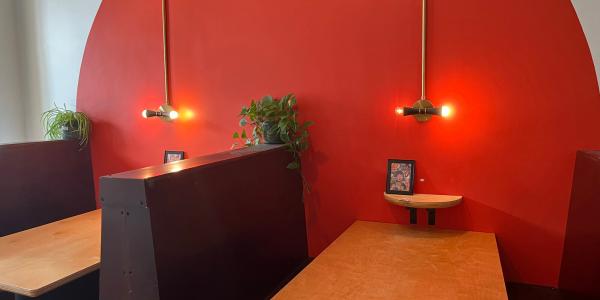 "We wanted to be close to the original location," explains Brown. "Both of us have lived in proximity to the new space for the last couple of years. We loved what Sophomore Coffee was doing up the street. We loved what Lane Harlan was doing with Clavel and Fadensonnen around the corner. North Avenue Market is right down the street. We wanted to be a part of that." Brown notes that central Baltimore didn't have a place where people could just hang out and play old-fashioned board games.

"People also love video games, but we wanted to create a space where people could actually interact with each other and communicate and share experiences around the games they play," Brown says. With the help of friends at East Wing Architects, the pair managed to transform the new venue (housed inside a multi-level office space on 2125 Maryland Avenue) into what they call an "elevated living room" that featured two bars (on on each floor), plus bistro lighting, vibrant pops of paint, historic charm, cozy seating all throughout, and, of course, a collection of one-off board games stacked from floor to ceiling in the library upstairs.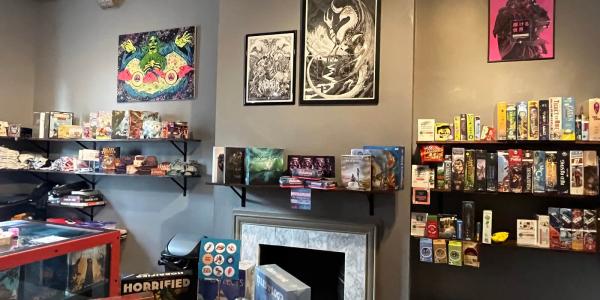 It was all set to go, but not long after establishing the new venue, the COVID-19 pandemic reared its ugly head. "It was pretty scary at first. We were scrambling for anything we could do to stay alive," Cohn says, adding that until last spring, the bar would offer cocktails for delivery and takeout before serving guests in-person. Brown tells us that since opening its doors for good, No Land Beyond has built a loyal following, primarily by word of mouth. And this weekend, he and Cohn are hoping patrons will come out to celebrate the store's grand (albeit late) opening.
For three days, starting April 1, the Old Goucher hangout will introduce its new abode with a jam-packed lineup of programming (highlights include a DJ set and dance party, live role play games, a cosplay drag performance, and a pop-up whiskey tasting by Catoctin Creek Distillery). In addition to a new spring cocktail menu with offerings named by customers (the "Mr. Macaroni" features ingredients like chocolate bitters, cynar, mezcal, sweet vermouth, and maraschino liqueur), the store will implement extended hours and now be open on Tuesdays.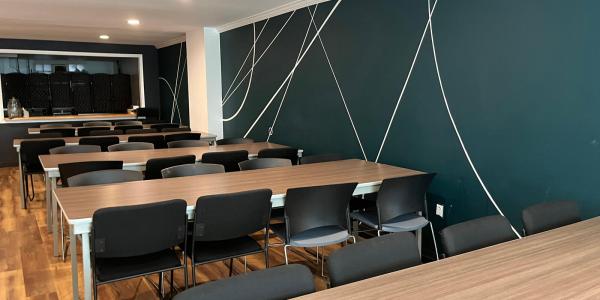 "Since mid January, it's been really busy," Cohn explains, adding that since opening in-person, No Land Beyond has thrived on weekly game nights. "We were like, 'Alright. It's time to add another day in and spread some of these events out."
As the board game bar and gaming shop evolves in its new venue, he and Brown hope that a spirit of community grows with it. 
"One day, this nice older woman, who comes in all the time, was playing games with this guy in his late 20s, with these big, huge gauges. He looked like a punk. The difference in the way they looked was funny, but they're pals now," Cohn says, chuckling. "These two people who had never met each other get together and play games now almost weekly. It's unbelievable."
Brown echoes this, adding that amid COVID-19, "It was heartbreaking to be in this space that was built for bringing communities together. To contrast that with the feeling of it being full and people having a great time, that's why we're doing this."