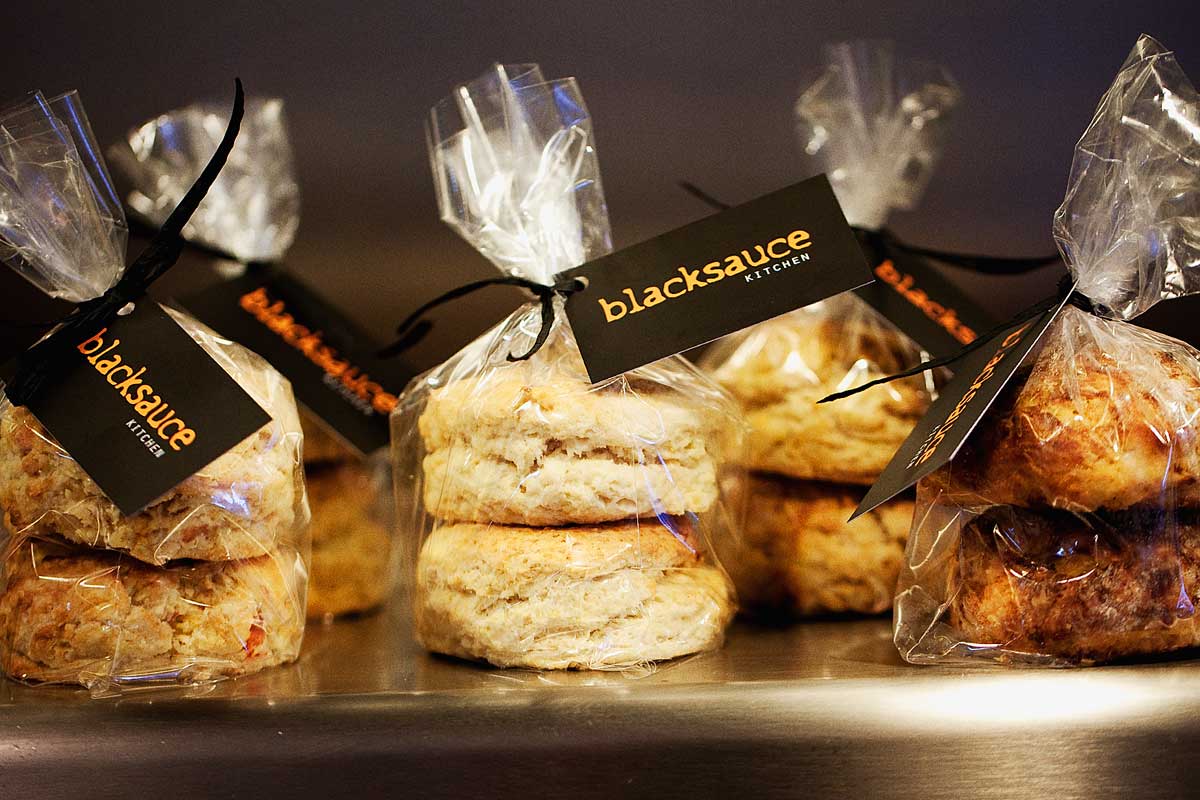 Blacksauce Kitchen
Five things to eat, drink, see, hear, and do with your Charm City weekend.
EAT
Dec. 19 & 20: Blacksauce Kitchen x Artifact Coffee's Whole Hog Dinner
Artifact Coffee, 1500 Union Ave. 6 & 8:30 p.m. $50. 410-464-8000. facebook.com
I don't know about you but I'll take a whole pig roasting on an open fire over chestnuts any day. This weekend, Blacksauce Kitchen, maker of the most ridiculously delicious biscuit breakfast sandwiches, is joining forces with Artifact Coffee, Woodberry Kitchen's hipster Hampden sister restaurant, for a four-course pig-centric supper. The dishes will highlight different parts of the pig and there will be beer pairings and craft cocktails to go with each. Think espresso-rubbed spareribs with Union Craft wheat beer, trotter fried rice with fried okra pickles and Victory IPA, pork jowl buns with Belgian ale, and pork fat brownies with chocolate-coffee stout.
DRINK
Dec. 20: Polar Bar Plunge
The Greene Turtle, 722 S. Broadway. 3-7 p.m. $20-25. kintera.org
This might be your last chance to don ugly Christmas attire and bar crawl around Fells Point. We know you probably haven't washed that Santa sweater yet, but throw it on anyways and help raise some money for Special Olympics Maryland. Participating bars include Kooper's, Sláinte, Waterfront Hotel, and DogWatch Tavern, with food and drink specials along the way. If you have enough liquid courage, sign up for January's Polar Bear Plunge.
SEE
Dec. 20: It's A Wonderful Life
The Senator Theatre, 5904 York Rd. 10 a.m. Free. 410-727-3464. thesenatortheatre.com
Most of us know this movie by heart: George Bailey and Mr. Potter, Zuzu's petals, my personal favorite about lassoing the moon. It's a classic, and it tells the tale of a man who finds himself having an awfully blue Christmas until an angel comes along and shows him that life is actually, well, wonderful. Each holiday season, the historic Senator Theatre puts on this morning movie screening, and the best part is: it's free. But get there early—it's also first come, first serve.
HEAR
Dec. 19: Cris Jacobs with Brooks Long & the Mad Dog No Good
The 8×10, 10 E. Cross St. 8 p.m. $13. 410-625-2000. the8x10.com
Three years after the breakup of beloved Baltimore jam band,
The Bridge, former front man Cris Jacobs continues to perform all around town as a gifted songwriter and musician. This Friday, he plays at his second home, The 8×10, in what will undoubtedly be a great night of live music with the brilliant R&B/soul outfit, Brooks Long & the Mad Dog No Good.
DO
Dec. 21: Baltimore Farmers' Market
Saratoga & Holliday streets, under the JFX. 7 a.m.-12 p.m. promotionandarts.org
I guess it's officially winter: Sunday is last call for the Baltimore Farmers' Market. That means you have one more morning to get your favorite farmer goods, cup of hot cider, or Blacksauce Kitchen cheddar thyme biscuit with lamb sausage gravy beneath the hum of traffic on I-83. Finish up your holiday shopping with local honeys, cheeses, and jams. Grab a last-minute wreath or that Christmas tree you've been meaning to buy. Cap it all off with a cooking demo by Woodberry Kitchen chef Spike Gjerde, where he'll be making "cheddar-y, creamy, garlic-y baked greens"—perfect for your Christmas dinner—or, really, anytime.