Del Yeah!
DelFest is Western Maryland's bluegrass Bonnaroo—and its best-kept secret.
The golf cart that whisks Del McCoury around the Allegany County Fairgrounds during DelFest, the four-day music festival he hosts each Memorial Day weekend in Cumberland, makes more pit stops than a racecar at Daytona. The legendary bluegrass singer, guitar player, and band leader can't travel more than a few feet without being stopped by fans eager for a photo or just hoping to share a moment with the man whose what's-not-to-love-about-life spirit permeates the musical celebration he founded in 2008. McCoury, almost always dapperly dressed in a suit, not a strand of his white hair out of place, usually obliges.  
"We've met him a couple of times. He's so nice and approachable," says Elsie Little, a Baltimore County resident who has attended all but one DelFest with her husband, Brian Strawhand. They only missed 2015 because it was a few weeks before they welcomed their first child. Is it any surprise they named their daughter Del? "We saw Del [later that year] and introduced him to baby Del. We told him how we got engaged at DelFest, and he loved it. He came out that night and told the whole story onstage and then played 'Streets of Baltimore.'"
That bond between artist and audience has made DelFest an annual pilgrimage for thousands of bluegrass lovers of all ages, from Maryland and beyond. 
Many people arrive Thursday, when the performances begin, and don't leave until Monday, after the final late-night concert has ended. In between, local and national acts play tunes that span the bluegrass spectrum, with some country, rock, folk, and Americana mixed in. And musicians often sit in with one another, creating indelible, one-off performances. 
This year, Phish frontman Trey Anastasio will headline with his own band. Joining him on the bill—and possibly onstage—are Dierks Bentley, Béla Fleck and Chris Thile, Gov't Mule, and the Steep Canyon Rangers, among others.
"I think the festival, with Del as the patriarch, honors diversity, celebrates innovation, and honors tradition," says musician Joe Craven, who will emcee his ninth DelFest this year. "He creates a metaphor for how this country can be unified through music."
The DelFest drive is a fairly straight shot from Baltimore via interstates 70 and 68. Though the scenery is beautiful, there aren't many attractions to break up the two- to three-hour jaunt. But once you arrive in Cumberland, a small city of about 20,000 in Western Maryland's panhandle, there are a few diversions that warrant a gander. Nearby Rocky Gap State Park (12900 Lakeshore Dr., Flintstone, 240-357-4404) features a nature center, miles of trails, and the 243-acre Lake Habeeb, plus all the amenities of the Rocky Gap Casino Resort: an 18-hole golf course, a full-service spa, and four restaurants. In Cumberland proper, George Washington's Headquarters (38 Greene St.), a one-room cabin built circa 1755, demands a quick visit. If you have more than a minute to spare, the Western Maryland Scenic Railroad (13 Canal St., 800-TRAIN50), a historic railroad running between Cumberland and Frostburg, mixes mountain scenery and history. For outdoorsy types, the C&O Canal (13 Canal St., 301-722-8226) and Great Allegheny Passage trail (gaptrail.org) provide breathtaking natural splendor. 
For lodgings, the area offers just about every chain hotel known to man. For convenience and economy, it's hard to beat Rodeway Inn (12310 Winchester Road SW, Lavale, 301-729-6700), which offers free Wi-Fi and is less than a 10-minute drive from the fairgrounds. For more creature comforts—and a central location in Cumberland's historic downtown—try The Bruce House Inn (201 Fayette St., 301-777-8860) or Cumberland Inn & Spa (120 Greene St., 240-362-7111). Both book up fast for DelFest, but you might get lucky if there's a cancellation.
But most attendees forgo all that and flock to the fairgrounds, which are nestled along the banks of the Potomac River. Multi-day passes include on-site camping privileges (but not parking), so people pitch tents near ball fields, along the railroad tracks, and in the woods near the water. Campers and RVs fill the lots near the grandstand. Grills are fired up, jam sessions erupt, dancing commences, inner tubes are inflated and plopped in the Potomac, and DelFest becomes home for the long holiday weekend.
Camping locations can get rowdy—this is a festival, after all—so attendees with youngsters generally opt for the Family Camp area, which is closer to the main stage and quieter late at night. Glampers can choose The Show Sherpa—a large cabin-style tent will be ready for you upon arrival. The rentals, which start at $425 for two people, also include cots, camping chairs, a lantern, and amenities like free coffee in the morning, a daily bag of ice, and a full camp kitchen. The only downside is that you are still largely at the mercy of Mother Nature. (Concertgoers are still talking about the epic hailstorm that bore down on the festival in 2009.)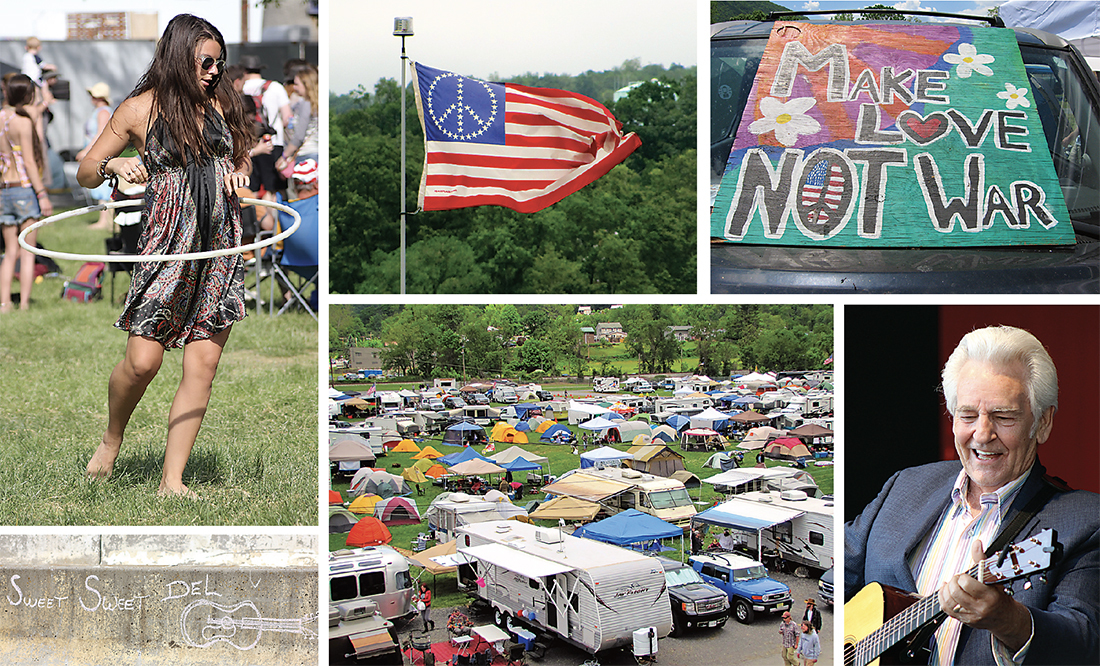 Festival organizers do go to great lengths to ensure that most needs can be met at the fairgrounds. Dozens of vendors offer an array of cuisines, including barbecue, vegetarian, and Chinese. More than 20 merchants line the back perimeter of the main stage area for an Art and Craft Fair that features clothing, jewelry, musical instruments, and other handmade items from around the world. Movement Playshops offer classes like yoga in multiple locations on the grounds, and the Kidzone (Fri.–Sun. 9-11:30 a.m., 1-7 p.m.) is packed with activities like face painting and scavenger hunts. 
No matter how people choose to experience DelFest, music is the tie that binds. Songs emanate nearly nonstop from two outdoor stages and one smaller indoor venue.  Main Stage acts play until midnight and then bands take tunes inside the Music Hall for intimate (separately ticketed) late-night shows. Music is also omnipresent in the parking lots and at the campsites, where impromptu jam sessions welcome musicians of all skill levels. 
"Sometimes jams go for two, three, four hours, and people come and go," says Strawhand, a mandolin player. "There's some rock-solid, amazing musicians, and there are people just strumming along and singing. Young people, old people. Everyone."
If you want to impress, musicianship can be honed the Sunday through Wednesday prior to DelFest at DelFest Academy. Tickets are $400 and buy you instruction for guitar, banjo, fiddle, mandolin, bass, and, new this year, dobro. Hosted by The Travelin' McCourys (Del's sons' band), the sessions target individual needs and leave ample time for one-on-one interaction.
Presiding over the whole event is McCoury, 78, who grew up in York, Pennsylvania, where he learned to strum the guitar from his older brother, G.C. In his early 20s, he frequently played small clubs in Baltimore—then a hotbed of bluegrass—and developed an impressive enough reputation that Bill Monroe, often called the father of bluegrass, asked him to join his band. 
After a year with Monroe, McCoury set off on other musical adventures and got married. He worked in logging to support his family, which includes sons Ronnie, now his mandolin player, and Rob, who's on banjo. It wasn't until 1992, when Del moved to Nashville, that he became one of bluegrass' most beloved ambassadors. In 2003 he joined the Grand Ole Opry, and in 2010 he received a lifetime achievement award from the National Endowment for the Arts.
Along the way, he performed at nearly every bluegrass festival around the country, but never thought of establishing his own until the idea was suggested by his manager. Sites in Pennsylvania, North Carolina, and elsewhere in Maryland were considered, but "the first place we went was the Allegany County Fairgrounds in Cumberland," says McCoury. "I said, 'We'll never find a prettier location to have a festival.' It's really flat there, but you look across the river at West Virginia and it's straight up. I said, 'As far as I'm concerned, we don't have to look any further.'"
They didn't, and in 2008, DelFest was born. It quickly gained a national reputation as a festival embraced by both traditional bluegrass enthusiasts and those with more progressive tastes. It also has paid dividends for local charities and nonprofits. The DelFest Foundation has contributed $300,000 to a number of organizations, including the Western Maryland Food Bank and Allegany County Habitat for Humanity. 
"DelFest has become a part of the community," says Brian Grim, a diehard festivalgoer, lifelong Cumberland resident, and, for the past six years, the city's mayor. "It just has a really positive vibe that makes people feel welcome."
That's delightfully evident in the makeup of the crowd, which includes toddlers in diapers, grandpas wearing overalls, and many makes and models in between. They partake in various levels of partying. Friendships form in the rarely short beer lines (suds from craft breweries like Victory, Devils Backbone, and SweetWater are sold along with big boys like Stella Artois), and clouds of pungent smoke waft through the air—but remarkably, there never seems to be any friction between the factions. 
"It's everybody's happy place," says Little. "Everybody's having the best weekend ever. Kids are happy, parents are happy. It's fun being around people when they're happy."
The man who makes this all possible has a passion for music that is infectious. Despite Del's age ("I feel like I'm 17," he says, chuckling), he will play sets every night but Saturday, and usually joins each major act for at least one number. To conclude its final show at last year's festival, The Del McCoury Band chose "White House Blues," a tune about presidents William McKinley and Teddy Roosevelt. The song, like the man who sung it that night, is old but still so very relevant today. After it ended, a cheer rang out from the crowd, one that has evolved specifically to honor the patriarch of this festival. 
"Del yeah!"