Time Machine
It took Trudy Morgal two decades to find her now-iconic portrait from the weekend of peace, love, music, and mud.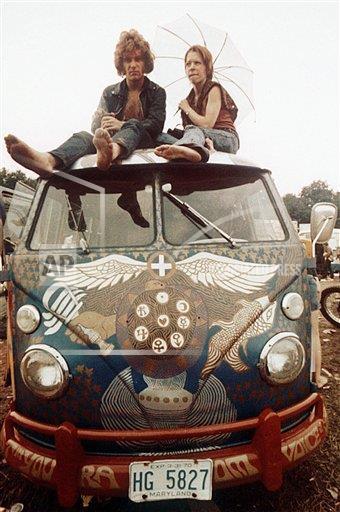 Trudy Morgal doesn't remember anyone taking her photograph at Woodstock. She does remember sitting on top of her band's VW bus with Ricky Peters, a singer and drummer in their Baltimore group, Light. A wisecracking pistol who also sang and played the drums—picture a Hampdenesque Janis Joplin—Morgal can also recall the white umbrella she held onto during the three-day deluge of peace, love, music, and mud.
The photo of two barefoot musicians atop the wild art bus, slightly grim in the face of the gray weather, in other words an indelible representation of the festival, and just maybe an entire generation, had gone viral afterward, appearing in newspapers across the country. Not that Morgal knew it.
"I wasn't aware that photograph existed until two decades later," she recounts with a laugh. "I'd been helping a friend put wallpaper up in her kitchen when the 20th anniversary was coming up in 1989. We stopped for lunch and I grabbed The Sun, and the picture was on the front page of the Metro section. All those years looking at movies and photos from Woodstock, squinting to see if I recognized anyone. Suddenly there I am. On top of the bus with Ricky. I almost fell off my chair."
Over time, as the anniversaries piled up, the image of Morgal and Peters, who died in 1998 ("Such a sweet guy"), sitting on the roof of the "Light Bus" emerged as an iconic portrait of Woodstock and the counterculture. It even appeared on the cover of a textbook about the '60s.
Interest in the whereabouts of the colorful minibus, hand-painted with religious and esoteric symbols by renowned local artist Bob Hieronimus, began percolating as this year's 50th anniversary approached. (In somewhat related news, Volkswagen has announced plans to remake the hippie-throwback VW Bus as a next-gen all-electric vehicle.)
Three years ago, Canadian documentarian John Wesley Chisholm approached Hieronimus about recovering and refurbishing the legendary van ahead of this month's tentatively scheduled reunion concert in upstate New York.
Ultimately, after a six-month search came up empty, a Kickstarter campaign landed them an authentic 1963 VW Bus, which Hieronimus and five other artists painted by hand, recreating the art bus' original Egyptian, Indian, Hebrew, and astrological blessings. (Those unfamiliar with Hieronimus' work should check out his mural, "Historic Views of Baltimore 1752-1857," inside the new jury room at the Clarence M. Mitchell Courthouse. It depicts Lord Calvert standing beneath Federal Hill as George Washington and The Beatles' Yellow Submarine cross the Inner Harbor.)
The VW origin story began a year before Woodstock in a circus-themed Greenmount Avenue bar, complete with trapeze, called Judges. That was where Hieronimus met kindred spirit Bob Grimm, Light's guitarist, who owned the soon-to-be-famous van. By then, Hieronimus had already been introduced to Jimi Hendrix, whose label wanted him to illustrate an album cover for $100. Grimm countered with an offer of $1,000 to paint and turn his VW into a "magic bus," and the pony-tailed, oft-broke Hieronimus obliged.
Ironically, Hieronimus, who had purchased a ticket to Woodstock, begged off the road trip. Stopped at the gates with his bandmates (who went to spectate, not perform) because of the overflowing crowds, Grimm convinced security that the Light Bus was part of an art exhibition, which got them waved through. A year later, Grimm donated the van to Hieronimus, who had started a commune on the site of the old Ruscombe Mansion in Northwest Baltimore.
"We went to Woodstock for the music, and we had a good time despite the rain," Grimm says. "It didn't seem like the big moment it became in hindsight. I've learned more looking back on Woodstock than I did being there," he adds with a chuckle. "I learned the years fly by."
Bob Grimm in the Light Bus before Woodstock.
Editor's Note: On Monday, August 12, the Woodstock "Light" Bus by created local artist Dr. Bob Hieronimus departs from the American Visionary Art Museum to recreate its journey back to Woodstock for the Golden Anniversary Weekend at Bethel Woods Center for the Arts. A free program begins at 10 a.m., including the artists and mechanics who helped rebirth the new Light Bus. Plus, the Baltimore commune members and the Light band musicians who drove the original bus, will send it off. A live musical performance featuring original members of the Baltimore band, Light, is scheduled for 10:50 a.m. The bus will be on view at AVAM until 1 p.m.
"The Woodstock Bus," an original documentary produced by Arcadia Content, also debuts on the on-demand streaming service CuriosityStream Aug. 12
The new, recreated VW Light Bus on display at the American Visionary Art Museum Monday.