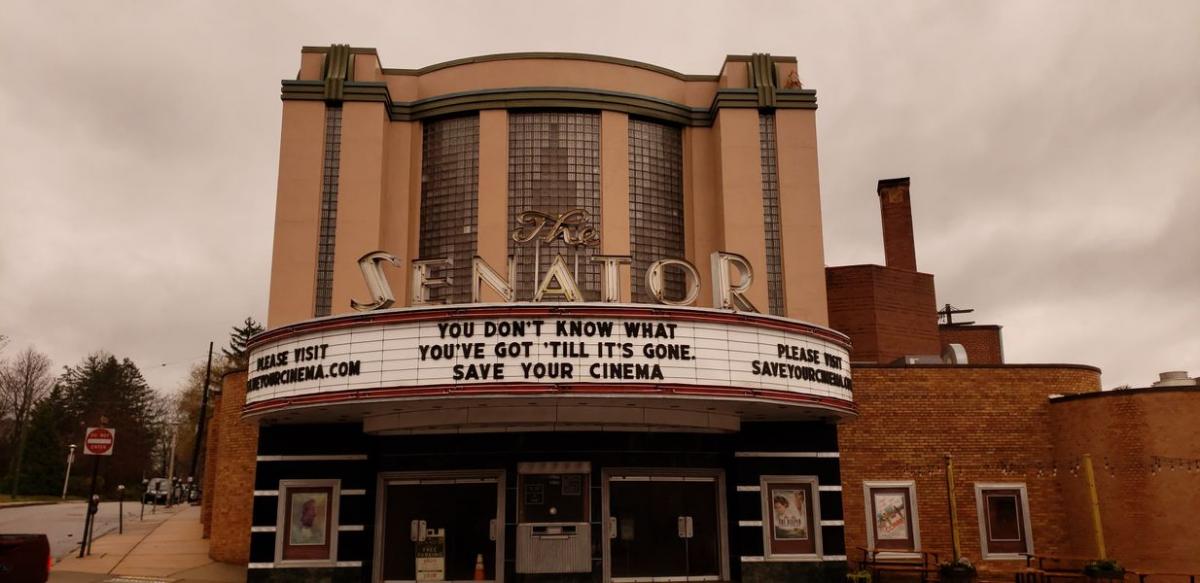 Courtesy of the Senator Theatre
It's been a strange and depressing year for everything, so there was no reason to expect it wouldn't also be a strange and depressing year for movies. Not to suggest that there weren't good movies—there were! That was part of the problem. I missed seeing movies in theaters, where they belong. The state of movie theaters (some temporarily closed, some open but with limited seating, some on the verge of bankruptcy or worse) was a huge bummer for those of us who like to do it in the dark, as it were. I like big screens (and I cannot lie), with heavy curtains, slightly creaky seats, and a giant tub of buttery popcorn resting on my lap. Instead, I watched most 2020 releases on my MacBook Pro (in full screen mode, but still) or on my TV set, once I managed to figure out if the movie was playing on Netflix, Hulu, Amazon Prime, Disney Plus, Apple TV+, Xfinity OnDemand, or any of the dozens of other streaming services out there.
Adding to all this confusion was the fact that the Oscars are now scheduled for April 2021, a full two months later than usual. Some 2020 films only played at festivals—virtual ones, after the pandemic—or had blink-and-you'll-miss 'em theatrical runs. They'll be released early next year, to remind Oscar voters how great they are. The point of all this is to say that a few of the below films aren't even out in Baltimore yet (sorry!) Others are only playing in theaters, which is a personal choice everyone needs to make for themselves. (I have not set foot in a movie theater since the pandemic, although I've been told that not a single COVID-19 outbreak has been traced to one.)
As for the films? They don't say anything about the times we live in now because the times we live in now didn't exist a year or so ago, when all these films were made. (Truly hoping that 2021 isn't filled with a roster of films about zombie invasions and meet-cutes over Zoom, but it seems all but inevitable.) I could make some arbitrary observation about some of the films on my list—for example, several feature fathers connecting with daughters (or surrogate daughters), which just might reflect my own personal taste and emotional soft spots. (Basically, I miss my Dad.) Lots of films in the past few years have been about human connection, as we've all felt more isolated and siloed in our chosen corners of the Internet than ever before. These are no different. Mostly, they were just movies. Some funny, some sad, some stirring, some edifying, some scary. Man, I wish I had seen them in theaters.
In some cases, I excerpt from my earlier reviews of the films.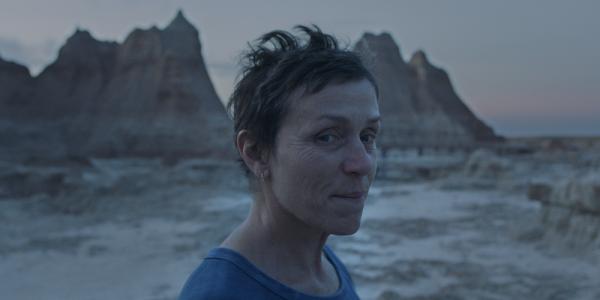 NOMADLAND The director Chloe Zhao, who blurs the line between fiction and documentary, has made her second masterpiece (her first was the elegiac rodeo film, The Rider). Her films are so natural, so closely observed, so deeply emphatic, they almost seem like small miracles. I knew I was in for something special early on, when Frances McDormand's Fern, leaving a trailer park, stumbles across an abandoned dog. She stares at it, pets it. "I can't take the dog," she says grumpily. In 99 percent of films, the next shot would be the dog riding shotgun with Fern in her van. But this isn't that kind of film. Indeed, Fern, who lost her husband, her job, and even the town she lived in (once the mine there closed, it had no use for a postal code), isn't a warm and fuzzy kind of person. She can be prickly, proud, defensive—she holds people at arm's length. And yet, as she travels the American West, meeting fellow "nomads" along the way—she makes friends easily—as she and her new companions bond over their troubles (illness, bankruptcy, heartache) and their secret insight—that life on the road, while difficult and even dangerous, also has a magic to it. The pace and rhythm of life is slower, allowing you to truly appreciate the fearsome beauty of nature, and the friendships are deeper and more resonant. McDormand, like the film she is in, is stripped of all artifice here. It's a wonderfully honest and raw performance, all the more remarkable when you consider how much of a ham (in the best sense) McDormand can be. With an appealing David Strathairn as the man who tries work his way into Fern's heart, with mixed results, and a cast of plain-speaking non-actors who depict their own lived experiences so authentically, they put many "real" actors to shame.
(Nomadland will be released in theaters on February 19, 2021)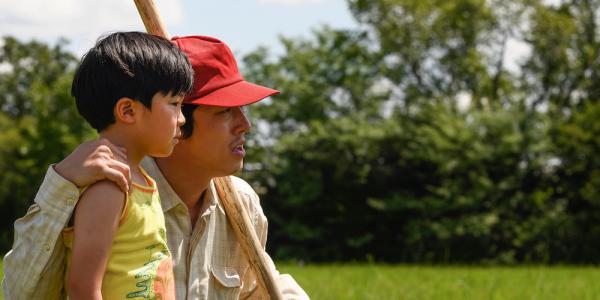 MINARI When we think of American immigrant stories, we tend to think of them occurring in cities, where community and strength can be found in numbers. Minari, written and directed by Lee Isaac Chung and based on his own childhood, is about a Korean American family that lands, improbably enough, in the vast plains of Arkansas. The dreamy, ambitious Jacob (an excellent Steven Yeun) wants to grow Asian produce on a farm of his own. So he buys a swath of land and a trailer home for his family to live in. You can see right away that his dignified wife, Monica (Yeri Han) is mortified—both by the dire isolation and the stench of poverty the trailer gives off. What's more, young David (the impossibly cute Alan S. Kim) has a heart condition, making it dangerous for him to romp and play, the very thing that he wants to do most. (His quiet, more serious sister, played by Noel Cho, helps mom rein him in.) Life is gloomy as Jacob struggles to irrigate his farm and Monica is forced to work at a plant that separates male chicks from females (the males are killed). Jacob hires a farmhand (Will Patton), a twitchy religious zealot and the town outcast, who nonetheless proves to be a loyal, excellent worker. Things liven up a bit when Monica's funny, profane, defiantly undomesticated mother (Youn Yuh-jung) shows up. At first, she's at odds with little David, who complains that she doesn't act like a real grandmother and smells of Korea. Then, a reluctant alliance forms. Their bond—along with the ups and downs of this beautiful young family in search of the American dream—will make your heart swell.
(Minari will be released in theaters on February 12, 2021)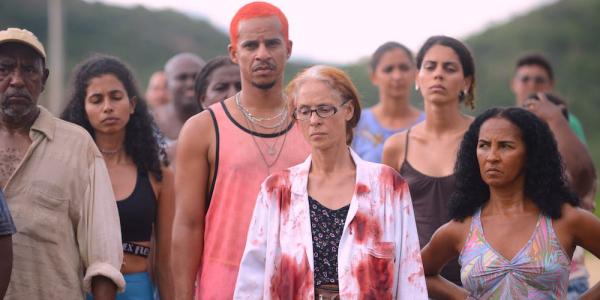 BACURAU This impossible-to-describe genre mashup from Brazil blends hyper violence with scathing social commentary—it's as dead serious as it audaciously entertaining. (To put it another way, it's a film that both Quentin Tarantino and Ken Loach would love.) The fictional Bacurau is a small, isolated village in Brazil, steeped in its own rituals and customs, including the use of hallucinogenic drugs to feel closer to God. The town essentially minds its own business, until a gang of thrill-seeking white supremacists, led by a menacing Udo Kier, descends upon it, looking to kill the villagers off, one by one, for sport. The villagers, suffice it to say, fight back. The film toggles back and forth between the people in the village and the jaded, bourgeois killers, who epitomize the banality of evil. With an excellent Sonia Braga, as the town doctor, as brave as she is volatile, and a cast of wonderful Brazilian actors, including Barbara Colen as a woman returning to her childhood home to mourn her grandmother and Wilson Rabelo as her kindly father. Pay close attention to the casually corrupt mayor who breezes into town, oozing fake concern. If there was any justice, the film would create a new catch phrase: "We are on powerful psychotropic drugs and you are going to die"
Bacurau is available to rent on Amazon Prime.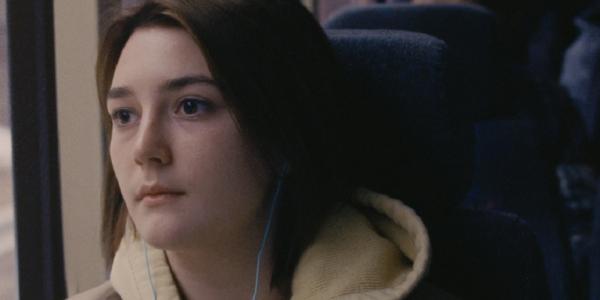 NEVER RARELY SOMETIMES ALWAYS The vulnerability of women—all women, but particularly those who are pretty, young, and poor—is brought into sharp focus in Eliza Hittman's grimly powerful Never Rarely Sometimes Always. It follows the journey of 17-year-old Autumn (extraordinary Sidney Flanigan), who discovers she's pregnant and decides to travel to Manhattan to get an abortion, where you don't need parental consent. She's joined by her best friend, the touchingly loyal Skylar (Talia Ryder). Never Rarely Sometimes Always is a story of survival, resourcefulness, and friendship as the two girls navigate two days in the city with no place to stay and very little money. It seems there are predators at every turn. However, mixed in with the fear and danger is just the slightest bit of adventure (they discover an all-night arcade and wolf down sketchy dim sum from a convenience store). Eliza Hittman has made three films about teenage sexuality, longing, and alienation (the other two are It Felt Like Love and Beach Rats) and they've all been wonderful—unsentimental, keenly observed, and deeply evocative. (My full review.)
Never Rarely Sometimes Always is now available On Demand.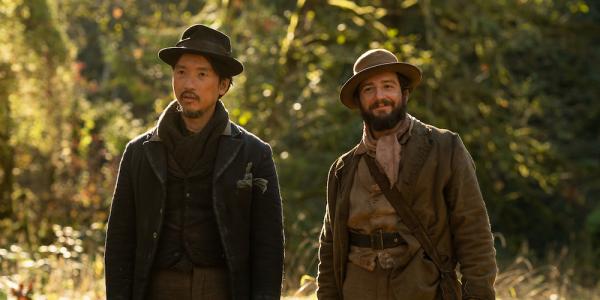 FIRST COW Kelly Reichardt's westerns are so vividly dirty and grimy, they're practically Scratch 'n Sniff. This one is about the unlikely friendship between two men on the frontier—a gentle, sad-sack chef-for-hire, Cookie (John Magaro), and a courtly would-be hotelier, King Lu (Orion Lee), who's in Oregon by way of China. The friendship started with a bit of reflexive kindness: While foraging for food in the woods, Cookie came across King Lu, naked and on the run from some dangerous Russians. Instead of reporting him to the rowdy and rough group of prospectors he's cooking for, he feeds and protects him. Later, King Lu returns the kindness, inviting Cookie to live in his small cabin the woods, where they take comfort in each other. It's not a romantic partnership, but First Cow is a love story, of sorts. Eventually, the town's prized first cow arrives, owned by the pompous Chief Factor (Toby Jones), who wishes to impress everyone with his wealth and hifalutin manners. Indeed, he's so high on his own supply, he doesn't realize that Cookie has been stealing milk right out from under him (he sneaks into the meadow at night and milks the cow, which curiously won't produce milk for Factor). "Some people can't imagine being stolen from," Cookie says sagely. Cookie uses that milk to fry up his wildly popular "oily cakes" (donuts essentially) that he and King Lu sell in the town square. As it's the Western frontier, filled with dangerous, restless men, we warily watch as the two friends carry on with this risky endeavor.
First Cow is now streaming on several platforms, including Amazon Prime and Hulu.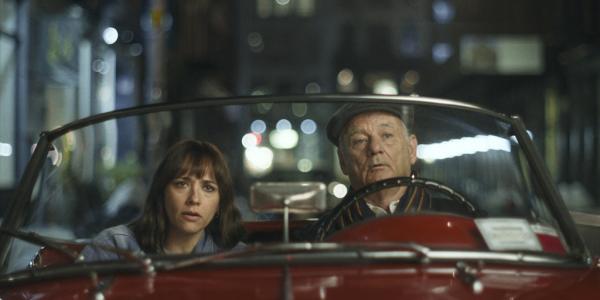 ON THE ROCKS As Felix in Sofia Coppola's On the Rocks, Bill Murray plays a rascal, raconteur, and flirt, with just a soupcon of ennui around the edges. It's a plum part, the kind any older actor would love to play, and Murray makes the most of it. An art dealer, Felix gets chauffeured around in limousines, he flirts with waitresses and charms everyone else, he passably speaks several languages. He's a man who lives the good life, but who has been an unreliable, perhaps even terrible father. He has regrets. Coppola romanticizes both Felix and the last gasp of 20th century New York—the New York of places like The Knickerbocker and 21, where a man like Felix can boast that the Plaza is the best place to take your mistress because it has the most exits. The story is slight. Felix's adult daughter Laura (Rashida Jones) suspects that her husband Dean (Marlon Wayans) is cheating on her. She makes the mistake of confiding in her father, and he proposes that they spy on Dean, which somehow involves lots of time in Felix's limo, plus martinis at private clubs, a trip to Mexico, and luxe parties where Felix is stalking a particular piece of art (or woman) he has his eye on. What becomes clear to us, and eventually Laura as well, is that Felix may indeed believe that Dean is cheating, but what he's mostly doing is looking for an excuse to spend time with his daughter. (My full review.)
On the Rocks is available on Apple TV+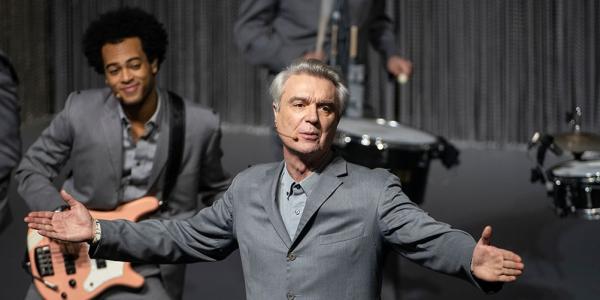 DAVID BYRNE'S AMERICAN UTOPIA At 68, the musician and artist David Byrne has still got it—he's as nimble, trim, and full-voiced as ever, with that intriguing whiff of the brilliant weirdo about him. He's now made two suits famous—the oversized "Zoot suit" he wore in Jonathan Demme's Stop Making Sense, and the more tailored version he wears here, in a similar silvery gray color (he sports it with bare feet). And he's not the only one in that suit—his multicultural band of musicians and dancers, who bang on drums and bells and strum guitars and stomp and swirl gleefully about the stage around him, dress similarly. It's quite visually arresting. Taken from Byrne's Broadway stage show and directed by Spike Lee as an obvious homage to his late friend Demme, American Utopia—which combines music from Byrne's old Talking Heads catalog with newer material and incisive social commentary—is an eye-popping, joyful, thought-provoking, toe-tapping celebration of life.
David Byrne's American Utopia is available on HBO

7.5. THE YEAR IN "ROCKUMENTARIES" On top of the concert film American Utopia, it was a great year for rockumentaries, from Spike Jonze's Beastie Boys Story (Apple TV+), that stirred this Gen Xer to her very core, to Showtime's The Go-Go's, which revealed that "We Got the Beat" (a surefire hit if ever I've heard one) was rejected by a record company ("because all-girls bands don't sell," you see), to HBO's bittersweet The Bee Gees: How Can You Mend a Broken Heart, which follows the band's meteoric rise and baffling collapse in the wake of the (racist, homophobic) "Disco Sucks!" rallying cry. All three of the documentaries expose the side order of sadness that gets served up with all the sex, drugs, and rock and roll. You should seek them out.
[There's yet a fourth doc, Zappa, that I haven't gotten around to yet, but I hear good things.]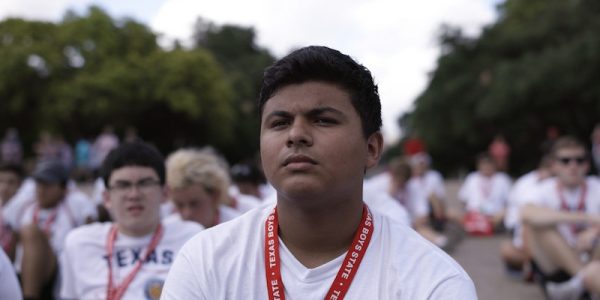 BOYS STATE Every year, thousands of promising young men—high school seniors—gather to learn about the Democratic process and essentially cosplay a real election. The event is sponsored by the American Legion and has been going on for decades. Dick Cheney was a participant. So was Bill Clinton. In Amanda McBaine and Jesse Moss's rollicking new documentary, we follow the Boys State in Texas, where the boys are overwhelmingly conservative. They care deeply about the second amendment. They "back the Blue." When they talk about "abortion" (as in, "A big issue for me is abortion") it is understood that they mean they are anti-abortion. It's crazy seeing young people who are so reflexively conservative. It's like a birthright to these boys. What makes Boys State so remarkable is that every political type is laid out before us—the opportunist, the glad-hander, the policy wonk, the true believer. Many of these boys are cynical because they've grown up watching a broken political system. One uses "grievance politics" because he saw how well Trump wielded it in the election. Another lies about his core beliefs because…isn't that what politicians do? But many of them are secretly yearning for a person of character and quality to lead them. The film finds that in Steve, the son of Mexican immigrants, and a boy worth rooting for. He leads you to believe that maybe, just maybe, the kids will be alright. (My full review.)
Boys State is streaming on Apple TV+.
SMALL AXE: LOVERS ROCK I now have an answer to an oft-asked Twitter question: What's the sexiest scene in a movie that doesn't involve actual sex? Without a doubt, it's a scene mid-way through Lovers Rock when young Martha (Amarah-Jae St. Aubyn) begins dancing with the cute boy she's just met, Franklin (Micheal Ward), at a house party in 1980s London. They're sweating and swaying and making eye contact, as their hips undulate and the party dizzyingly unfolds around them. They're in lust, for sure, but also making a deeper connection. It's intense and mesmerizing and hot as hell. There's been lots of controversy about Small Axe, an anthology of five films directed by the great Steve McQueen, that debuted on the BBC. Is it television? Is it film? Maybe I'm biased (okay, I definitely am), but to me, Lovers Rock feels deeply cinematic, in the way it uses music and imagery and a swirling camera to create an ecstatic mood. You feel like you're in that house party—listening to the reggae, disco, and dub music; smelling the West Indies stews cooking in the kitchen; feeling the heat of lust and youth and possibility. I mean, sure, I guess you can call it television (one argument in that column: Lovers Rock, the shortest of the Small Axe films, clocks in at a brisk 68 minutes). But, there's a moment about halfway through the film, when it pauses as everyone on the dance floor begins to sing Janet Kay's "Silly Games" in unison, that is the most purely cinematic scene of the year. Whatever it is, watch it.
Lovers Rock and all the Small Axe films can be streamed on Amazon Prime.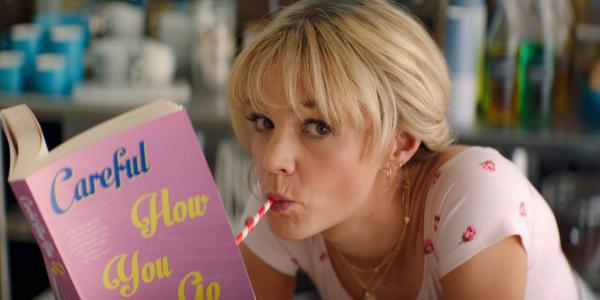 PROMISING YOUNG WOMAN An alternate title to Emerald Fennell's deliciously nasty Promising Young Woman might be Nice Young Men. Because the film, which is arguably the first great thriller of the #MeToo movement, is as much about our titular heroine as it is about the boys: the nice boys, the boys who made one mistake, the boys who were too drunk to know better, the boys who have their whole futures ahead of them—after all, we can't destroy their lives over one little mistake, can we? So, this is a different kind of revenge thriller, one where our hero, the beautiful, brilliant, and damaged Cassandra (Carey Mulligan), entraps men (and their enabling women) into revealing their true selves. She had been a med student, top of her class, when an incident occurred (it's best that I don't reveal what) that completely derailed her life. Now she works at a coffee shop—even her boss (Laverne Cox) seems astonished by her complete lack of ambition—and lives with her disappointed parents (Jennifer Coolidge and Clancy Brown), who wonder what happened to a daughter who once afforded them bragging rights. This is all very sad and disturbing stuff, but the film's boldest provocation is presenting it as a stylish black comedy. All credit to Carey Mulligan for calibrating the tricky character so brilliantly. On the one hand, she seems all-powerful, the mistress of her domain. On the other, she's a mess, a lost child, a basket case. The film knows revenge isn't the answer. It certainly isn't justifying her behavior. Well, not much at least. (My full review.)
For now, Promising Young Woman is exclusively playing in select theaters.
NEWS OF THE WORLD Leave it to Tom Hanks to give us the movie we all need right now. In Paul Greengrass' News of the World, Hanks plays Jefferson Kyle Kidd, a former Confederate captain from Texas, and a man of unassailable decency, who travels from town to town, reading highlights of the news to townspeople. One day, Kidd comes across the aftermath of a horrible scene: a buggy overturned, blood on the ground, a man hanging in a tree. And then he hears rustling—it's a towheaded young girl (extraordinary newcomer Helena Zengel), no more than 10-years-old, with a scared and slightly feral look about her. Looking at her papers, he's able to piece together a bit of her story: Her family was killed by Native Americans, who raised her as their own, but who were then murdered themselves by soldiers. The stagecoach was supposed to take her hundreds of miles away—to be with her German-American aunt and uncle, who don't even know she's alive. Kidd takes her back to town hoping to find someone suitable to bring her to her aunt and uncle. Eventually he realizes that the only suitable person is himself. Together, they travel the rather treacherous trail through Texas to get to the girl's family—fending off dangerous men and bonding over mutual loss. Kidd, who regrets much about his role in the war, wants to shield her from further horrors. The film is about moving away from a time of extreme divisiveness to one of one of love and redemption. The final scene made my heart swell. (My full review.)
For now, News of the World is playing exclusively in theaters.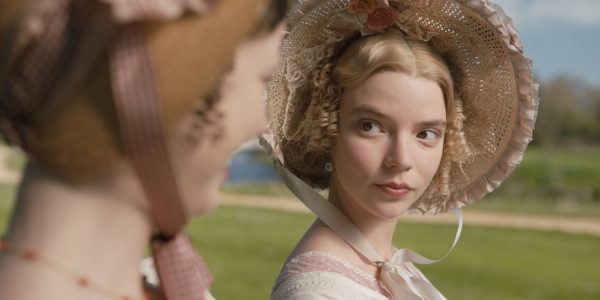 EMMA. The affected period in the title is pretty much the only thing I didn't love about Autumn de Wilde's adaptation of Jane Austen's beloved novel, which plays like a musical without any songs. Characters—often servants of the wealthy and spoiled Emma Woodhouse (Anya Taylor-Joy) and her bemused father Mr. Woodhouse (irreplaceable Bill Nighy)—swoop in and out of the frame, swirling, spinning, and sliding with choreographed precision. The elaborate costumes—a veritable bouquet of pastel-colored pinafores and floral waistcoats and poofy bonnets—as well as the playful score of Mozart and period folk music add to the overall effect. Every adaptation of Emma relies heavily on the skills of its lead actress, who must navigate a tricky tightrope: Emma is sheltered but thinks she's worldly; she's selfish, but thinks she's generous; she's obsessed with fixing other people's lives because her own taste, happiness, and sense of superiority has never been disrupted. In short, she's a brat, but a well-meaning one, who has no idea that her meddling can be so destructive. And, as she demonstrated in The Queen's Gambit, Taylor-Joy is a marvel. With her pale skin, tulip-lips, and eyes as wide as an anime character, she calibrates Emma perfectly. Handsome Johnny Flynn, as the jaded George Knightley, plays off her expertly. The film pulls off a wonderful oxymoron: It's a substantial confection. (My full review.)
Emma is available on numerous streaming sites.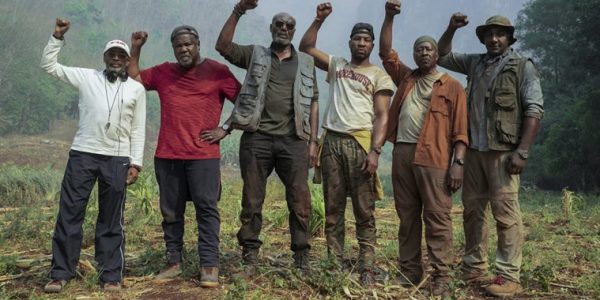 DA 5 BLOODS Sometimes the best way to call attention to an historical injustice is through bold entertainment. That's certainly what the great American auteur Spike Lee has in mind with Da 5 Bloods. On its most essential level, it's an adventure film, about four grizzled Vietnam vet buddies (Delroy Lindo, Clarke Peters, Norm Lewis, and Isiah Whitlock Jr.) returning to Ho Chi Minh City to look for buried treasure (gold bricks issued by the American government to thank the South Vietnamese for assisting them in the war). They're also hoping to find the remains of their best friend and squad leader, Stormin' Norman Holloway (Chadwick Boseman), who died in battle. Among other things, the film is about the racist legacy of that terrible war—Black soldiers were disproportionately placed on the front lines to die, even as they were being discriminated against on American soil—and the way trauma never really leaves you. As far as our four heroes are concerned, the American government owes them that gold. The film flashes back to Vietnam, with the older actors playing themselves as young men—once the cognitive dissonance wears off, it adds a layer of poignancy. All the acting is great—including Jonathan Majors as the son of Lindo's Frank—but Lindo is the real standout. The journeyman actor taps into something deep and dark in this character, who is still plagued by PTSD. At 67, Lindo still looks strong and fit, like a guy who could whip someone's ass in a bar fight. He embodies Paul's male repression and rage, while never losing sight of his humanity. (My full review.)
Da 5 Bloods is streaming on Netflix.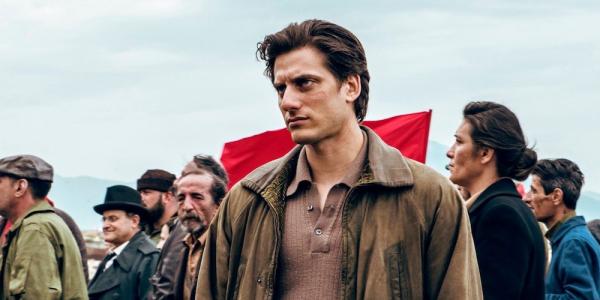 .
MARTIN EDEN A star is born in Pietro Marcello's loose adaptation of the novel by Jack London. Playing the film's eponymous protagonist, Luca Marinelli is a strapping physical specimen, a la a young Marlon Brando. And like Brando, he exudes an intensity that feels both carnal and a little dangerous. A deck hand who dreams of being a writer, Martin is discouraged by his bourgeois girlfriend Elena (Jessica Cressy), who wants him to get a desk job. But he burns with an all-consuming desire to write—and to communicate the suffering of his own working class people. Marcello blends his footage with archival film stock, particularly focusing on the cracked, beautiful faces of the poor. The film, which is intentionally vague about its time period (it's sort of post-WWII although there are some more modern signifiers), is a sweeping, powerful, and gorgeous epic.
Martin Eden is still playing in theaters but can be streamed through participating Kino Marquee theaters.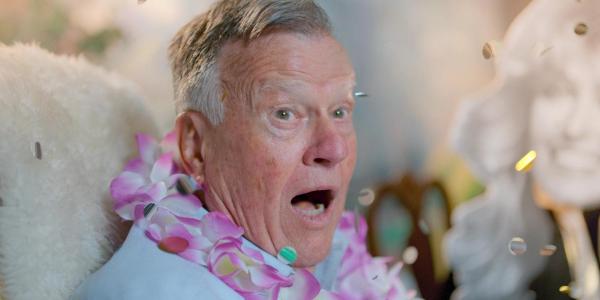 DICK JOHNSON IS DEAD Filmmaker Kirsten Johnson's beloved father, a psychiatrist, is slowly slipping away with dementia and she wants to process his impending death in the only way she knows how: through film. With his consent and with the help of stuntmen and CGI, she stages his death, over and over again—hit by a falling air conditioner, falling down a flight of stairs, etc. Her father is an all-too happy participant, mostly because it means he gets to spend more time with his daughter. (In that sense, this film would make a great double bill with On the Rocks.) Little by little, Dick loses his grip on reality, but his sweetness and love for his daughter never stops shining through. The film, which could feel morbid or invasive, instead bursts with affection, humor and heart.Dick Johnson is Dead is streaming on Netflix.
A THOUSAND CUTS A Thousand Cuts tells the story of an intrepid journalist going up against a populist, misogynist, law-and-order touting politician who boasts about his penis size and disparages the "Fake News" as out to get him. The politician's name is Rodrigo Duterte and he is the president of the Philippines. Watching Baltimorean Ramona S. Diaz's terrific documentary is a bit like looking at America through a funhouse mirror. The similarities between Duterte—and the movement he inspires—and Trump are uncanny. But Duterte is like Trump Unplugged—he actually has people murdered and arrested. It's into this environment that we get to know the absolute dynamo that is Maria Ressa, the editor of the Filipino newspaper Rappler, the only publication that speaks truth to power in the country. Ressa has been celebrated as a human rights leader across the globe. At home, however, she and her staff—many young women—are threatened, subject to arrest (Renna is arrested twice over the course of the film), and exposed to despicable online abuse. Renna is a wonderful heroine: Compact and slightly androgynous, with rimless glasses and a no-fuss haircut, she exudes intelligence, charisma, and pluck. She's so small she seems vulnerable—but her self-possession and clarity of purpose makes her formidable. A Thousand Cuts—the title is a reference to how Duterte is chipping away at Filipino democracy—is a must see for those who care about freedom of the press and the future of all democracies.
A Thousand Cuts will be screened on PBS's Frontline, on January 8.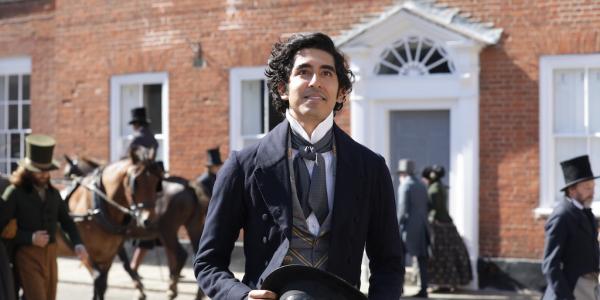 THE PERSONAL HISTORY OF DAVID COPPERFIELD It is somewhat astonishing to me that Armando Iannucci, the merciless satirist behind Veep, The Death of Stalin, and In the Loop, has made a film as joyful, fanciful, and life-affirming as The Personal History of David Copperfield. The film has a generosity of spirit—it finds room in its big heart for nearly everyone. Of course, this being an adaptation of the Dickens novel, there are dastardly villains, but mostly there are wonderfully flawed, but lovable humans, made all the more endearing through their eccentricities. The film is about the evolution of a writer—many believe that Copperfield (Dev Patel as an adult) is a stand-in for Dickens himself. The film follows David's journey, from when he's a small boy growing up with a doting mother and his boisterous maid, Peggotty (Daisy May Cooper), to when he's cast out of his home by a vengeful stepfather, to his hardscrabble life on the streets and factories of London, to his young adulthood at the pastoral home of his eccentric aunt (Tilda Swinton), through prep school, a law office, a second bout of pennilessness, and beyond. Along the way, he meets all sorts of rogues and gentlemen (and ladies)—in addition to those already mentioned, the film features wonderful supporting work by Peter Capaldi, Hugh Laurie, and Ben Whishaw. As for Patel, he makes an excellent Copperfield—sturdy, kind, charismatic, and filled with a childlike curiosity and awe even into adulthood (and, of course, great hair). Throughout his life, David Copperfield acquires many nicknames—Daisy, Trotwood, Davy—but by the end of the movie he is truly, fully himself. (My full review.)
The Personal History of David Copperfield  is available to stream on Amazon Prime.
BLACK BEAR It's Aubrey Plaza's world, we're all just living in it. After stealing the show in Happiest Season (wait, we weren't supposed to root for her to end up with Kristen Stewart?), she delivers her best performance yet in the mind-melting Black Bear. The film is essentially set up as two separate films, dealing with different versions of the same characters. Are they simply two alternate realities? Or is one real and the other a fantasy projection? (I have my theories.) In the first, Plaza plays a writer/director renting a room in a cabin with a squabbling married couple (Christopher Abbott and Sarah Gadon). Her presence passive aggressively (or aggressive aggressively?) eggs them on. In the second half, she's an actress married to a director (Abbott) who flirts with another actress (Gadon) to coax a better performance out of his wife. The first half is directed with cool detachment. The second half has a frantic, improvisational, cinema verité vibe. In both cases, Abbott's character is a jerk, but the women are far from blameless. You'll want to watch this with friends, so you can debate what it all means.
Black Bear is available to stream on Amazon Prime.
MISS JUNETEENTH Nicole Beharie gives one of the best performances of the year as Turquoise Jones, the former "Miss Juneteenth" who now wants her daughter (Alexis Chikaeze) to take the crown. Life has not gone according to plan for Turquoise—instead of attending the HBCU on a scholarship (the prize for winning the pageant), she had a child. Now, she works herself to the bone—at both a diner and a funeral home, where she makes up the dead—trying to make ends meet, fending off suitors and the schadenfreude of her former Miss Juneteenth competitors, who take pleasure in her failures. She still has a relationship with her daughter's super sexy father (Kendrick Sampson), even if he's an irresponsible sort. The film makes it clear that Kai, the daughter, doesn't really want to be Miss Juneteenth—she finds it old-fashioned and regressive; she wants to be on the school's dance team. Mom also discourages Kai from getting serious with a cute boy in her class, for obvious reasons. However, the film never quite feels weighed down by Turquoise's circumstances. Her daughter loves her, even if she's occasionally embarrassed by her. And Turquoise still has joy in her life, despite her struggles. By the film's end, she and Kai have a better understanding of each other. Writer/director Channing Godfrey Peoples (a woman) has given us a wonderfully nuanced and ultimately hopeful film about mother/daughter love and the endless strength of women.
Miss Juneteenth is available to stream on Amazon Prime.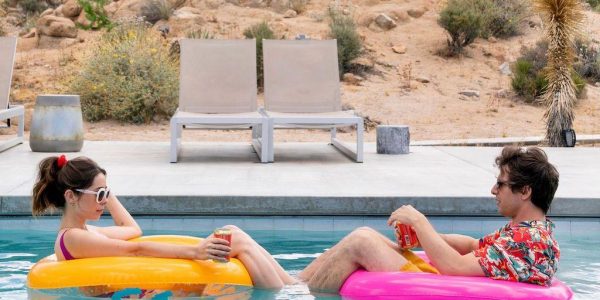 PALM SPRINGS Palm Springs starts in medias Groundhog Day, as it were. When our hero, Nyles (Andy Samberg), reluctantly lifts his head from the pillow, it becomes clear he's been living the same day over and over again—the day of his girlfriend's best friend's wedding—and he's already reached a point of weary acceptance. Sometimes he has diffident sex with his girlfriend (even though he knows she's cheating on him), sometimes he doesn't. Sometimes he sleeps with other people—he's up for anyone: a weathered bar hound, a guest at the wedding, a dude. Sometimes he disrupts the wedding with drunken antics, sometimes he doesn't show, sometimes he makes a profound toast that moves the attendants to tears. It's all the same to him—no consequences, no death, no progress. Ironic detachment is his art. Everything changes when Sarah (Christine Milioti) gets caught in the loop with him. Will they fall in love? Will she accept the eternal sameness of her fate? As my sister, Felicia, pointed out, Palm Springs is the perfect coronavirus movie. It's about a world where all the days blur together, where every day is literally the same as the last. But it's also about how love is quite possibly the one thing that makes life, in all its existential pointlessness, worth living. And how, maybe, it's more important to take a chance on life and love than wallow in a kind of comforting nihilism. I won't tell you how it ends, but I will say that Samberg and Milioti are delightful together. Her high-strung, Bambi-eyed energy and his dudebro chill mesh perfectly. I'd spend an eternity with these two anytime. (My full review.)
Palm Springs is streaming on Hulu
[Editor's Note: At press time, I had not yet seen Regina King's acclaimed One Night In Miami.]