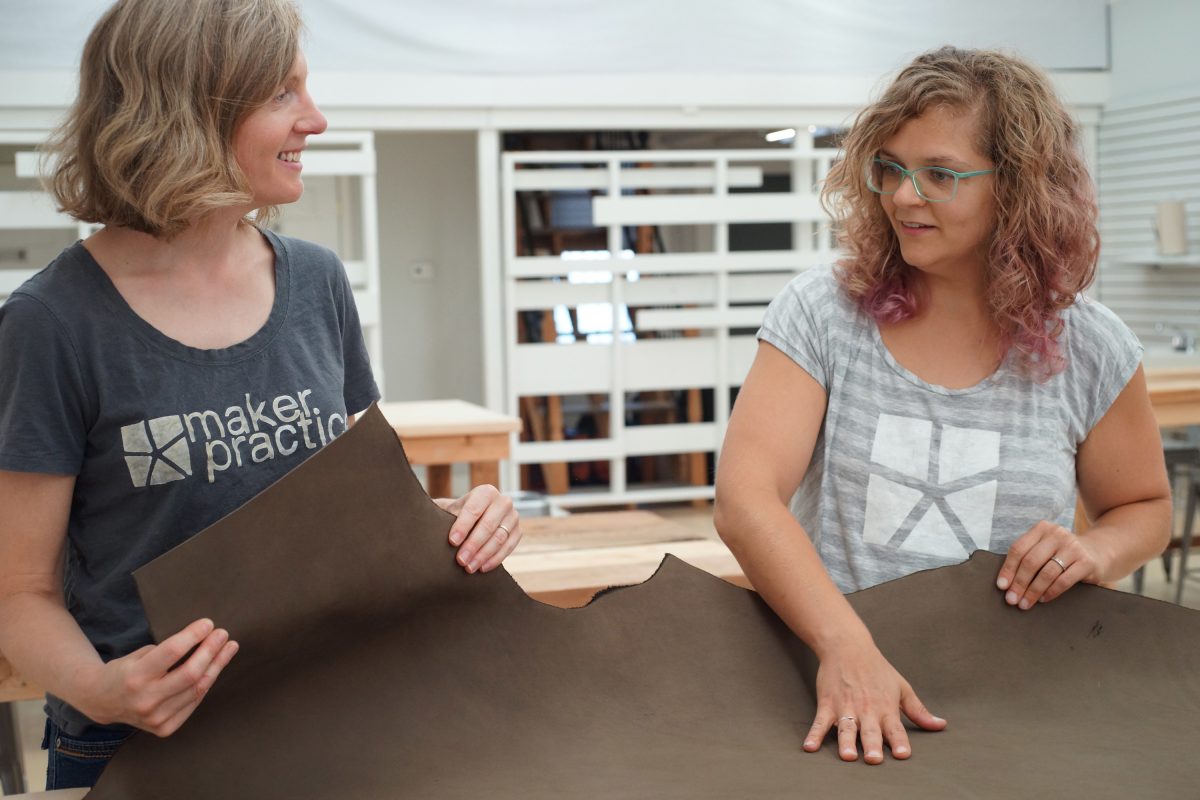 Kevin Capinpin
If you've scrolled through Etsy and had the desire to make something beautiful, but didn't know where to start, Mary Thomas and Amy Isler are here to help. The founders and directors of Maker Practice designed their craft-entertainment concept space to spread the joy of creating useful, beautiful items by hand—and for all skill levels.
"We've developed a scale of difficulty that we rate each project on called the Practice to Pro Scale," says Thomas. "You can place yourself on the scale and then decide which project you're willing to tackle based on how we've rated them."
Every three months, the maker kits—which range in difficulty—will rotate, so even the most avid crafters will never run out of new techniques and skills to try out. Each kit contains all the materials, instructions, and tools needed to create a handmade project from start to finish in their studio on Frederick Road in Catonsville. The BYOB studio accepts reservations for larger parties, as well as walk-in availability so that visitors can drop in whenever inspiration strikes.
Crafters looking to try their hand at something new will find options ranging from a Maryland flag with the look of inlaid wood to a frame repurposed as a stained-glass window. Both Thomas and Isler grew up in creative families, where anything was possible with the right tools and know-how. Having been exposed throughout their lives to everything from woodworking and car maintenance to needlework and quilting, the two have a deep and diverse well of creative knowledge to share.
"Some of the projects are things we've made ourselves through our years of crafting together," says Thomas. "And some are things from our 'dream craft list,' or bucket-list style things that we really wanted to experiment with, and through that bring the same experience to people at Maker Practice."
One of those dream crafts is a leather bag kit, which gives makers the opportunity to create their own classic, go-anywhere tote without needing to purchase their own set of leather-working tools. Sharing tools is one way in which the founders of Maker Practice hope to lower the barrier to entry.
Thomas and Isler met several years ago at the Y, where their boot camp class became an unofficial forum for discussing each of their latest creations. That connection turned into spending time together, trying out all sorts of new projects. During these "crafternoons," the pair were low-key laying the groundwork for their future business.
"We would joke, 'When we have our own place, this is how we'll do it,'" says Thomas. "We always had the thought at the back of our minds. We knew one day we would go into business together."
That day came when, earlier this month, the doors of Maker Practice opened to their first round of crafters. Plus, it was a no-brainer to open up in their home neighborhood.
"Catonsville is very traditional in that there are things that have been here forever that are institutions in the community, but there are also opportunities for new places to come in," Isler says. "We are excited to be a part of that fresh energy of new places opening up."
The Maker Practice studio space has a light, fresh feel, and was designed to inspire. The main feature of the space began as a blank wooden wall but is in a constant state of transformation. Every maker, upon finishing each kit, is invited to sign the wall in pencil. The names are then wood burned, leaving a permanent mark. As more makers visit the space, the wall will continue to evolve as a visual record of everyone who has shared the experience of creating at Maker Practice.
The space is also a testament to the founders' commitment to sustainability. Thomas made the tables herself from reclaimed wood found at Second Chance Inc. in South Baltimore, and the rest of the furniture has been upcycled by Thomas and Isler to suit the space.
The ethos behind Maker Practice is "practice makes proficiency, not perfection." What Thomas and Isler most hope their makers gain is a sense of empowerment that comes from having tried something new.
"This was all born of our desire to make beautiful things instead of buy them," says Isler. "We really believe in the beauty of your own creation. It's not always going to look just like the picture, and that's okay. We really love when it doesn't, because when you look at something you've made, you have that sense of accomplishment—and that's really the payoff."