Tina Canady, Sage Wong, and Leila Kahkonen in Single Carrot's production of 'Peter Pan.' —Single Carrot Theater
Last spring, when Single Carrot Theatre said goodbye to its physical performance space in Remington, the experimental ensemble had no idea then that its outside-the-box plans for nomadic performances across Baltimore would come in so handy in 2020.
"We really wanted to be able to move around the city more, showcase different spaces and neighborhoods, and have a deeper relationship with the people of Baltimore," says artistic director Genevieve de Mahy, with the company's 2017 Promenade being a perfect example—a boundary-breaking production aboard a bus with audience members watching out the windows as actors performed scenes on the city streets. "We wanted to invest our money into staff, artists, and art making, not into a facility. We were excited and confident about that decision when we made it. Now, during COVID times, literally not being able to perform in a theater venue, we've felt very fortunate."
Prior to the coronavirus pandemic, Single Carrot had been in the midst of planning its upcoming 13th season after successful runs of Safe Space, a murder-mystery at the Clifton Mansion in February, and Mr. Wolf, a spin on "Little Red Riding Hood" at the St. John's Church in October 2019. But when the first cases arrived in Maryland this March and quickly shut down performance spaces, their short list of ideas was quickly scrapped to create a nimble lineup fit for social distancing and quarantine.
After hosting a virtual variety show on Zoom in April and an original play on YouTube Live in July, "We did a lot of thinking about how to pull people away from their screens and out into the real world in a safe way, both for our audience and our ensemble," says de Mahy. "What's exciting about this time is that, since the way we're planning is so short term, it actually allows us to create work that's really reactive to the current moment."
In that vein, kicking off their new three-show lineup on September 24 will be Keep Off The Grass: A Guide to [something], an original, interactive theatrical experience addressing the moral questions faced in this turbulent year. It all takes place in the great outdoors and uses a silent, contact-free performance across different stations on the sprawling grounds of the St. John's Church on Old York Road, where they are currently in residency. Similar to museum audio tours, audience members will follow the plot by downloading a playlist onto their cell phones, with some additional devices available for those in need.
"What other delivery methods can we use to make shows that are exciting and interesting and different than what's been done before?" poses de Mahy. "We wanted to make sure that these shows provoked important thoughts and questions while also making sure we approach them from a place where we can have fun, laugh, and really satirize what's happening in the world today."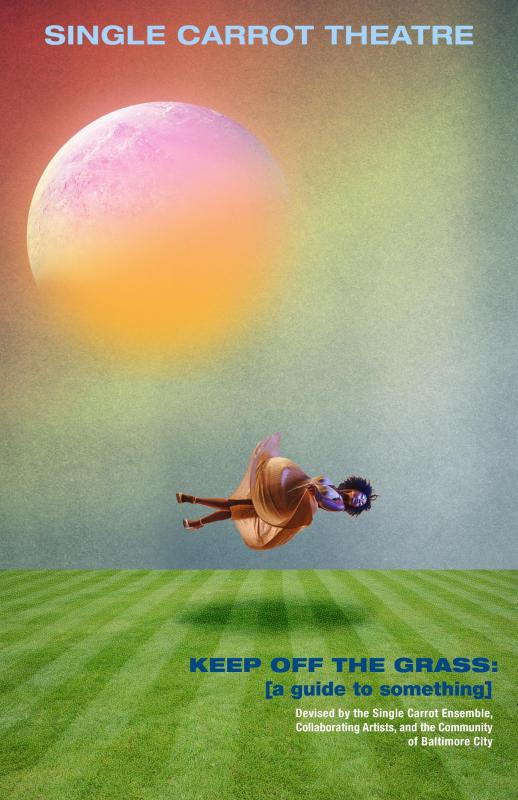 On January 13, 2021, Single Carrot will also present Healthy Holly's Hidden Hideaway, a fully phone-based mystery via call and text that envisions a cast of nefarious characters at the undisclosed location holding Baltimore's Confederate monuments. Later that spring, on April 30, Is Edward Snowden Single? aims to showcase its small-cast, millennial coming-of-age story in person, COVID willing, with more details to follow.
Even as Governor Hogan announces "stage three" of the state's COVID-19 recovery plan, including the reopening of live entertainment venues, Baltimore City has maintained "stage two" restrictions, with much remaining uncertain for the theater world. Most of the city's companies yet to announce their fall performances, but de Mahy considers these times as a pivotal moment that could set the stage for the future.
"My hope is that there is no going back," says de Mahy. "Yes, we'll do plays inside again, but theater is right on this crux of figuring out if it's a dying art or not. There are exciting new forms to explore, and I hope these times push theaters to think differently, and more vibrantly. I also hope that when it is safe to be in person again, there will be this joy and appreciation for going out and doing things and being in a room with people that we took for granted before."