Eyes on the Prize
Allowing young people to lead the way, Wide Angle Youth Media has made a name for itself as a local production house.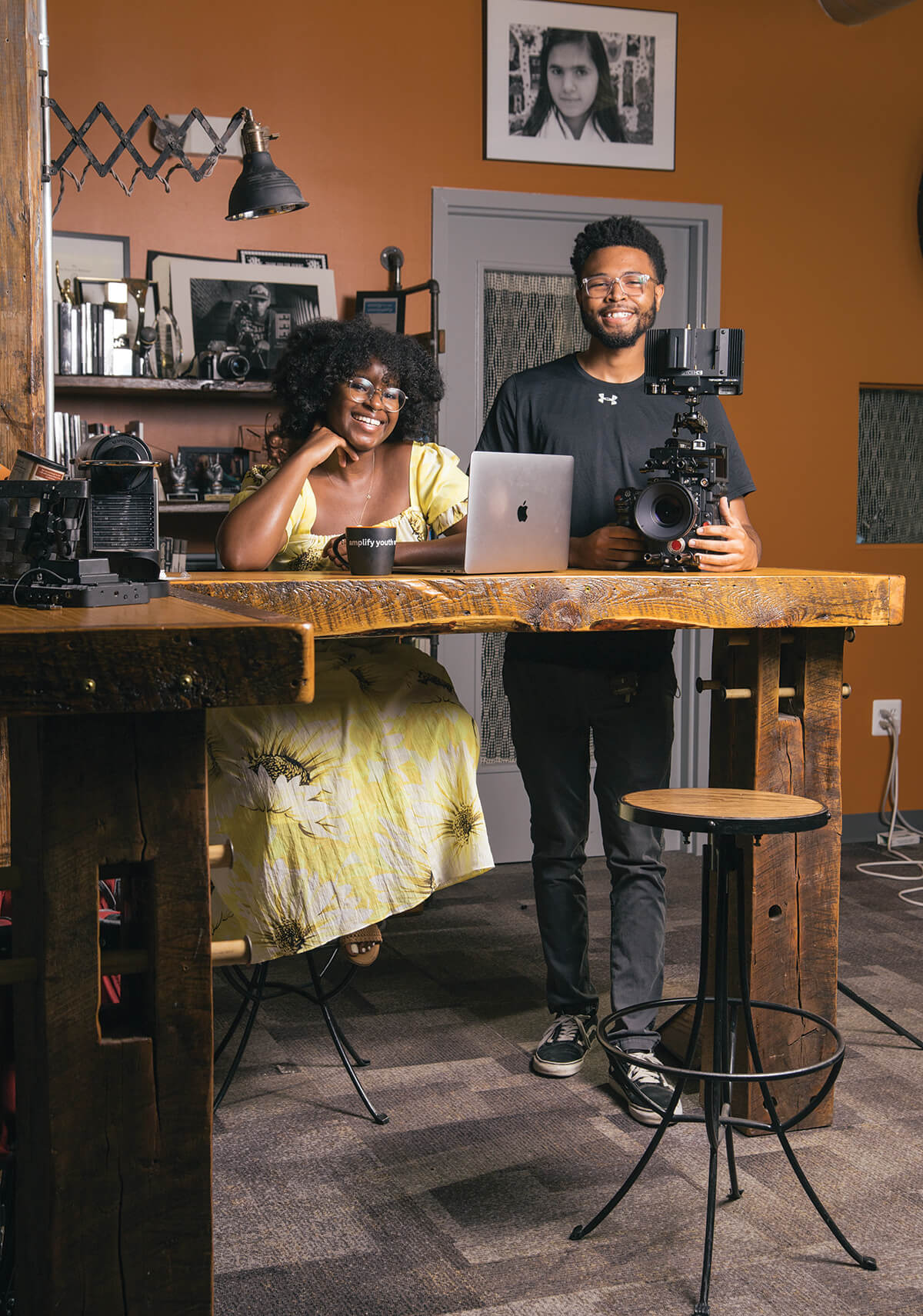 Tahir Juba was just 13 years old when his older brother suggested he join him at an "interest" meeting for an after-school program at Carver Vocational-Technical High School in West Baltimore. While the brothers knew very little about the program, Tahir, then a freshman at Polytechnic Institute, jumped at the offer of free pizza and a small stipend. But it was the now-23-year-old's introduction to camera operation and storytelling with a positive emphasis on Baltimore communities that has kept him coming back for the last decade.
The multi-hyphenate photographer, filmmaker, and editor has spent the last 10 years with Wide Angle mastering the art of storytelling and is now a full-time producer with the nonprofit organization, which celebrates its 20th anniversary this year. On any given day, he could find himself drafting a proposal, communicating with clients, operating a camera, directing, scouting locations, or editing professional projects with Adobe Creative Suite.
"When the media portrays Baltimore in a negative light, you don't want to just add more to that—or leave parts out that need to be addressed," Juba says. "The way we tell the story of the people of Baltimore can be as simple as choosing B-roll in a certain neighborhood verses the Inner Harbor and tourist attractions. It's showing what Baltimore really can be through neighborhoods that don't get much light."
"If we don't tell these stories [of our city], other people from the outside looking in will," continues the current Morgan State University student, who credits Wide Angle with helping him get into college, and budget his finances as well. "I'm just showing Baltimore in a different light as a city."
Over the past two decades, Wide Angle Youth Media has worked with more than 6,500 students in Baltimore City through a variety of programming and projects focused on local communities and uplifting stories of Baltimore. By providing hands-on media experience with state-of-the-art technology to students like Juba, Wide Angle offers the chance to learn production skills from conception to post-production from industry pros.
More recently, it has expanded its scope, shifting from solely education and media instruction to a full-fledged production house and creative hub, developing content for Fortune 500 companies and Baltimore's philanthropic community—organizations that include Under Armour, The Johns Hopkins University, T. Rowe Price, and the Abell Foundation, among others.
"Baltimore has so many great stories," says John Brothers, president of the T. Rowe Price Foundation, which helps fund Wide Angle's work with grants. "[Wide Angle] is at the front line to tell amazing stories of community that are really authentic. We view Wide Angle as a community partner."
When Under Armour funded new uniforms for the city's high school football teams and renovated several local school gyms, for example, they hired Wide Angle to share the story of their philanthropic efforts.
"[Wide Angle] came to pitch Under Armour, and they were successful," says Maxwell VanHook, a former interactive designer at Under Armour, who now works as a creative director for Amazon. It was Wide Angle's eye for compelling direction, along with just the right combination of insider knowledge and desire to tell Baltimore stories, that sealed the deal.
"[Philanthropy] is a side that not a lot of people see of these corporations," explains Juba, who was able to use the skills he began learning as a teen to film and edit portions of the U.A. promotional video. "It's very different from the style of commercial videos that Under Armour makes, not all sweat and muscles. We used [the videos] to show how sports and education can go hand in hand."
"IF WE DON'T TELL THESE STORIES, OTHER PEOPLE FROM THE OUTSIDE LOOKING IN WILL…"
It's the precision and care that's taught in Wide Angle's programs—along with a commitment to taking on community-based projects centered around Baltimore's young voices, in particular young voices of color—that makes the program so unique, say instructors, students, and clients.
"Media is made to be consumed," says Susan Malone, Wide Angle's executive director. "If we are having young people tell stories about issues in their communities, it's our responsibility to listen to where these young people want these stories to go and get them out in the community…That can be through design, video, photography, or radio stories. [But] whatever their medium, it's our framework as an organization to make sure we are amplifying their goals, to make sure we are making change across the city, and make sure each voice is heard."
Wide Angle serves youth, students, and burgeoning young professionals between the ages of 10 and 24. Students can begin in middle school with a basic media course sampler that encourages them to find their voice and medium. By the time they reach high school, students are offered a stipend or service-learning hours for their participation. Some students are also paid by Baltimore City's Youth Works Summer program.
After high school, those who wish to continue working in media can apply for Wide Angle's apprenticeship program, which enables students to elevate their skills, join the staff, and work from 12 to 40 hours a week.
"The industry is predominately white males," says Malone, noting Wide Angle's staff is overwhelmingly non-white, and gender diverse, with 50 percent 24 years old or under. "This allows them to build a skillset while moving into the field. It's on-the-job-training."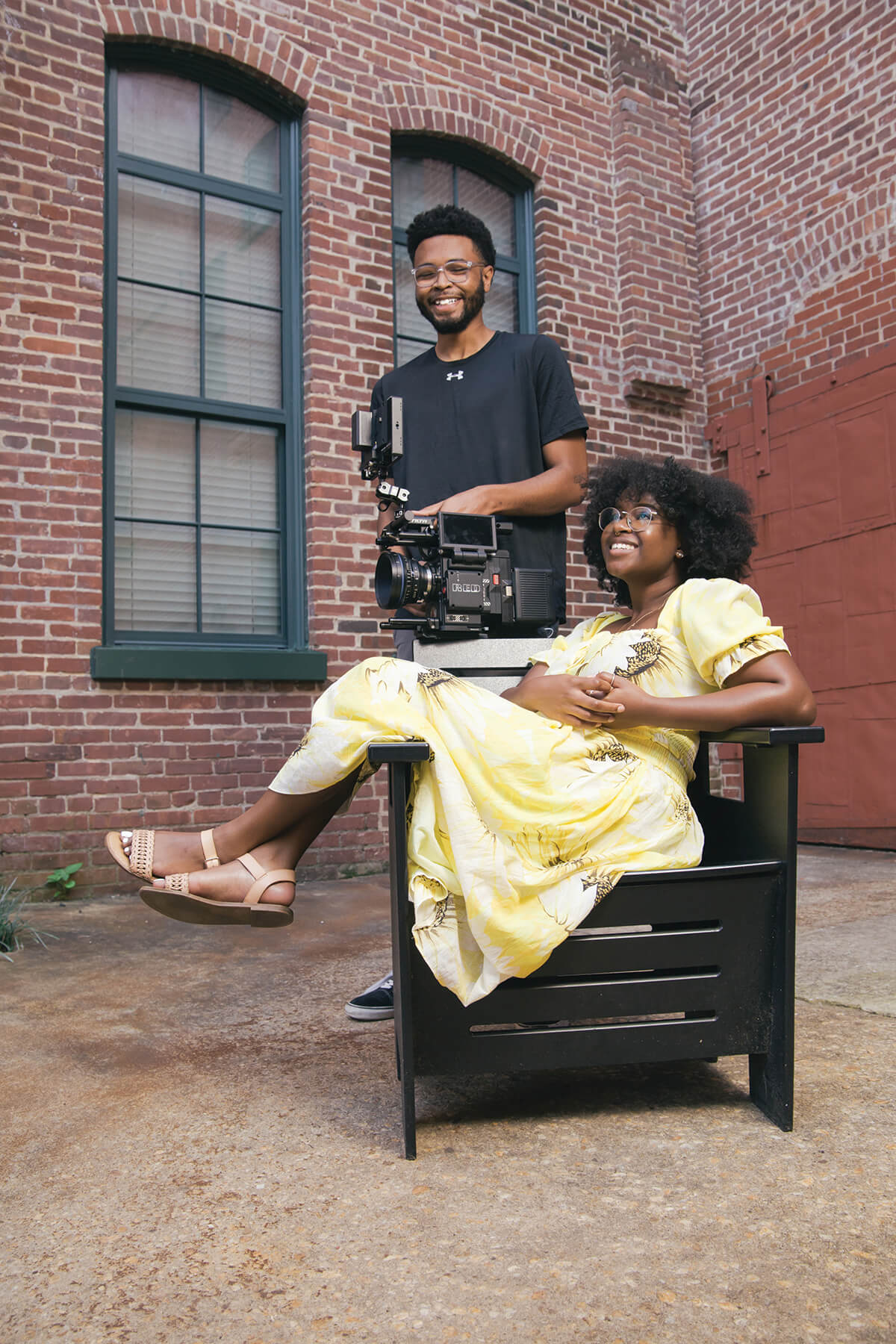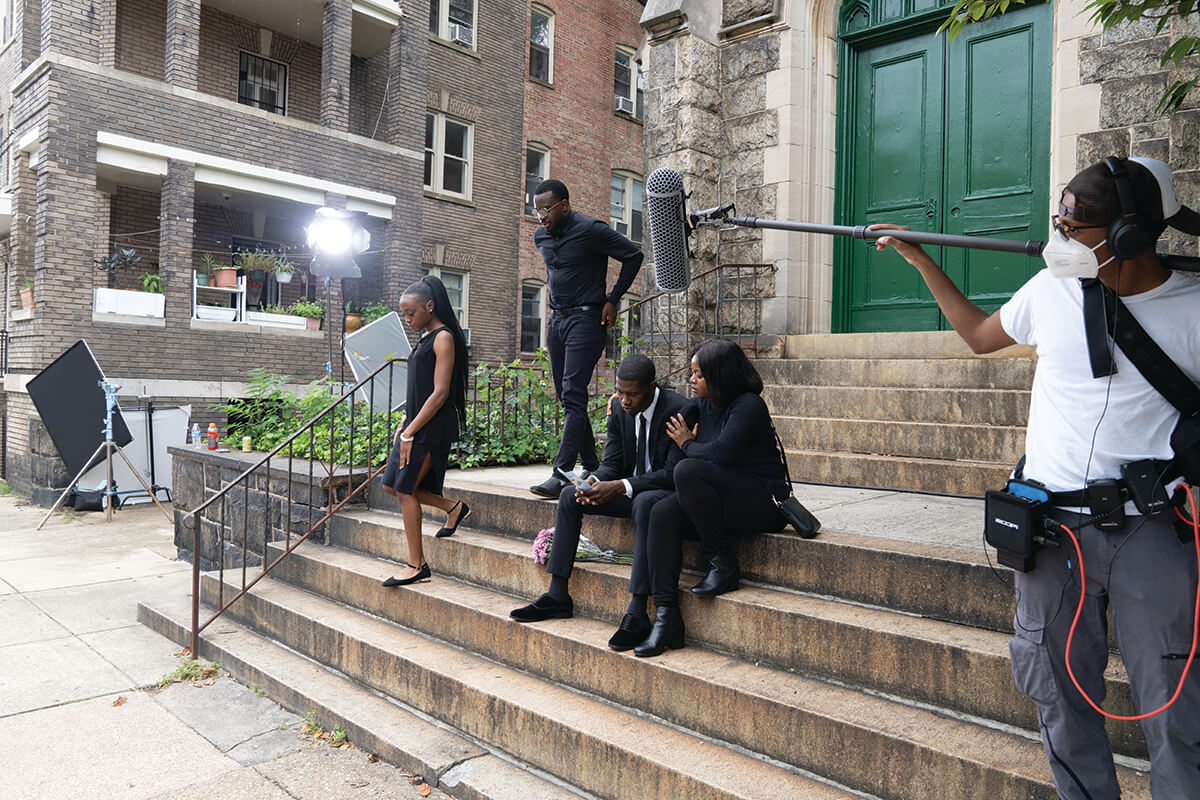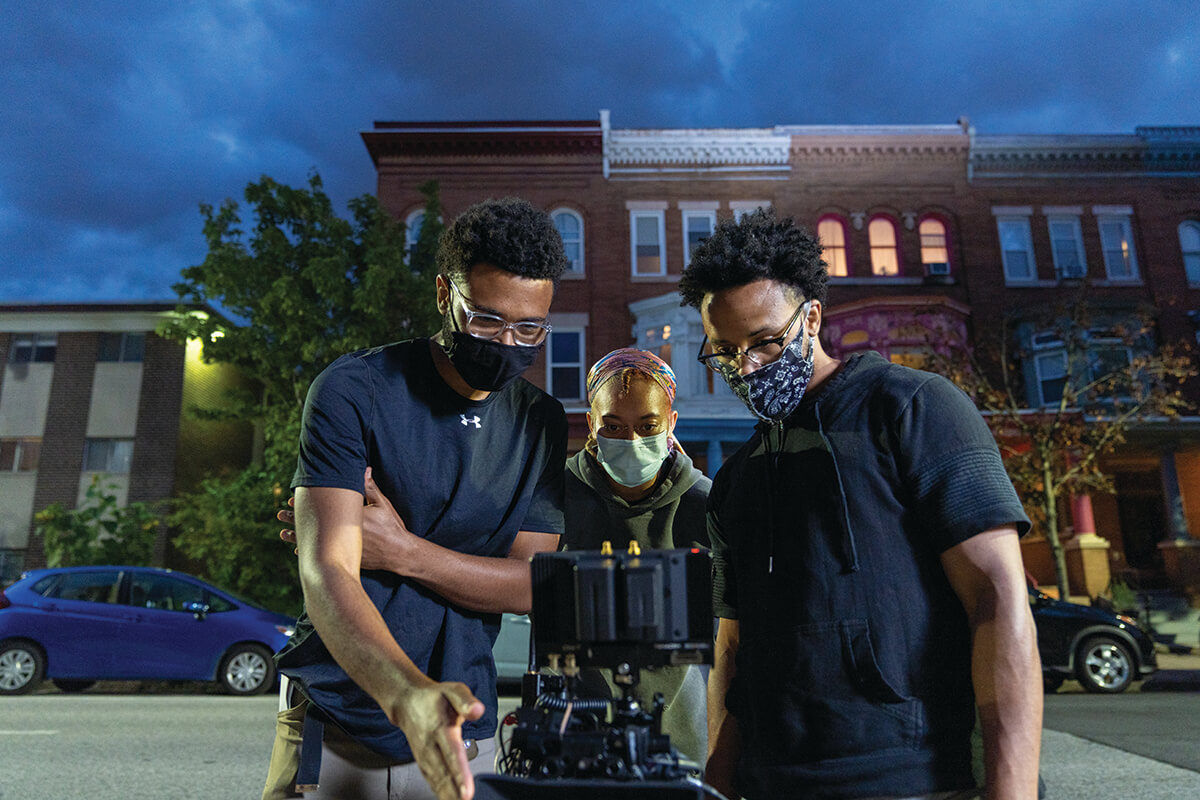 Malone understands just how important it is to be exposed to this type of work early on. She was just 13 when someone placed a camera in her hand, igniting her love for the dark room and making images. Growing up just outside of Philadelphia, Malone moved to Baltimore to attend the Maryland Institute and College of Arts in 1993. A few years later, she became friends with Gin Ferrara, who used the support of an Open Society Fellowship to create Wide Angle Community Media in 2001.
As the founder, Ferrara wanted to provide media education to Baltimore City youth while also encouraging them to tell their stories. In the beginning, the organization taught students and educators the skills they needed to create media projects in their communities and schools. Over time, Ferrara and Malone realized that there was another need in Baltimore. There was grassroots work happening that wasn't being properly documented—and the city's media landscape, like the city itself, lacked diversity and equitable resources.
"I acknowledge that I am a white leader doing this work," says Malone, who joined the organization in 2003 and took over as director in 2010. "If we want to attract Black leaders, we must make sure there are resources across the board."
Initially, Wide Angle began with only video programming and education efforts, very slowly adding a variety of video, photography, social design, and audio storytelling components. Under Malone's leadership, Wide Angle has partnered with StoryCorps, Radio One, and the Enoch Pratt Library to distribute the stories that the young people have produced in her programs. Until 2012, Wide Angle still was operating as mostly an after-school organization. When the occasional request from local organizations to create content came in, it would get turned down.
"'We don't do that, we do youth media,' I'd tell them," Malone recalls. "Then I thought, we're leaving money on the table. What if we start thinking about a social enterprise and what will happen if we say yes? We had students like Tahir, who wanted to build their skillset and wanted to move into the industry, but we didn't have a work force program. So in 2013, we said yes to everything that came in."
Wide Angle partnered with Impact Hub to solidify a business plan that would launch them into the world of professional, client-based production. Before the pandemic, 35 percent of their $1-million operating budget was from their production services.
"Nonprofits needed someone who really understood their needs," Malone says. And who better to understand them than another nonprofit? "All of a sudden, [our clients] were able to raise more revenue to do their work."
There are roughly 35,000 nonprofits in the state of Maryland and more than half have a budget of $25,000 or less for operations, Malone notes, adding. "If you do not have the resources at the table to hire quality talented staff to do this kind of work, and sustain and retain them, it is very hard to grow."
Even the COVID-19 pandemic did not stop Wide Angle from pursuing its mission. If anything, it made the work with students of color more urgent. When the George Floyd protests ignited throughout the country, the members of Wide Angle knew they needed to add their voices to the narrative. The organization created a curriculum for educators that now lives on its website for free. The downloadable teaching guide can be used to inspire often difficult conversations in the classroom. And Wide Angle got creative with its COVID-era projects, even receiving national recognition from CNN for the "virtual prom" it held last spring.
"KIDS HAVE THINGS TO SAY THAT MATTER AND NEED TOOLS TO USE TO AMPLIFY THEIR VOICES…"
Although the pandemic forced Wide Angle to go virtual, that didn't stop the students from being engaged, especially in light of the ongoing social reckoning.
"When George Floyd happened, I went to D.C. and filmed with friends," says Lynnie Reed, a Towson University student and assistant producer, who works part-time for Wide Angle. "[It was a moment] I felt why I needed to be in this industry."
Through Wide Angle's "compassionate accountability" philosophy, a term coined by program director Keiona Graham, the Southern Maryland native has been able to merge her passion for business—her major at Towson—with her love of film.
"I wanted to be the person to look at [projects] from a business perspective," Reed says. "How much money do we have? What will the scheduling look like? My boss puts a lot of trust in me."
This fall, Wide Angle will roll out a new pilot program at Lillie May Carroll Jackson Charter School. It will run two programs at the all-girls school, which will give every student the opportunity to create their own media project.
"Kids have things to say that matter and need tools to use to amplify their voices," says Laurel Freedman, the school's founding director. "We wanted to give kids agency, real life skills to use in a powerful way."
After the school received a $4-million renovation with funding from a Maryland grant and the Weinberg Foundation, it reached out to Wide Angle to design its Media Maker Space in the school's media center, which is now equipped with 10 iMac computers—all loaded with the full Adobe Suite—plus green screens, cameras, and a sound booth for creating audio programs.
While it was the Weinberg grant that made the Lillie May Carroll Jackson school happen, Malone says that, with the help of the CARES act, Wide Angle Youth Media also saw its cash flow improve during the pandemic, even as it pivoted to virtual instruction and work.
"We were blessed to have enough staff to jump on every opportunity," she says. "We kept everyone on the team that wanted to stay. We changed gears. Our kids have phones and Chromebooks."
One of those who participated in a virtual workshop was VanHook, the former interactive designer at Under Armour, now at Amazon in Seattle.
"It was important for me to tell the young people to build your own path and own journey," the Baltimore native says. "If you can start to build earlier, it becomes harder for someone to tell you who you are later in life."
When he was a student at Pennsylvania Institute of Arts years ago, VanHook was surprised to discover that many of his white classmates had already been using Adobe products like InDesign and Photoshop and also had access to equipment that he'd never even heard of. But with Wide Angle, young people are gaining access to all the resources they need to be competitive in the world of media and film, he says.
"They have Red cameras [a leading, professional, digital-camera manufacturer]," he adds with excitement, noting the level of sophistication of high-quality camera equipment. "I can't imagine how much further I'd be along if I had something like Wide Angle when I was growing up."