Won't You Be My Neighbor?
A shared crisis has a way of galvanizing relationships.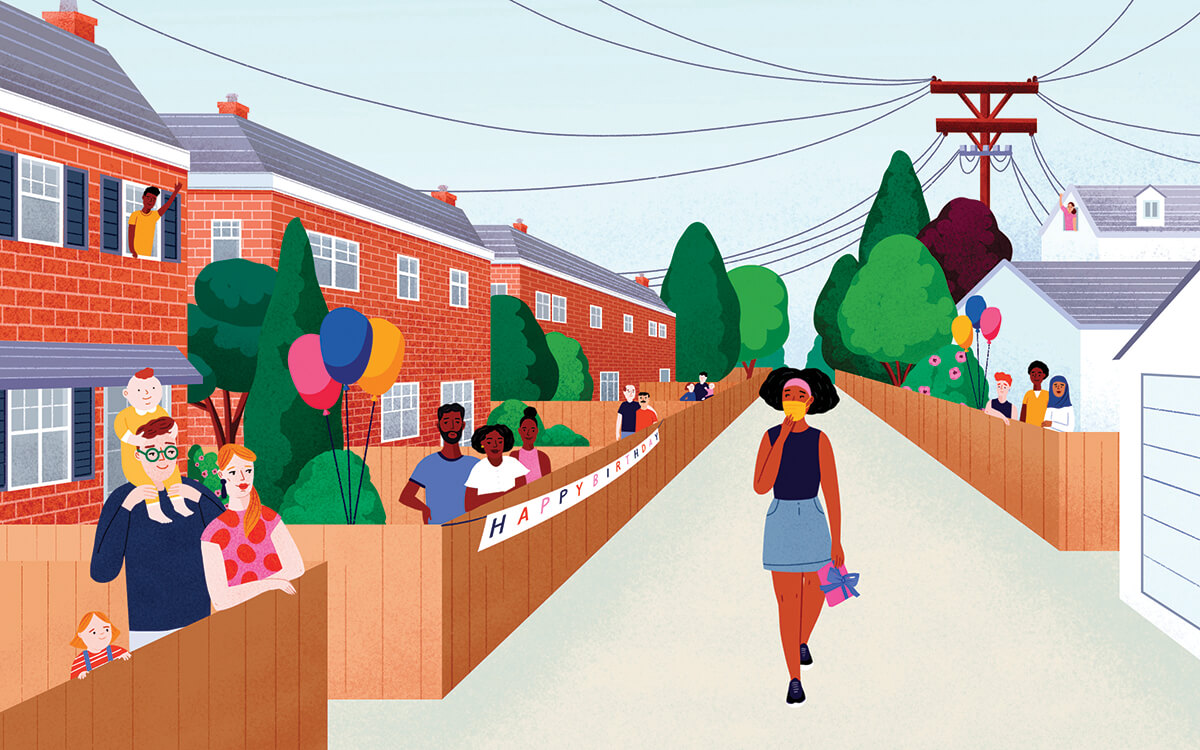 [Editor's Note: This piece was published as part the cover story "Behold the COVID Buying Boom," for our April 2021 issue, on newsstands now.]
It was just over a year ago that the world seemed to come to a screeching halt. One day parents were driving their kids to baseball practice, and the next they were hoarding toilet paper and creating Zoom accounts.
As the country erupted into panic and confusion those first few days in mid-March, three Mt. Washington neighbors started texting each other. Sam DuFlo, owner of Indigo Physiotherapy, wrote the first group message on March 15, 2020, to Samantha Claassen, proprietor of Golden West Café, and Vanessa Pikler, a Baltimore-based psychologist. They decided they needed a community meeting and invited everyone who lived along the alley behind Rogers Avenue and Greenberry Road. Seven families showed up.
"We all stood in a big circle six feet apart," recalls Pikler. "We didn't even know masks were important at that point."
The meeting was simply to acknowledge the fact they were in this together. The neighbors made a promise, offering to pick up groceries, help with medical questions (like where someone could procure a COVID test), walk dogs, and look out for each other, especially the older residents on their block, using a Facebook page and group text. With their calendars suddenly wiped clean and the state in lockdown, they had nothing but time and energy to put toward each other.
Under normal circumstances—even in a place like friendly "Smalltimore"—the majority of neighbors see each other mostly in passing. Pleasant but brief interactions—a wave, a quick hello while walking the dog, a commiseration over bad weather—are the most we can hope for as we run from soccer games to dinner reservations to work meetings to theater performances to vacations.
Stopping to chat meant being late for something. But all of a sudden, everyone's world shrunk to include only their house, and for sanity's sake, their street and their neighbors.
"A shared crisis has a way of galvanizing relationships," says Pikler.
It's something we've witnessed all over this city. In the Jones Valley townhouse community, Jeremy Steinhorn arranged for weekly food trucks to come to his Pikesville neighborhood, a gesture that both supported struggling businesses and created an opportunity for folks to do something that felt normal.
In Towson, more than 1,000 paper lanterns snaked through the Stoneleigh neighborhood in early January as a way of getting neighbors out of their houses and safely interacting with each other. A month earlier in Rodgers Forge, Christmas lights were strung between homes, creating a magical canopy and festooned with a simple but weighty message fashioned from rope lights and coat hangers: "Love Lives Here."
Kim Morton, who inspired the first string of lights, wrote in a Baltimore Sun op-ed, "These lights are a visible sign of the connections between our families. You need to know your neighbor pretty well to be able to climb on the roof, feed extension cords through windows, drill hooks in the brick, and guide the lights between the trees. Our kids created the term 'neighbor family' to describe our relationship to the neighbors on our block."
That sentiment made its way to Rogers Avenue, too. Early on in the pandemic, as Pikler got ready to celebrate her husband's birthday, the family's first in lockdown, she had an idea. "Would you mind coming out to your back porch or balcony and singing 'Happy Birthday?'" she texted to the neighborhood group. And they did just that, serenading her surprised spouse as he was walked down the alley. (A tradition that has continued for other neighborhood birthdays.)
The Piklers have also hosted two driveway concerts, hiring the Ricky Wise Trio to scratch that live music itch. They invited the whole alley, and almost everyone showed up, dragging lawn chairs from their yards and spacing themselves out. "We all live busy lives, and yet this has really made us want to take care of each other and build a community," says Pikler.
The same is true for James and Jennifer Evans and their next door neighbors Matt and Amanda Hall. Early on, the Rodgers Forge families decided to create a "quarantine pod." Sure, it helped to have their kids occupied with each other while both families navigated working from home and virtual school, but it became so much more. The families—with five kids among them, ranging in age from 3 to 12—started moving beyond playdates to spend holidays and birthdays together, too.
"As each holiday came and went, we became really close," says Jennifer. "Family was replaced with next door neighbors, but we soon found out they were interchangeable."
Last summer, the Evans family started a chalk wall on their garage. On it, Jennifer writes every major event the families have celebrated together during the pandemic—birthdays, Easter, Memorial Day, Fourth of July, Halloween, and now, Easter again.
"While scientists rushed to find a vaccine to fight COVID-19, we found an equally important relief for the virus' side effects," says James. "Loving and thoughtful neighbors."
And sometimes that neighborhood has widened to people who've never even met. A month into the pandemic, labor and delivery nurse Jessica Butta was getting in her car in Canton, wearing her bright teal scrubs, when a car pulled up alongside her and the driver got out.
"At first I was a little bit, 'Ohhh God,'" she remembers. "Are you a nurse or a doctor?" he inquired. She said she was on her way to her shift at Hopkins Bayview when he handed her 40 dollars in cash. "I just want to thank you so much for everything. Your dinner tonight is on me," the stranger told her. Butta started crying as the man got back in his car and drove off. She went into work and that night treated all her coworkers to Chick- fil-A. "I have felt the love from friends and the community," says Butta, though it was the generosity of a stranger that really overwhelmed her.
For Amit Peled, a world-renowned cellist, the pandemic turned his Pikesville neighbors, many of whom he didn't know, into an audience. One warm day, Peled, who acknowledges that he "selfishly missed" being on stage, took his chair and cello and sat in his driveway and started to play. People stopped, listened, and immediately asked when he would play again. The next weekend his crowd had doubled.
"Everyone thought with classical music you have to be quiet," says Peled. But he told them, "Please talk, move around."
Often an Amazon truck would stop and deliver a package in the middle of a piece. The Peabody Institute at Johns Hopkins University professor invited some of his students to join in the driveway concerts, too. "Without my cello, I'm quite shy," says Peled. But the concerts offered him a chance to speak to almost everyone in the neighborhood.
A cold snap forced Peled inside his garage (since his 1695 cello, made by Italian master Giovanni Grancino, can be quite temperamental).
"We think the acoustics are actually better in your garage," more than one neighbor told him. Winter officially ended the outdoor concerts, but also opened up the opportunity for live streams. Acquaintances offered advice as to how his room should be lit and the proper camera angle.
"It's become a neighborhood project," says Peled. With local residents tuning in, as well as his parents from Israel and some of his 23,000 Facebook followers, they've become some of his best-attended performances.
And while Peled might be famous in the music world, his neighbors are keeping him grounded. "I checked you out on Spotify," one bystander told him. "You sound much better in our neighborhood."