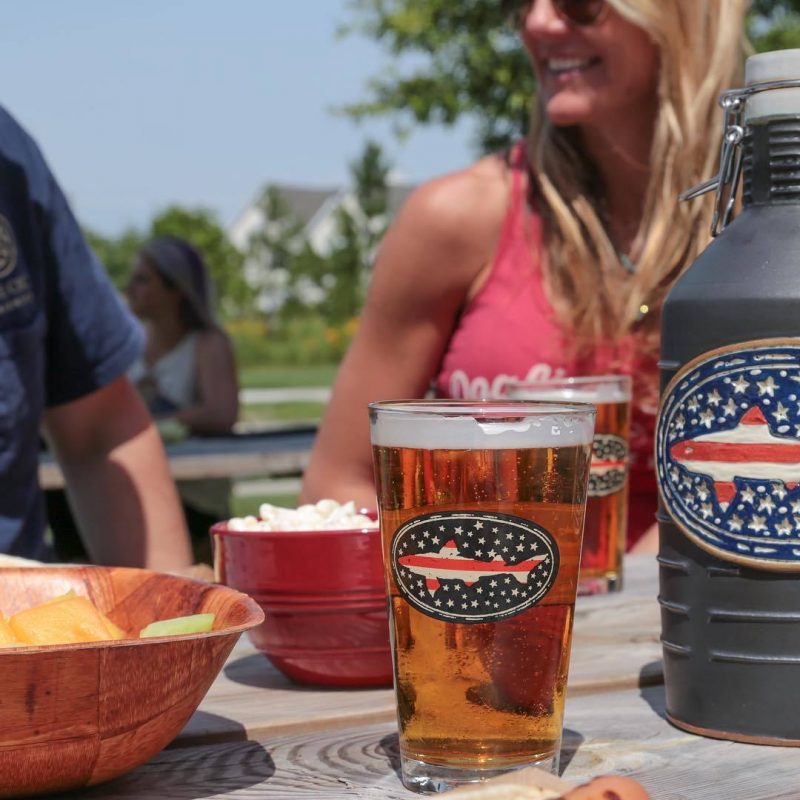 @dogfishhead via Instagram
Fireworks aren't the only thing to look forward to for Independence Day. Baltimore is full of events to keep the red, white, and blue spirit going all day long. From cruises to pet parades, there is no shortage of things to do in the city to show your patriotic pride. Whether you're looking for a full day's worth of star-spangled fun or a dinner on the water, we've got you covered.
FOOD
Topside
Celebrate Independence Day by chowing down on a BBQ-inspired menu, featuring ancho BBQ ribs, housemade sausage, smoked brisket, corn pudding, broccoli salad, and cornbread. Although the Mt. Vernon restaurant doesn't provide a front row view of the fireworks in the Inner Harbor, Topside does offer panoramic views of the Washington Monument—and what's more patriotic than that?
Summer in the Squares
Listen to live music while enjoying a summer picnic in the west square of Mount Vernon Place. Enjoy refreshments in by the picturesque fountain and celebrate Independence Day with two Baltimore-based ensembles: Ghost Sugar and Brandon Woody's Upendo. To give you time to get to your favorite fireworks, the performance will begin in the early evening. 6 p.m.
Independence Day Deck Party
Climb aboard the U.S.S. Constellation and watch the Inner Harbor fireworks show from the deck of the historic ship. Along with a top-notch view, take advantage of all-you-can-eat barbecue favorites, special boat tours, and even cannon firings. 7-10 p.m. Free- $75.
Fourth of July Fireworks Dinner
Take a three-hour cruise with incredible views of Baltimore's fireworks show while indulging in a three-course buffet style dinner. Enjoy an open bar, DJ, dance floor, and games. All guests must be 21 or older. 7:30-10:30 p.m. $124.90+.
FESTIVITIES
Towson Four on the 4th
Start the holiday off on the right foot with a four-mile race through the heart of Towson, beginning at the courthouse and winding through Towson University's campus. If that distance is too daunting, participate in the 1776 (feet) Family Fun Run at 8:30 a.m. and then stick around for the annual parade. 8:15 a.m. $35- 40.
Visionary Pets on Parade
What could be better than a dog dressed in red, white, and blue garb? Try hundreds of pets of all shapes and sizes competing for costume prizes such as most visionary, owner and pet lookalikes, and most patriotic. Watch in awe as local pets parade around the American Visionary Art Museum and compete in a talent show. 9 a.m. Free.
Red, White & Zoo
Spend the Fourth of July with the biggest party animals around at The Maryland Zoo. Watch as the animals receive special holiday treats, including "fishsicles," and papier-mache toys. A team of zookeepers will educate guests on the importance of enrichment activities for the zoo's inhabitants. 10 a.m. – 4 p.m. $17.99-25.99.
Hanover Street Gallery
Experience the opening celebration of Reframing Pathways, a diverse collection of artwork showcased on the Hanover Street Bridge facade. The Hanover Street Bridge will be transformed into a gallery with the heart of the works highlighting different art-making perspectives from pattern and design to more representational works. 1-9 p.m.
FIREWORKS
Cherry Hill Arts & Music Waterfront Celebration
Celebrate the cultural vibrancy of this South Baltimore neighborhood with live performances, local food trucks, artistic activities, and a fireworks show. Don't miss seeing Abu the Flutemaker and the organization Safe Streets Cherry Hill receive honors for its commitment to the community. 1-10 p.m. Free.
South Point
South Point, a pop-up outdoor seasonal space, will be open early for first-come-first-served seating areas to bask in the rockets' red glare. Throughout the day, standard food service will be available and the bar will be open to patrons 21 and older. Stick around for the afterparty starting immediately following the fireworks. 4 p.m.-12 a.m.
Dogfish Head Takes Over at the Sandlot
Join Sandlot and Dogfish Head for Fourth of July at Harbor Point. The Delaware brewery will take over taps and the event features: two live bands, games on the beach, multiple food stations, various draft and can beer stations, and one of the best firework views in town. Expect additional food pop-ups by The Charmery, Blacksauce Kitchen, and The Local Oyster. Food will be available from 4-9p.m. and stick around for fireworks at 9:30 p.m. $5 kids through age 12. $10 cover. $10 event parking.
Independence Day Celebration
Secure a spot on the waterfront lawn of the Baltimore Museum of Industry for a picture-perfect view of the fireworks over the Inner Harbor. If there's time before or after the show, take a tour through the Federal Hill museum. Admission is included in the ticket price. 6-10 p.m. $65.
Picnic at the Top
Climb to the highest floor of the World Trade Center to enjoy a Picnic at the Top. Visitors can take in a 360-degree view of Baltimore and festive fireworks from 27 floors above the Inner Harbor. The event offers catered food and beverages, children's activities, a live DJ, and photo booth. This is a non-alcoholic, family-fun event, and doors open at 7:15 p.m. 7:30-10 p.m. $35-$75.