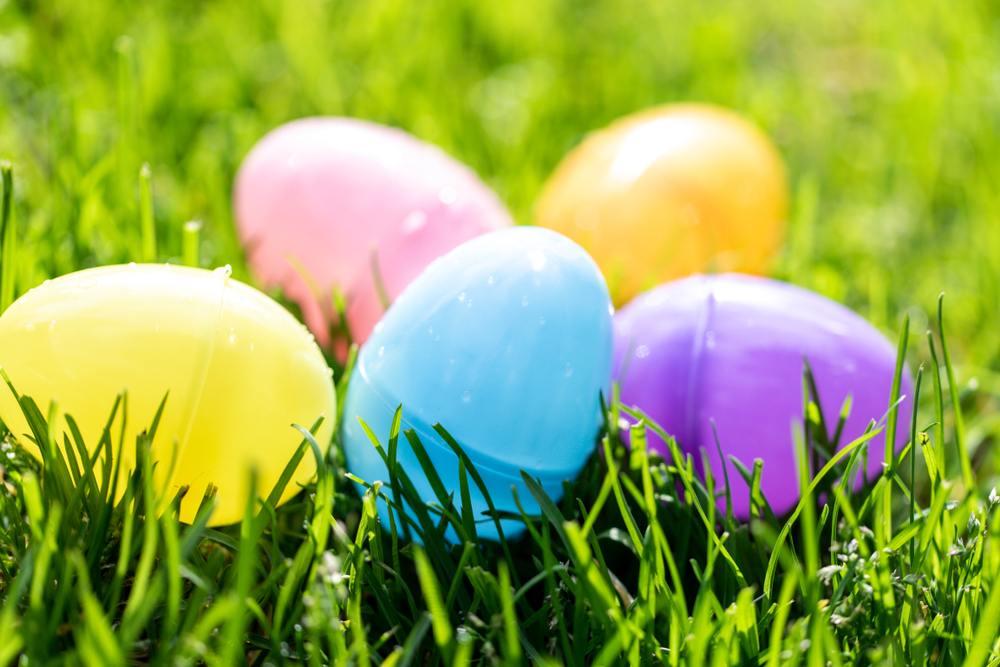 — Shutterstock
They always say don't put all your eggs in one basket, but this time of year, you should do eggs-actly that. The Easter bunny is hopping across Charm City this year, leaving eggs filled with delicious treats for locals to discover. So, if you are looking for ideas on how to spend this year's spring holiday, celebrate with cheers and bunny ears at these egg-citing egg hunts around town and have a Hoppy Easter!
Adults only:
Adults Only Egg Hunt in Middle River: Grab your flashlight and head to Wilson Point Park for a nighttime egg hunt to benefit Middle River Volunteer Fire and Rescue Company. Adults 21 and over can crack open their eggs to find mini liquor, gift cards, alcohol-infused chocolates, scratch-offs, Jell-O shots, and more. Enjoy food from Dave's Smoke and Tacos food truck and sweet treats from Mr. Soft. 950 Beech Dr., Middle River, April 15 5-9 p.m., $25.
Royal Rabbit Vineyards Adult Easter Egg Hunt: Who says Easter can't be about wine? This aptly named vineyard in Parkton is celebrating the holiday with an adult-only wine tasting and egg hunt. Eggs will be hidden in plain sight with an assigned color for each egg-seeker. The wine tasting room opens at 11 a.m., so get ready for some tipsy Easter egg fun. 1090 Jordan Sawmill Road, Parkton, 443-721-6692, April 16 1-2 p.m.
Family-friendly:
Easter Bunny Breakfast: Looking to spend some quality time with the Easter bunny? Look no further. Perry Hall United Methodist Church invites you to indulge in a delicious breakfast of pancakes, sausage, scrambled eggs, and more. After breakfast, create your own Easter crafts, meet the Easter bunny for a special gift, and keep your eyes peeled for the many eggs hiding in the shadows. 9515 Belair Road, Perry Hall, April 16, 9:30-12 p.m., $10 for adults, $8 for children 4-12 years, under 3 free.
Easter Egg Hunt with Me-Me and Ana Banana: Meet Me-Me the bunny and the egg-cellent Ana-Banana for a day filled with Easter fun. Toddler events are from 10 to noon and events for children ages 5 and up are from noon to 1 p.m. Expect interactive dancing, an egg hunt, pictures and hugs with Me-Me, and a glitter tattoo decorating station. Half of all proceeds will go towards supporting Ukraine. Double Rock Park in Parkville, April 16, 10-1 p.m., $30 for children, adults are free.
Easter Egg-Stravaganza Brunch and Egg Hunt: Preddie Cooks LLC and Kota's Bows N Beads are teaming up to host this egg-cellent Easter Sunday brunch and egg hunt filled with fun activities for all ages. Join in on the egg hunt, a scrumptious brunch, games, raffles, giveaways, a 360 video photo booth, and a picture with the one and only Barry the Bunny. Find the golden egg and win a grand prize. 7802 Harford Road, Parkville, April 17, 12-4 p.m., $0-40 depending on group size and desired inclusions.
Easter Picnic Parade: Hop on down to Wyman Park Dell this Easter Sunday to join Dreams and Visions, a local LGBTQ+ rooted church, for an outdoor picnic jam-packed with fun. Enjoy an all-ages egg hunt and create DIY flower crowns, all while tapping your feet to the music of Dan and Claudia Zanes. Come dressed to impress in your Easter Sunday best; the most fabulously dressed wins a prize. An Easter picnic potluck follows, plus a possible special bunny appearance (but no promises). 3000 N Charles St., April 17 at 4 p.m., Free.
Federal Hill Egg Hunt: Hop 'til you drop at this local egg hunt. Revel in the Easter holiday spirit with your neighbors while hunting for prizes and candy-filled eggs. To participate, either drop off filled eggs plus $1 or pay $8 to fill your eggs. Federal Hill Park, April 16 at 10 a.m.
Healthy Egg Hunt: Looking for a healthier option this Easter? Healthy Vibes Bel Air, a smoothie and juice bar, is hosting a healthy Easter egg hunt. Each ticket includes a healthy holiday beverage, a scavenger hunt-style egg hunt for all ages, and an egg hunt just for children with delicious healthy treats inside every egg. 15 E Churchville Road, Bel Air, April 16 1-2 p.m., $5 for children, $10 for adults.
Inverness Brewery Egg Hunt: Head to this Monkton brewery with your Easter baskets in hand for an egg-stra special Easter weekend. Embark on an Easter egg hunt around the farm and take a picture with the Easter bunny. Parents can enjoy the hops of the brewery's signature brews while the little ones practice hopping like a bunny. 16200 Markoe Road, Monkton, April 16, 12-7 p.m.
Maryland Line Volunteer Fire Co. Egg Hunt: Put a little hop in your step and head to this egg-citing Easter egg hunt. Meet local Maryland firefighters, EMTs, and paramedics, and get the chance to check out fire engines, ambulances, and Maryland Line Volunteer Fire Company's antique brush truck, a vintage fire engine made for fighting small grass fires and off-roading. Also, some-bunny special will be stopping by to visit all Easter egg hunters. 21631 York Road, Freeland, April 16, 11-1 p.m., for ages 2-12. Free.
Pine Grove Middle Egg Hunt: Come out of your shell at this Friday egg hunt at Pine Grove Middle. Search for hundreds of candy and prize-filled eggs in every nook and cranny. Grab your baskets and put on your bunny ears to celebrate at this egg-ceptional holiday celebration. 9200 Old Harford Road, Parkville, April 15 at 1 p.m.
Pop-up Egg Hunt at The Farmyard: Visit The Farmyard's new location for a hands-on Easter experience. Harness your inner bunny and don't be afraid to get your paws a little dirty with the opportunity to bottle-feed a calf. Tickets include a picture with the Easter bunny and a princess, goodie bags, an egg hunt, a hayride, a pony ride, and access to the many animals and vendors at the event. 21159 Old York Road, Parkton, April 16, 10-2 p.m., $7-17.
Spring Festival Easter Egg Hunt: Don't worry, be hoppy because Whitestone Baptist Church is hosting a non-denominational afternoon of family fun. Enjoy free Easter baskets, an egg hunt, an egg decorating contest, an arts and crafts station, games, a photo booth, a dance contest, and more all to the beats of DJ Melton. Tasty eats and treats will be provided by local vendors. 3001 Baker St., April 16, 12-4 p.m., $5.