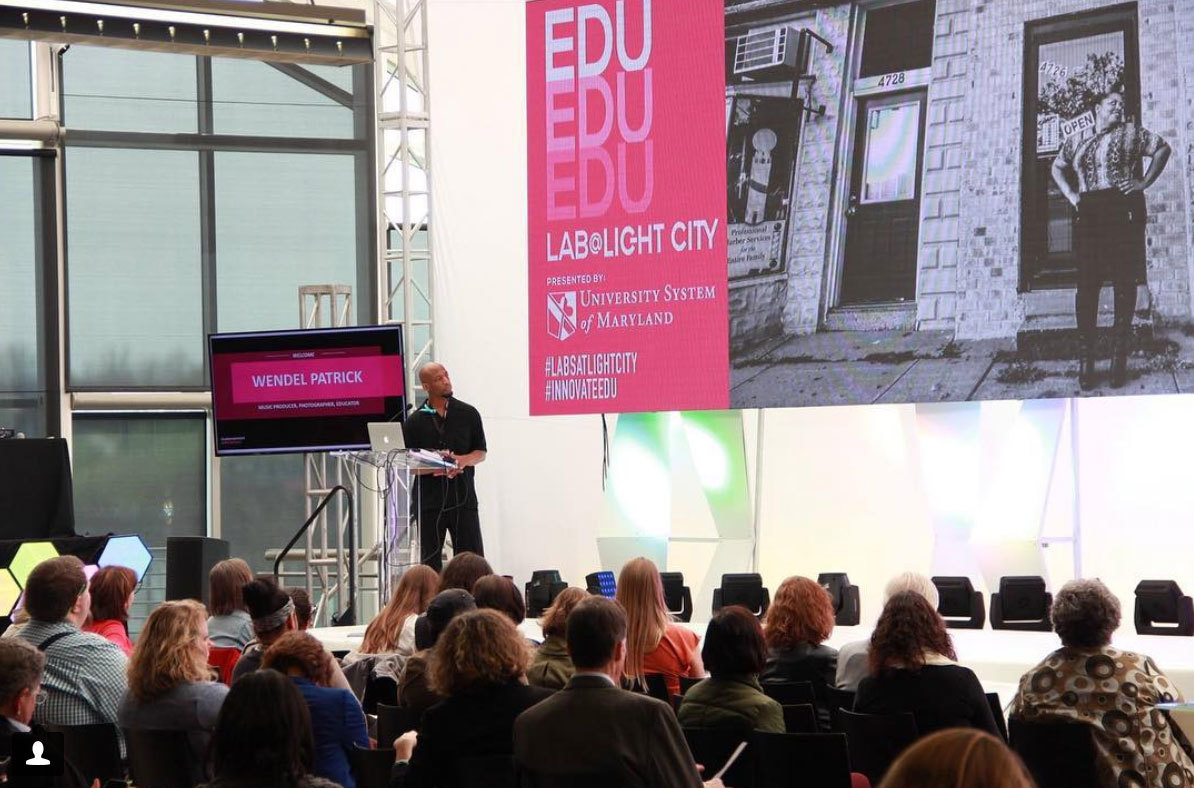 [email protected] City
It's that time of the year when the city becomes a living art display featuring crazy sculptures, flashing lights, and interactive waterfront installations for the annual Light City Festival presented by the Baltimore Office of Promotion and the Arts (BOPA). The festival kicks off on April 6 and will span across three weekends.
While the beautiful giant egg, glowing seesaws, and illuminated peacock were crowd pleasers last year, the social innovation labs were thought-provoking, as well. And this year's panels, called [email protected] City, will be no different. From April 18-21 at the IMET Columbus Center, the conferences will feature discussions from more than 140 innovative thinkers including Baltimore Rising producer Sonja Sohn, health commissioner Dr. Leana Wen, chef Dave Thomas of Ida B's Table, and activist DeRay Mckesson.
"The overarching theme of all seven of the labs is how to become a more fair and just society," labs organizer Jamie McDonald said, referencing the art, education, food, social, environment, maker, and health themes. "We look at social innovation through the lenses of each of these topic areas—that's what makes this conference so unique. Our whole philosophy is that there's brilliance everywhere."
This year locals can also expect a few changes to the labs including the cost of the tickets. Last year, admission was $149 for one lab and $99 for each additional. BOPA is highlighting a "pay what you can" model for each session. McDonald said that it's always been the case, but jokingly admits that it took BOPA three years to perfect the language.
"We want everyone who wants to attend to attend," she said. "We decided that we didn't want to make it feel like you had to go through a special process to attend. This gave us a way to say to everyone, 'Come and be part of the conversation, join us at the labs, and pay what you can.' It's one simple message and it's worked a lot better." 
Another thing to look out for is a change in the frequency and duration of the labs. Instead of full-day sessions, the sessions will only last four hours. Also, the popular DesignLab from last year that covered a broad range of topics from art to digital media has been split into two separate sessions—an ArtLab and a MakerLab—to provide a more concentrated discussion on each.
"Art in Baltimore, particularly art as it relates to social impact and social commentary, did really good on its own and warranted an art-focused lab," McDonald said. "Makers, similarly, have become a really important thing in Baltimore and in cities around the country and we wanted to highlight that."
Author and entrepreneur Shanti Das is excited to be a part of the new MakerLab and plans to share her successes, failures, and experiences on April 20. 
"When you look at a lot of the racial and socioeconomic issues that Baltimore has had to deal with, it's important that you continue to empower the young people that are there," she said. "I think there are a lot of opportunities in Baltimore now. I feel like I can offer a unique approach from a leadership perspective—sometimes failures are a good thing. You have to crawl before you can walk." 
For the second year,YouthLabs will take place April 19-20 at the Reginald F. Lewis Museum for high school students. These sessions will feature a series of workshops and activities on topics like coding, large-scale collaboration, dance, and even a drone demonstration to help Baltimore teens unlock their artistic passions.
"The first day is more brain-based activities like concepts in problem-solving," said Sarah Doccolo, YouthLabs curator and BOPA art education coordinator. "We are calling the second day 'the body.' We will have a performance and Q&A with the TSU Dance Academy—it's a really great celebration of Baltimore City through dance."
McDonald says that the purpose for the entire festival is to promote social change and inspire the residents of the city. The Labs are just one layer of the bigger picture, but she believes that they are vital to the progression of Baltimore because they provide a start to the conversation. 
"It's uplifting our thinkers, whether they are artists or in the labs," she said. "It's making comments about society and bringing together people from neighborhoods who would not normally share spaces together. It's doing so much more than what people may think about on the surface, and that's what really makes this festival special."