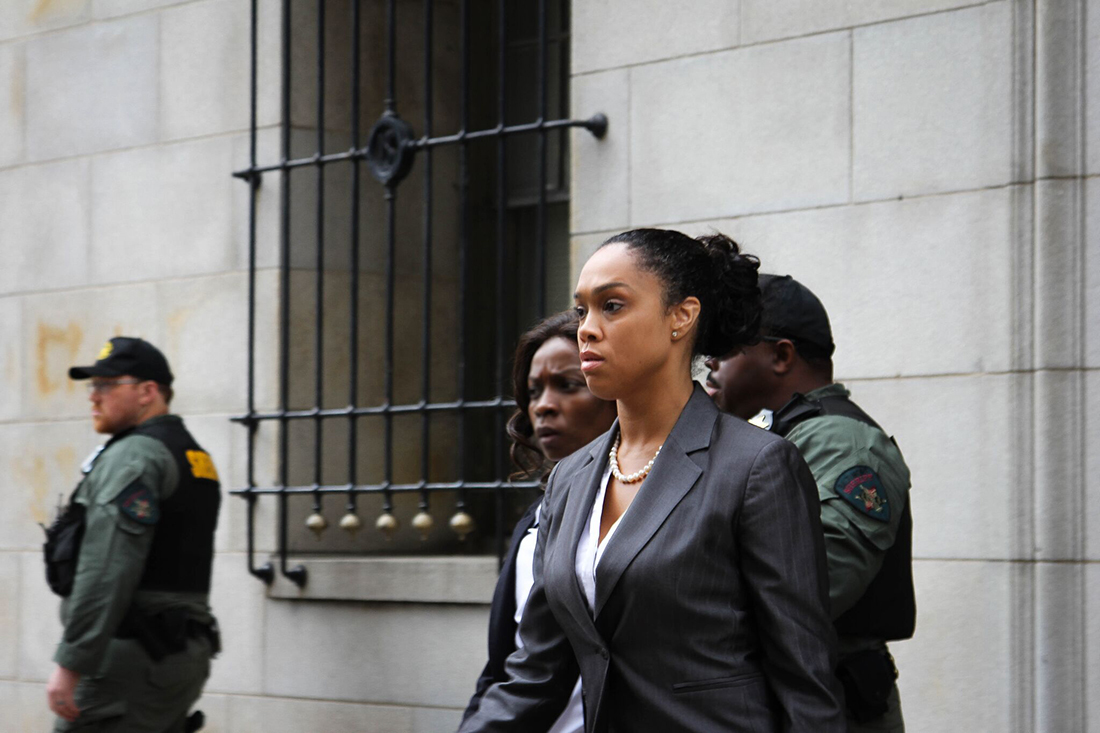 —Photography by Meredith Herzing
After roughly six hours of deliberation, a federal jury in Greenbelt returned two guilty verdicts in the perjury trial of former Baltimore State's Attorney Marilyn Mosby Thursday afternoon.
Following three days of testimony this week, the first of two long-anticipated trials concluded with closing arguments Wednesday after Mosby decided not to take the stand in her defense. Mosby faces a maximum sentence of five years in federal prison for each of the two counts of perjury, though anything approaching a maximum sentence is far from likely.
"This case is about a lawyer and a public servant who placed her own selfish interests above the truth," Assistant U.S. Attorney Sean Delaney told jurors during the trial's opening statements, according to reporting by the Associated Press.
In making his final argument yesterday, Assistant U.S. Attorney Aaron Zelinsky reiterated the theme underlying the DOJ's prosecution of the former Baltimore State's Attorney.
"Telling the truth and taking an oath matters," Zelinsky said. "We should not allow Ms. Mosby to lie under oath regardless of her position."
According to the Washington Post, after the verdict came down, Mosby's only remarks outside of the courthouse were: "I'm blessed. I'm blessed. I have nothing else to say."
Neither her defense team nor the U.S. attorney's office commented immediately afterward.
In its Jan. 13, 2022 indictment, the Department of Justice accused the City's former top prosecutor of lying about experiencing financial hardship because of the COVID-19 pandemic in order to take $90,000 in two withdrawals from her city retirement savings account under a provision of the federal CARES (Coronavirus Aid, Relief, and Economic Security) Act. The indictment noted that Mosby received her full salary of $247,955 from Jan. 1, 2020 through Dec. 29, 2020—the period when she used the withdrawals to purchase two Florida homes worth roughly $1 million.
Mosby's defense claimed that the COVID hardship she suffered was related to a travel business she had registered as Mahogany Elite, LLC—first reported by the Baltimore Brew—but never launched and never disclosed on ethics forms.
The January 2022 indictment also charged Mosby, 43, with two counts of mortgage application fraud related to her purchase of the two vacation properties. Attorneys for Mosby had previously convinced U.S. District Judge Lydia Kay Griggsby to hold separate trials for the perjury and mortgage fraud charges.
In the second case, prosecutors allege Mosby misled mortgage lenders by failing to disclose a $45,000 IRS tax lien on her mortgage applications and claiming that one property, an eight-bedroom house near Disney World, was actually a second home—when she had already hired a property management company to oversee its rental use. That home has since been sold at a substantial profit.
In July 2022, seven months after the DOJ indictments, Mosby lost her Democratic primary reelection bid to Ivan Bates, a former prosecutor and prominent defense attorney.
Mosby was first sworn into office in January 2015 after ousting incumbent Baltimore State's Attorney Gregg Bernstein. Later that year, she made national headlines when she brought charges against six officers related to the death of Freddie Gray. Her office failed to win a single conviction, however.
Earlier this year, Keith Davis Jr., who Mosby and her office intended to try a fifth time for the same murder—a case which sparked years of protest and in which was eventually found in civil contempt for violation of a gag order—was released from prison after Bates assumed office.
Mosby is the third high-ranking City official to plea to crimes and/or be found guilty in criminal court in recent years. In 2010, former Mayor Sheila Dixon stepped down from office after arranging a plea deal following her conviction on an embezzlement charge. In 2019, former Mayor Catherine Pugh resigned after pleading guilty to conspiracy and tax evasion charges.