As legendary '60s rock festivals go, the Laurel Pop Festival doesn't quite reverberate the same way Woodstock, the Monterey Pop Festival, or the Newport Pop Festival does. But it should. The lineup was incredible.
Led Zeppelin's website—the heavy English rockers headlined—dedicates an entire page to the "lost in the smoky haze of 1960s history" festival.
Blues guitar great Buddy Guy opened the wet and wild two-day event—which happened 50 years ago this evening—at the Laurel Race Track. Guy was followed by the Edwin Hawkins Singers, Al Kooper, the former lead singer of Blood, Sweat and Tears, and then . . . Jethro Tull, Johnny Winter (who would also perform a month later at Woodstock), and finally Led Zeppelin, who had their second album coming out later that year.
With more 10,000 on hand the second night—reserved seats went between $5.75 and $6.75—things got a little crazy. Lightning and thunderstorms filled the sky before The Guess Who kicked off round two of the concert two hours later than scheduled. By the time Baltimore-born Frank Zappa's Mothers of Invention, the third band on the bill, wrapped up—it was past 1 a.m.—at which point cold and damp fans began building a bonfire with their wooden folding chairs.
The Jeff Beck Group, including Rod Stewart and future Rolling Stone Ronnie Wood, nonetheless managed to get in abbreviated set. So did Sly and the Family Stone (who also would play Woodstock), but then a policeman took the stage when they were done and waved everybody home before the final act Savoy Brown, another British blues rock band, could get started.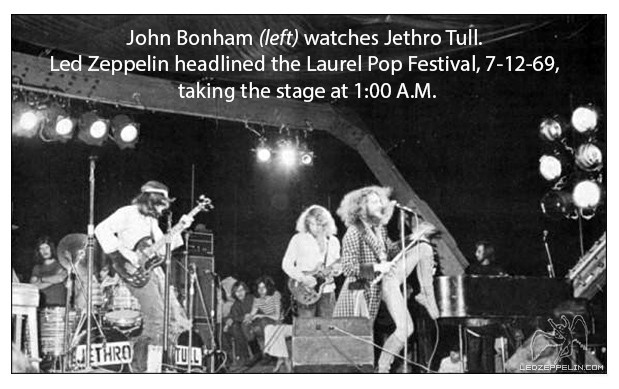 The late Bethesda-raised musician Tommy Keene, who would go on to some critical acclaim in the 1980s, attended the concert as an enthralled middle-schooler with his two brothers—and father on pick-up duty.
"The crowd itself was something we weren't prepared for," Keene later told Magnet magazine. "This was the summer of Woodstock, and various long-haired freaks and topless chicks were running around crazed and stoned out of their minds. We must have looked ridiculous—three kids, age 10, 11, and 13, with our little outfits. I distinctly remember some hippie dude coming up to me and offering me a hit of acid. Er, no thanks, man. Zeppelin came on about 1 a.m., and we were having such a great time we hadn't thought about Dad or anything else, although if he had wanted to find us, especially after we moved seats, he was out of luck—there had to have been more than 10,000 people there."
In hindsight, the entire venture—some of the greatest acts in rock history joining forces for two nights of cheap thrills at the Laurel Race Track—seems impossible to imagine. But not so at the time, says Maryland filmmaker Jeff Krulik, whose documentaries include the cult classics Heavy Metal Parking Lot (chronicling a 1986 Judas Priest show at the Capital Centre) and Led Zeppelin Played Here (the story of a mythical Zeppelin performance at a Wheaton Rec Center).
"There was precedent," Krulik says, noting Baltimore music promoters Elzie Street and James Scott. Together, they had promoted the successful Laurel Jazz Festival since 1967, and teamed up with national promoter George Wein, who directed the Newport Jazz Festival, to promote the Laurel Pop Festival. "It was new for [the promoters] in that it was rock, not jazz, but rock festivals were happening all over the place."
"Of course," Krulik adds, "everything in 1969 was overshadowed by Woodstock. It is kind of cool, though, that the Laurel Race Track is still around."
Music writers from The Baltimore Sun and Washington Star, who covered the concert, both said Johnny Winter stole the show the first night, but largely panned Zeppelin. Same with a young writer from The Washington Post, who became famous a couple of years later for breaking the scandal that was Richard Nixon's presidency.
""I really missed it on Led Zeppelin," Carl Bernstein said in a 2001 interview ("Stairway to Watergate") with the Washington City Paper's Dave McKenna. "I get Led Zeppelin now. I love them. But, boy, did I not get that band then. I'm ashamed. But what can I say? You get to be wrong once in a while."
This evening, the North Laurel Community Center, in conjunction with the Laurel History Boys, hosts a Laurel Pop Festival 50th anniversary celebration from 6 p.m. to 9 p.m. Admission is $5 and includes a screening of Krulik's documentary, Led Zeppelin Played Here.
"Hopefully, some people who were there 50 years ago will show up and share some stories," Krulik said.
Want more? Check the bootleg of The Guess Who's set from the show.