 Food & Drink
Best Restaurants in Baltimore
As the dining scene sizzles, our picks for the top tables in town.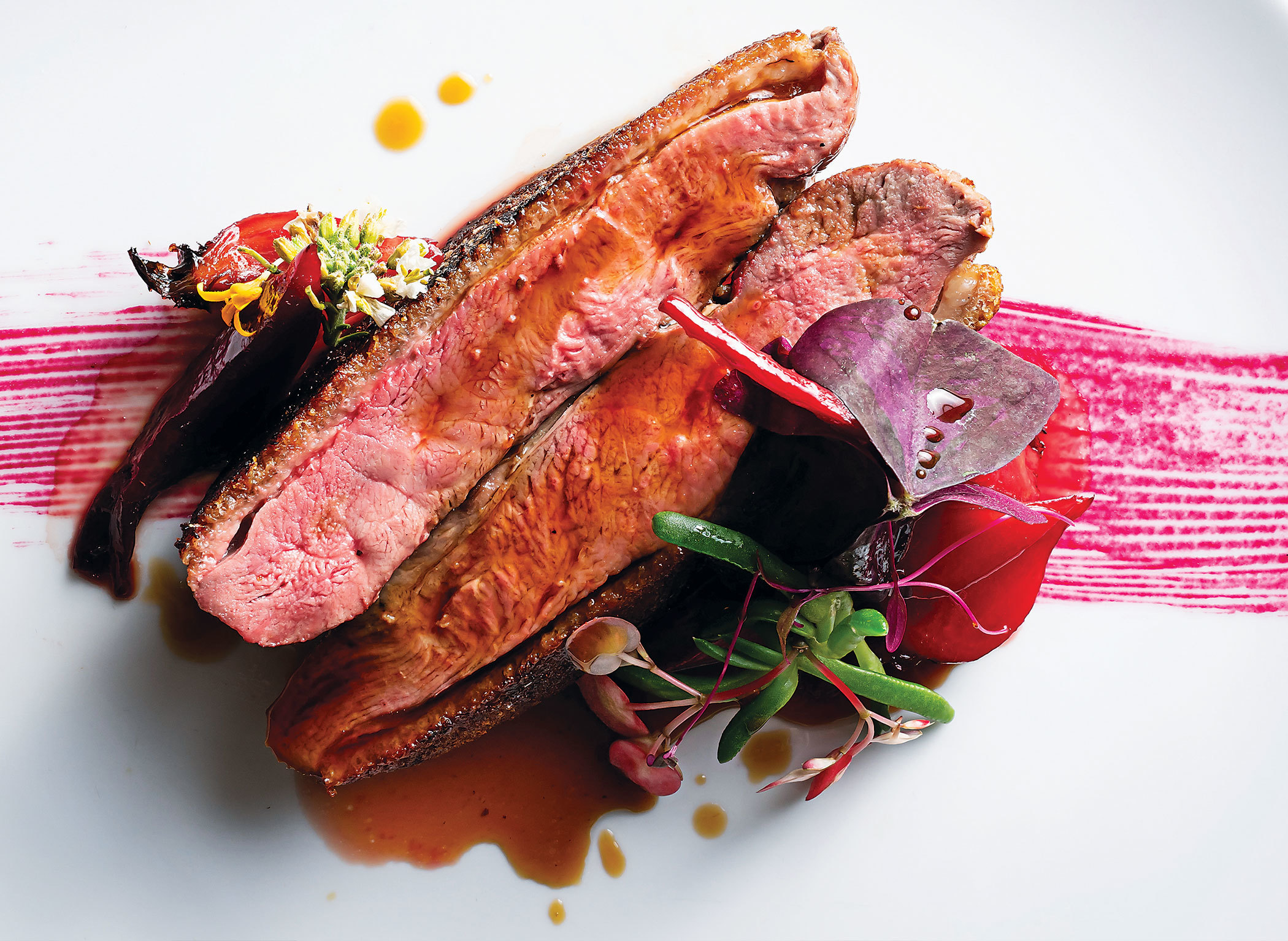 AAfter what can be described as the salad days of Baltimore's culinary expansion in the past several years, the upscale dining scene's bubble has finally burst. Last year sounded the death knell for far too many greats—Fork & Wrench, Jack's Bistro, Modern Cook Shop, Parts & Labor (sniff, sniff), Salt Tavern, Wit & Wisdom—so let us pause for a moment of silence to honor those we've lost.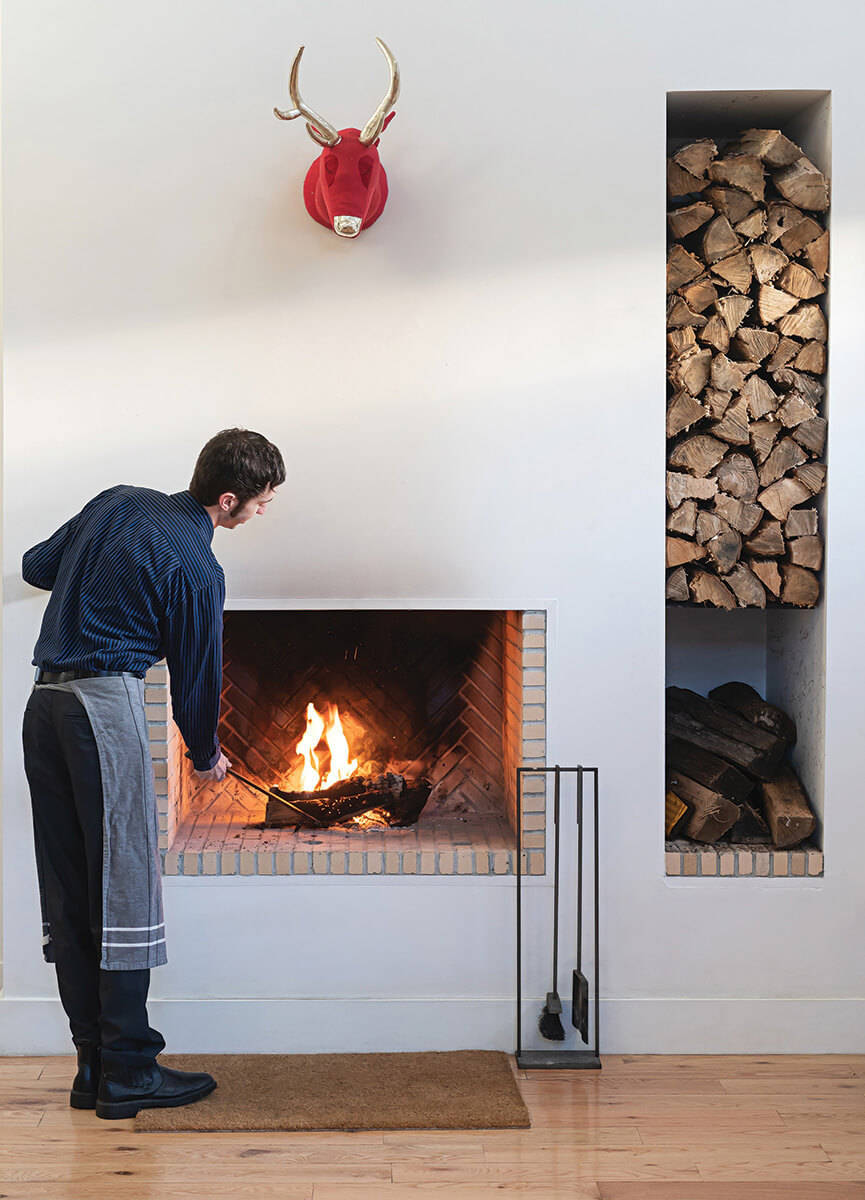 But just as restaurants continue to close, those that remain are at the top of their game. Whether these establishments have stood the test of time and trends (happy 50-plus to Restaurante Tio Pepe and The Prime Rib!) or survived fire and flood (Peter's Inn and La Cuchara, respectively), we're dubbing 2019 the year of "survival of the restaurant fittest."
In the fly-by-night, blink-and-you-missed-it gastronomic world these days, we also salute those Charm City restaurants that have weathered the ups and downs, like our cover model, Cinghiale, a Harbor East institution that continues to delight night after night, despite being in the midst of a massive construction zone, as well as some stiff new competition, or the newly rebranded Gertrude's Chesapeake Kitchen, where executive chef Doug Wetzel, a triathlete who almost died of severe heatstroke while competing in 2015, represents the ultimate comeback story.
But mere endurance isn't enough. The restaurants that persist have one thing in common at the core. They connect us, trigger a memory, leave us with a sense of longing, remind us of our childhoods—or our travels—offer us something new or daring that teaches us or deepens us in some way. (After some mushrooms at Foraged, you'll never take a walk in the woods in quite the same way again.) These are the restaurants that have fed us well, for sure. But they've done more than that: They've moved us in some inexpressible way and, if we've looked up between bites to really look—and listen—they've told us a story.
The restaurants on this list—hailing from still-trendy Hampden to family-friendly Columbia to the up-and-coming Downtown district and historic Annapolis—have done just that. To prove our point, we take you behind the scenes at four special spots: two old-timers that have enjoyed recent reincarnations and two promising newcomers that have quickly made their marks while feeling like they've been here all along. In this issue, we honor the 50 spots that are not only surviving but thriving, making Baltimore a delicious place to eat—and live.
1157 Bar + Kitchen
Locust Point

/

1157 Haubert St.

Loyalists were crestfallen when Jason Ambrose shuttered Salt Tavern, his Butchers Hill brainchild, last summer. Luckily, the chef's small-but-mighty mainstay in Locust Point is still going strong. It's a favorite of neighborhood locals and Under Armour employees, but gastronauts also flock from far and wide to get their hands on the sophisticated snacks paired with a well-curated drinks list. Worldly flavors shine through in shareable plates ranging from curried Brussels sprouts and beer-steamed mussels to wild boar ravioli and the signature sweet-and-spicy Korean fried chicken wings. If you're going the solo route, there are sizeable sandwiches (we savored every bite of the short rib panini with aged cheddar) and rotating entrees like a flavorful seared strip steak with truffle butter. It's an intimate hideaway with only 30 seats, but the flavors are bold enough to rival any fine-dining den.
Alma Cocina Latina
Canton

/

2400 Boston St.

Since opening in 2015, this Latin oasis has transformed the fast-casual wasteland of Canton Can Company into a culinary destination. As bossa nova drifts from the stereo, the bar staff shakes tequila and citrus with vim and vigor, and lush greenery casts an alluring spell, Alma (which means to "feed one's soul") lives up to its promise. Follow our lead with a round of house-made tepaches for the table and then split a smattering of artful small plates, stuffed arepas, and entrees with unusual ingredients such as pomegranate syrup, tamarind mayo, and cilantro dust, all made with panache by Venezuelan chef Enrique Limardo. The crispy polenta cake with grilled fennel and confit beets on a recent trip was especially unique.
Ambassador Dining Room
Tuscany-Canterbury

/

3811 Canterbury Rd.

Certain restaurants just seem lived in—you can feel the joy of past celebrations and promise of a memorable evening to come. Old-world Indian gem Ambassador Dining Room, open since 1997 in a North Baltimore apartment building, fits that bill. The famed indoor/outdoor seating is still as charming as ever, with grand corner fireplaces and a gorgeous garden view. Ambassador's Northern Indian standards like chicken tikka masala and grilled lamb chops are so divine that they tend to be our default order. But on one outing, we decided to go off script with a dish of Chicken Madras, which was bathed in a fierce and herbal curry sauce of green chiles subdued by creamy coconut milk and served with a side of saag, broccoli sabzi, and basmati rice. On top of that, we even skipped the naan for papadum wafers. Lesson learned: There's no such thing as a bad bite here.
Ananda
Fulton

/

7421 Maple Lawn Blvd., Fulton.

Trekking to this pillar of Indian fare, brought to you by the aforementioned Ambassador team, is like taking a micro-vacation. Your travels will be rewarded by a cheerful greeting, exotic flavors, and luxurious digs. In warm weather, breezes drift across the pretty porch; in winter, cozy fireplaces enhance the feeling of comfort and coziness. And then there's the food. Not feeling adventurous? Enjoy the pulled Berkshire pork, a cumin and cardamom-spiked riff on pit barbeque, or relax into the tangy familiarity of their chicken tikka masala. Ready to dig deeper? Go for the Goa Fish, pan-fried and served whole and crispy, finished with roasted garlic and tamarind. Classic cocktails are expertly prepared, and there's a wine list that is tailored to the food—a rare occurrence in global cuisine.
Azumi
Harbor East

/

725 Aliceanna St.

The staff's 2018 trip to Tokyo and Kyoto has livened up the already robust menu at this Japanese jewel that can best be described as the Far East meets Harbor East. With chef Andy Gaynor at the helm, Azumi is making an even bigger splash these days with the addition of a robatayaki grill, where items such as Pacific prawns and Maine scallops get the barbecue treatment. As for sushi, so many spots pimp their rolls with unnecessary ingredients, but a simple nigiri dinner—an exquisite assortment of fluke, Japanese snapper, and bluefin tuna—lets the fish, most of which gets sourced from Japan's famed Tsukiji seafood market, speak for itself.
Bar Vasquez
Harbor East

/

1425 Aliceanna St.

Situated between the ever-growing restaurant scenes in Harbor East and Fells Point, Tony Foreman and Cindy Wolf's Argentine steakhouse can get lost in the shuffle. Overlook it at your own peril. Executive chef Mario Cano Catalán churns out dishes that burst with South American flair, like poached and seared octopus and a tender Wagyu steak served with as good a chimichurri as one can hope to find north of the equator. With a bar, a lounge, and a large dining room that, despite its density, never gets overwhelmingly loud, the food is as pleasurable as the atmosphere. Service is stellar—on a recent trip, our server overheard our plan to split a few dishes, which miraculously emerged from the kitchen on two plates, at no extra charge.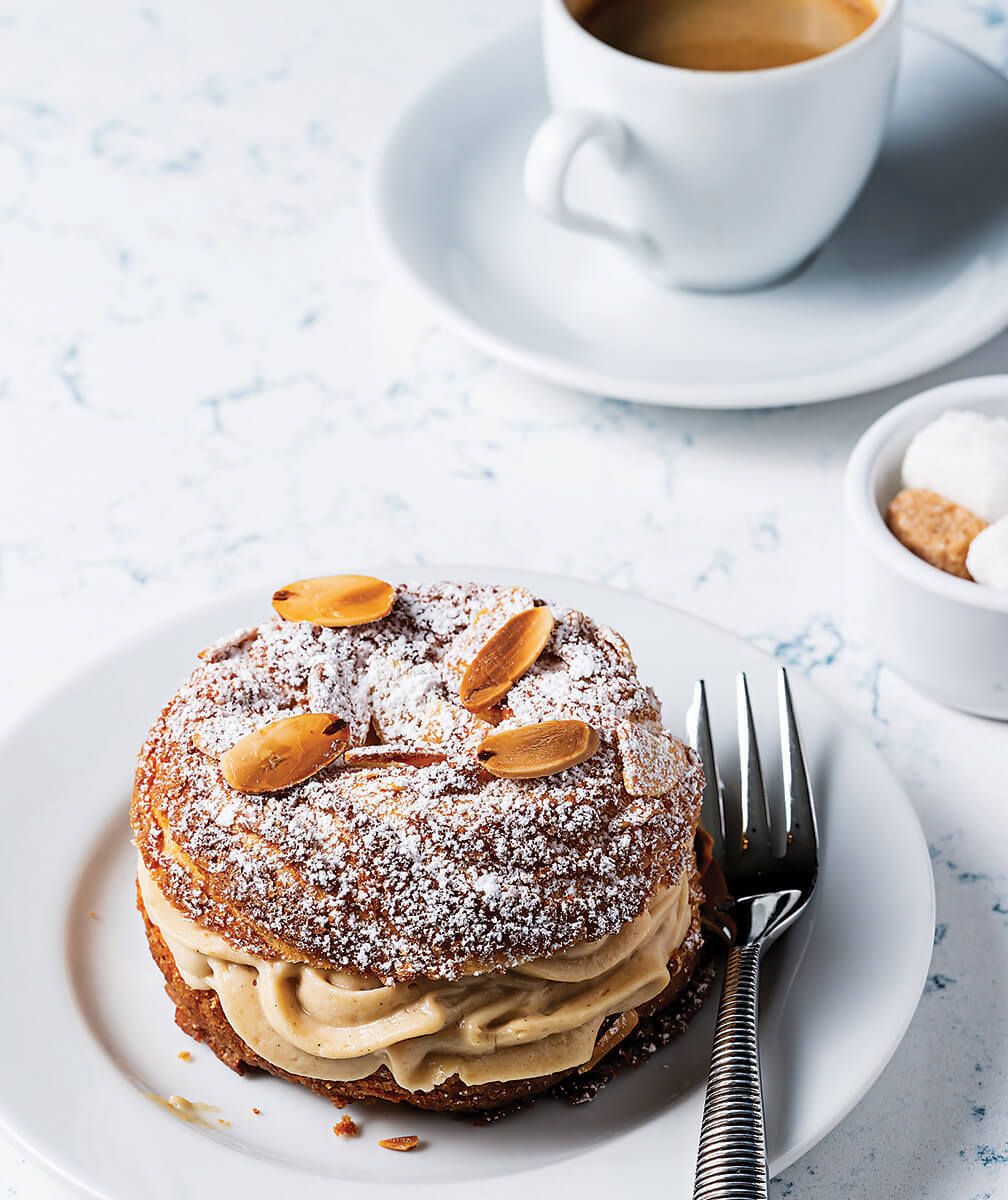 Chez Hugo Bistro
DOWNTOWN

/

206 E. Redwood St.

By Lauren Cohen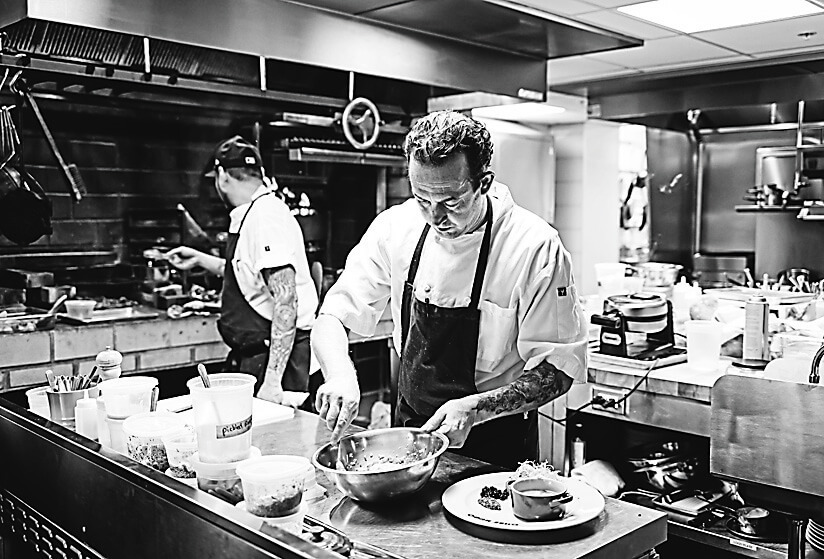 In the basement prep kitchen at Chez Hugo, chef Steve Monnier is running plastic bags of brown-butter roasted pumpkin through a vacuum sealer. It's late afternoon on a Thursday, which means that he's preparing to serve a multi-course tasting menu alongside the restaurant's regular roster of French bistro fare. His plan is to create a pumpkin syrup to use with habanada pepper ice cream for one of the dessert courses. "The pastry is very important," he says in a thick accent that reveals his upbringing in Reims, a city in the Champagne region of France. "It's the last thing people will remember."
Tasting menus are somewhat of a specialty for Monnier, who previously owned the prix-fixe-focused Arômes in Hampden. At Hugo, a polished sequel inside the historic downtown Merchant's Club, he's focused on more familiar fare, while still employing French techniques. It's evident, though, that the experimental menus—which he offers only on Wednesday and Thursday nights—are what keep him ignited.
At 6 p.m., maître d' Marquette Shaw calls down to the prep space to alert the team that the first table has arrived. Three cooks, led by chef de cuisine Jeff Schultz, take their positions in the open kitchen, whose pièce de résistance is a flickering hearth where most of the grilling and smoking is done. Hanging above it is a string of drying celeriac strands that will later be used in a bacon-infused "tagliatelle" topped with white truffles.

Monnier takes his post and begins assembling a carrot tartare with black radish and Champagne vinegar that he carefully wraps in sorrel leaves. In the meantime, the rest of the team begins cooking proteins for the bistro's signature boeuf bourguignon and cassoulet toulousain. Though Monnier didn't have time to print the tasting menu for service coordinator Ashley Hanrahan on this night, she's accustomed to his style. "I've worked a lot of dinners with him," she says. "But there will always be a surprise. He'll use a different sauce or something that I would never see coming.'"
As he places a quenelle of sunchoke hummus with roasted pumpkin seeds atop a pair of French porcelain plates, a special visitor steals the chef's attention. It's his five-year-old son, the restaurant's namesake, Hugo.
"It's time to get to work man," jokes general manager Christopher Scott, as he crouches down to give Hugo a hug. The wide-eyed boy high-fives all of the chefs across the line before suiting up in a blue-and-white apron that Monnier has to tie around his waist twice. He hangs around the kitchen briefly before retreating to the dining room, where he waits patiently for his order: a medium-rare burger with American cheese.
Hugo's presence brings out the true essence of this restaurant. Though it has only been open for a year, the staff has come to rely on one another like family. Lined up above the range are a collection of magnets that the chefs have all brought back as souvenirs for one another, from places as far as California and Peru.
Several hours later, the chefs assemble a foie gras-filled "Snickers" bar as the final dish of the tasting menu. Though Monnier and his team will do it all again the following evening, it never gets mundane. "At the end of the day, it's a bistro," he says. "We're very casual. We just try to do better every day and not take ourselves too seriously."
Bygone
Harbor East

/

400 International Dr.

"Have you been to Bygone?" asks the top-hatted elevator operator as you ascend to this swanky rooftop restaurant inside the Four Seasons Hotel. Whether you're a first- timer or a veteran, as you step out onto the tile floor and walk past an arrangement of fresh flowers—and feathers—you'll gasp at a view that has never made Baltimore look grander. And while the panorama is the draw, the menu, rooted in early 20th-century classic cuisine, has plenty to sate, from delicate fish dishes (branzino with fregola and clams) to substantial steaks (with a side of cheesy dauphinoise potatoes) and dishes such as lobster Newburg, crab Louie, and a Baked Alaska you haven't dined on for at least a half century. If you're looking to celebrate a big birthday, this is the place to do it. (Wallet warning: check your credit card balance before you go.) Pro tip: Ask for Table 61; it's the best seat in the house.
Charleston
Harbor East

/

1000 Lancaster St.

From the pleated curtains cocooning diners in the lap of luxury to the silk textiles on the walls to the rose-gold cocktail pick spearing olives in a martini, this posh dining room sets the stage for exquisitely prepared French fare under the aegis of James Beard-nominated chef Cindy Wolf. Whatever is on the oft-changing menu—be it Scottish salmon with shallots and red-wine reduction, beef tenderloin with fried green tomatoes, or wild Burgundy snails with puff pastry tart—all ingredients are impeccably sourced, and Wolf honors them with her flawless execution. The stellar wine list offers some of the best bottles of Burgundy, Bordeaux, and other great grape-growing regions. Even the best restaurants can have an off night, but this landmark is "on" all the time, so whether you're celebrating a special occasion or not, eating here is always special.
Cinghiale
Harbor East

/

822 Lancaster St.

Named for Italy's native wild boar, Foreman Wolf's tribute to la cucina Italiana operates on a winning combination of quality ingredients, excellent service, and inviting ambience. Bring an appetite, because you'll be tempted by a cornucopia of cured meats, house-made pastas of every shape and stripe, and alluring mains. Indulge in oxtail tossed with tagliatelle, duck breast finished with cherry reduction, or calamari flecked with caramelized garlic and chili. Wine is as important to Italian culture as food, and here Cinghiale also excels, with a list that's a treasure trove to even the most diehard devotee of Bacchus. Consider mixing dessert and coffee in the form of their affogato, a heavenly marriage of espresso, hazelnut gelato, and mascarpone cream that's a favorite of co-owner Tony Foreman.
Citron
Pikesville

/

2605 Quarry Lake Dr.

A stylish bar, intimate dining rooms, seasonal al fresco service, and a waterfront view? Nope, not a hot new harbor concept, but Citron, nestled on the rim of Quarry Lake. Think New American cuisine built on a French foundation and dusted with Asian notes, and you'll understand the menu. At the bar, you'll find some of the cleanest sushi flavors in the area, along with pub staples like crab cakes. The full dinner menu offers Chilean sea bass seared to perfection and accented by scallion-chili sauce, while luscious veal cheeks cosseted in miso cream are flanked by morsels of Maine lobster. Desserts are decadently high quality. Oh, and Howard Stern had brunch here a few months back, though what he ate is still a secret.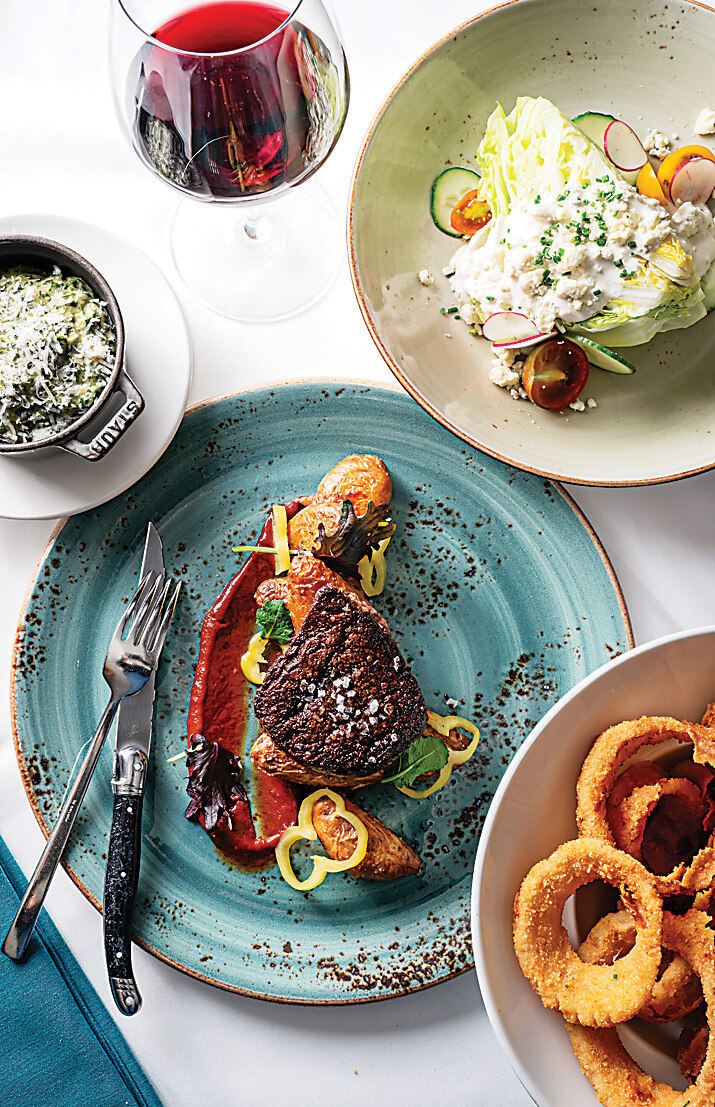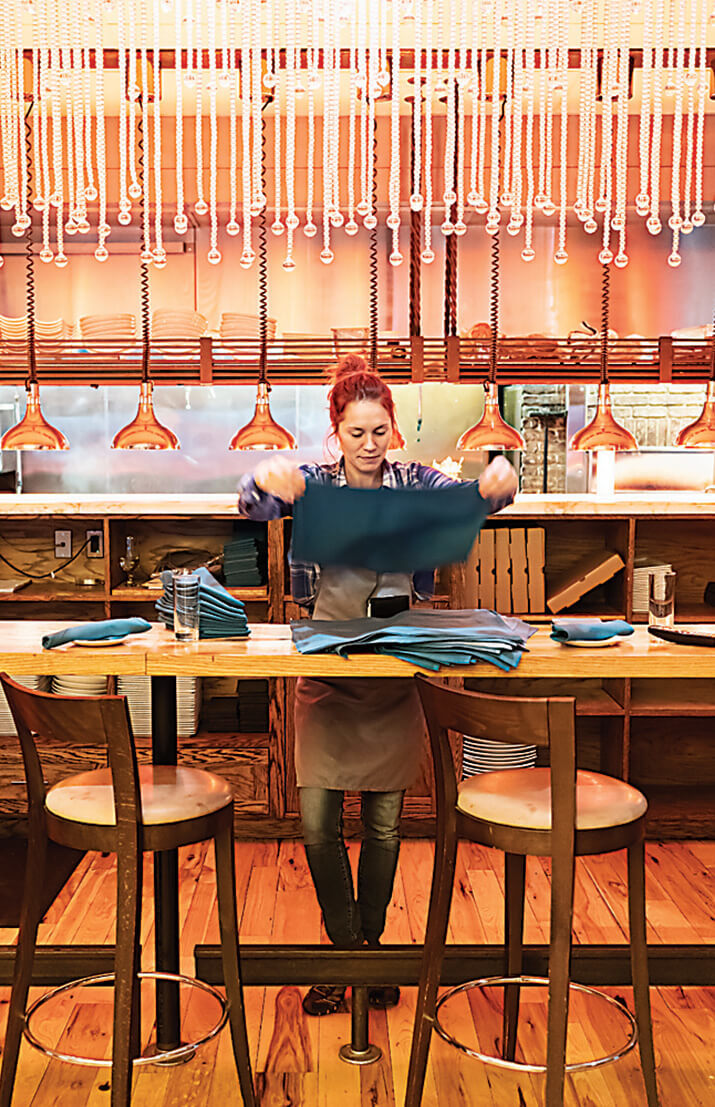 Cunningham's
Towson

/

1 Olympic Pl.

The pitch-perfect balance of modern and rustic never ceases to amaze us at this lively Towson spot. The dining room dazzles with dangling crystal, dim lighting, and plush seating, while the menu offers countryside cuisine sourced directly from the restaurant's Cockeysville farm. Scroll through the iPad list of worldly wines before choosing from wood-fired pizzas, pristine pastas, and farm-to-fork meats like a plump pork chop with sweet apple butter. On a winter's visit, a spot-on recommendation from our server was the royal sea bass in a tomato stew with chorizo and littleneck clams. Hunks of crusty sourdough from the restaurant's in-house bakery came in handy for lapping up the sweet sauce. If you happen to save room for dessert, a shareable sundae with caramel popcorn is an enticing sendoff.
Clavel
Remington

/

225 W. 23rd St.

For any first-timers out there, Clavel comes with a caveat: From the street, it looks like a hole-in-the-wall, but once inside, you'll understand the hype. With its authentic Sinaloan fare (tostadas, tacos, tortas), the best margaritas in the city, and a newly expanded menu and adjacent dining room that includes a dedicated mezcal tasting bar, you'll feel the magic right away. When co-owners Lane Harlan and Carlos Raba opened in a section of the city not known to many almost four years ago, they took a risk. Now, with a line out the door that begins at 5 p.m. (and a recent James Beard nom to boot), Clavel is proof that if you build a terrific taqueria, they will come.
Dylan's Oyster Cellar
Hampden

/

3601 Chestnut Ave.

It's been two years since owner Dylan Salmon's Chesapeake-inspired pop-up in Mt. Vernon transformed into this Hampden hangout lauded by the likes of Garden & Gun and Eater—and it still lives up to the hype. Dylan's remains a go-to for local beers, nautical-themed cocktails, and oysters sourced from the region and beyond. (There's even a cheat sheet for bivalve beginners.) But the allure spans well beyond the bar. The menu is full of well-prepared nods to seafood shack standards, including anchovy toast, coddies, a fried catfish sandwich, and the beautifully butterflied rainbow trout swimming in brown butter. A team of passionate shuckers and servers solidify Dylan's reputation as being one of the most approachable spots in town.
The Food Market
Hampden

/

1017 W. 36th St.

Farmhouse wooden floors and metal fixtures are all the rage these days, and usually foretell wood-fired pizzas and pasture-raised burgers. That juicy burger can be had, but there is much more on offer at Chad Gauss' old faithful: mostly comfort food with adventurous twists. Lamb Two Ways arrives as a half rack of ribs plus succulently braised shoulder paired with spaetzle and roasted veggies. The shrimp dinner strikes a Cajun chord, borrowing spice from a generous serving of andouille sausage and couched in grits. We also appreciate smaller plates such as Beets by Chad—roasted beets tossed with pear, orange, feta, and mint named for the animated chef-owner. Desserts are satisfying, the beer list is deep, and the cocktails are inventive.
Gnochetto
Highlandtown

/

3734 Fleet St.

This Highlandtown haven may have changed its name from Gnocco to Gnocchetto last summer (it was getting confused with a New York City restaurant with the same moniker), but it's far from having an identity crisis. Chef Brian Lavin and general manager Sam White continue to showcase creative Mediterranean dishes inspired by their college travels throughout Spain, Italy, and Southern France. Stellar antipasti like expertly grilled Spanish octopus with crispy potatoes and burrata with serrano ham and a sweet date purée—paired with a plate of house-made pasta—makes for a filling meal here. The lamb ragù, with plump ricotta cavatelli and wilted Swiss chard, is particularly soul satisfying. And enjoying it with one of White's barrel-aged negronis truly feels like an edible ode to Europe.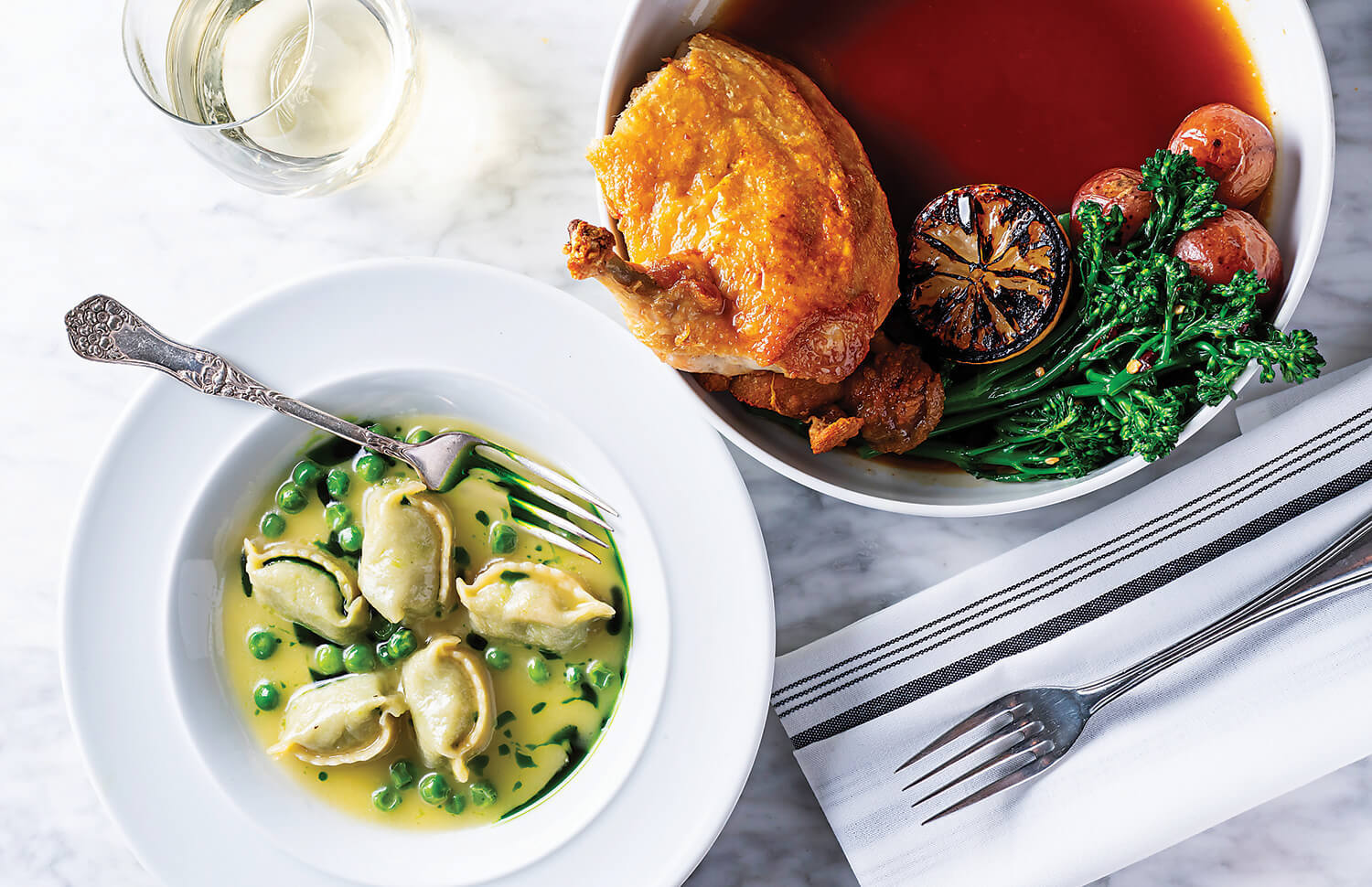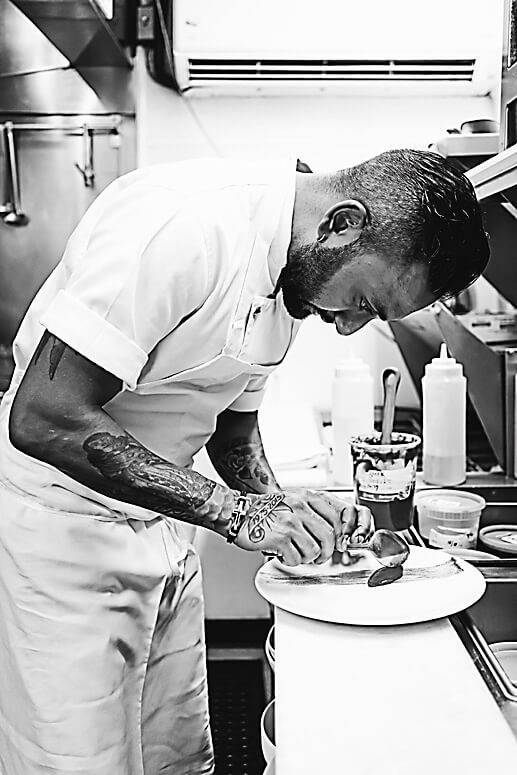 Duck Duck Goose
FELLS POINT

/

814 S. Broadway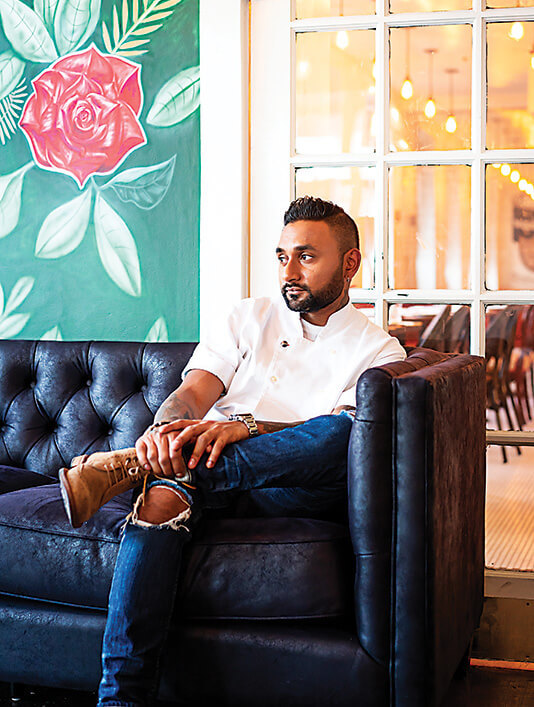 The arrival of this sophisticated yet unstuffy French restaurant last year was among the tastiest developments in the city's food scene. Chef Ashish Alfred opened the second location of his brasserie (the first is in Bethesda) with the hope of bringing upscale cuisine to a neighborhood not generally known for it—and he has succeeded spectacularly. Dishes like tournedos—a center-cut filet with foie gras, potatoes, and broccoli purée in a red-wine reduction—halibut wrapped in a puff pastry, and, of course, honey-roasted duck are as delicious as they are beautiful. An in-depth cocktail program, specials like half-priced bottles of rosé on Thursdays, and bottomless mimosas during brunch ensure that the restaurant is approachable for people who may not be used to seeing dishes like bone marrow with beef ragù and blueberry jam in a zip code most associated with beer pitchers and chicken wings.
Find the Best in Baltimore