Food & Drink
50 Best Restaurants
These spots are driven by a sense of passion and purpose that's evident from the moment we enter.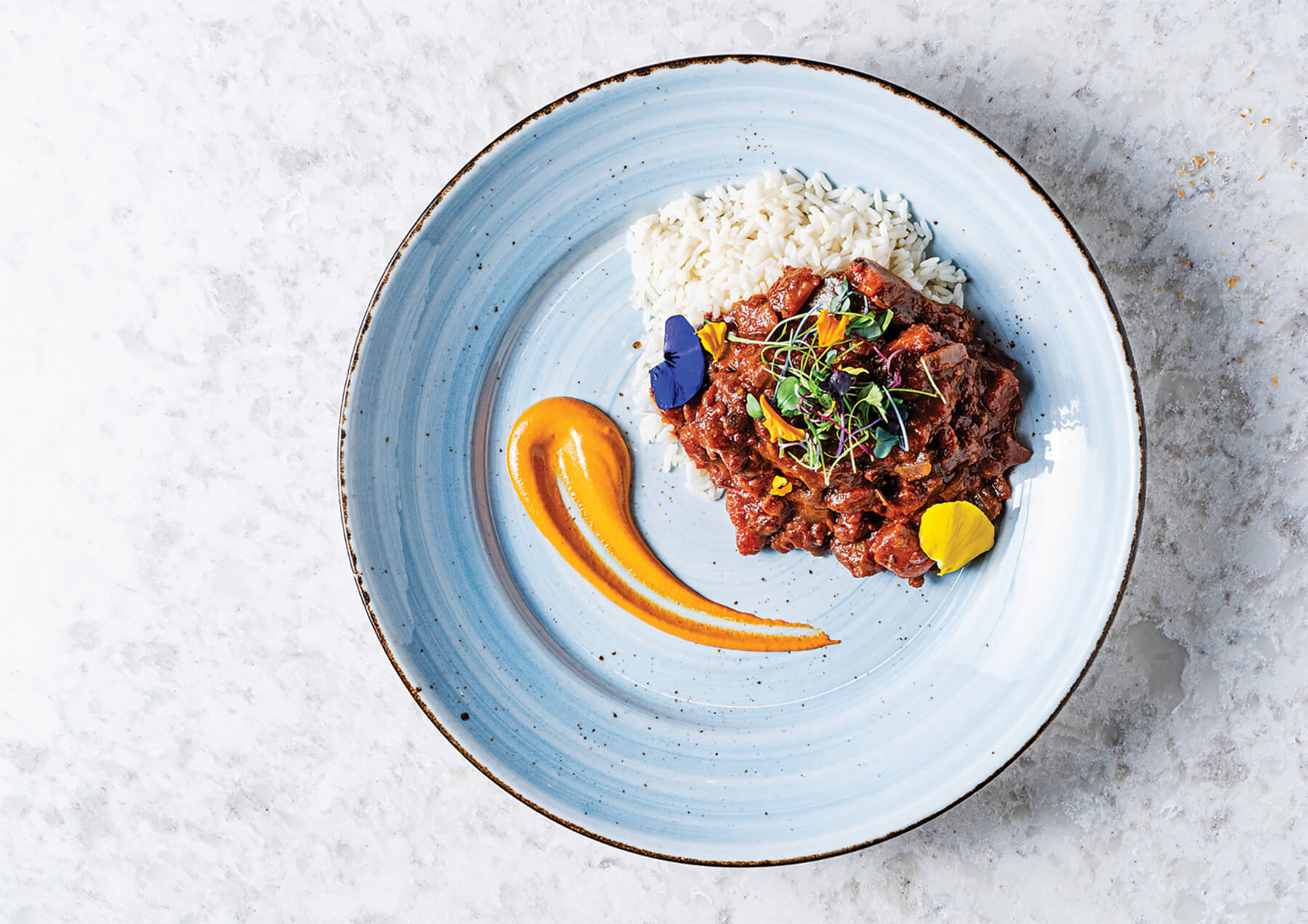 What makes a "Best Restaurant"?
We're often challenged to answer that question, and the answer is always changing. Though the scene has slowed down somewhat in the past year, new spots continue to pop up in the city and surrounding counties. In 2020, it's not enough anymore to serve great food, create a see-and-be-seen ambiance, or offer a buzzy bar menu. The restaurants on this list check those boxes, of course, but they also accomplish more.
Whether it's the white tablecloth scene at the always enchanting Charleston in Harbor East or heartfelt Peruvian plates at Puerto 511 on Clay Street, these restaurants have a clear mission and particular point of view—they're driven by a sense of passion and purpose that's evident from the minute we enter. We can taste it in the brine of the Chesapeake Bay when slurping Huckleberry oysters at True Chesapeake Oyster Co. We can feel it as we watch the crew at Clavel drizzle crema over fried cod on blistered tortillas. We can sense it as we watch Azumi's chefs cut shimmering slices of bluefin toro. We know it when we smell the smoke from La Cuchara's master mixologists as they work their magic to make Old Fashioneds.
From the servers' uniforms, to the paper the menus are printed on, to the presentation of the plates, the restaurants on these pages tell us a story that feels authentic and carries that narrative through with each and every element.
With all the choices out there, try tapping into what story is being told. Want a great al fresco spot? Go to Cosima along the rushing waters of the Jones Falls. Need an elevated experience inside a genteel dining room that always hits a home run? That's Linwoods in Owings Mills. Want to wow your friends and family with your foodie prowess and show off little ol' Charm City? Our cover model, Le Comptoir du Vin, named one of Bon Appétit's and Esquire's Best New Restaurants, is calling your name.
As the scene continues to thrive, there are great stories all around, and so many more just waiting to be told. We hope this feature inspires you to pick up your fork and listen. Maybe these meals will lead you to tell a few tales of your own.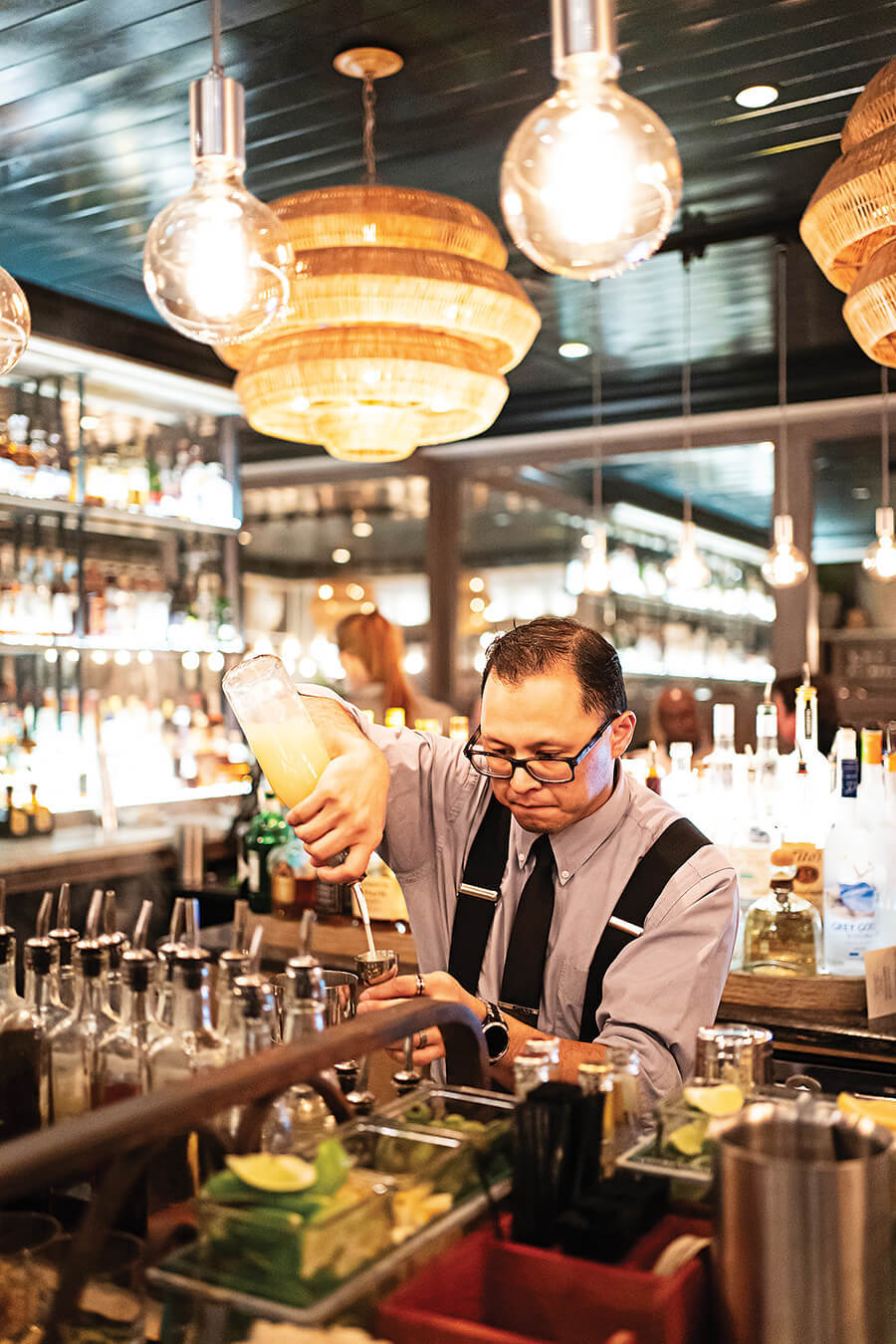 ⇓ Article continues below ⇓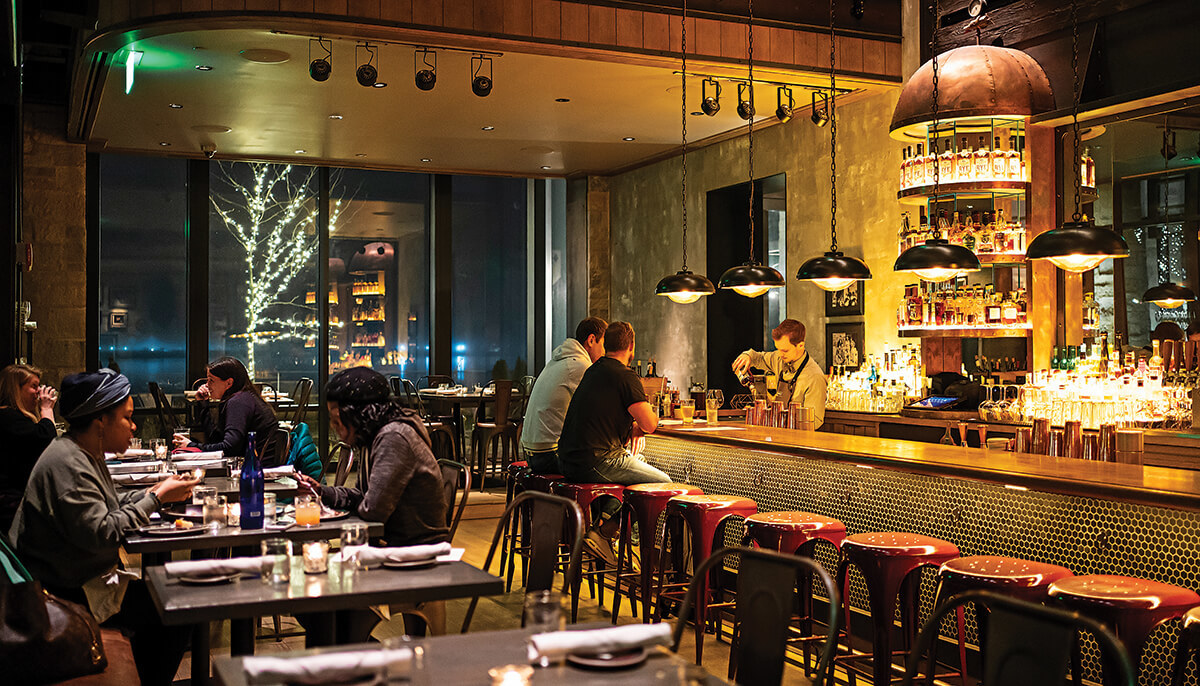 The Place for Arepas
Canton | 2400 Boston St.
With Alma, warm proprietor Irena Stein has deftly created a restaurant that can be whatever you need it to be, from street-food vendor to welcoming cocktail bar to Latin-inflected fusion foodie destination. We worried when chef Enrique Limardo left for Seven Reasons in D.C., but thankfully new chef Karem Barragan is making her own mark. We crave the simple Venezuelan staple of arepas—corn pockets stuffed with an array of fillings from shrimp to lamb and also vegetarian options. At the same time, we are astonished by the sophistication in dishes like sumac-rubbed duck with spicy blueberry sauce and crispy couscous. We've yet to have a bad meal here and always look forward to our next visit.
Must-Try:
The seemingly simple octopus and cracker, a crispy wafer that arrives warm supporting the succulent seafood dressed in roasted pepper aioli, chorizo oil, and garlic emulsion, is a masterpiece of balance.
---
The Place for Modern Interpretations of Goa Fish and Bengan Bhartha
Fulton | 7421 Maple Lawn Blvd.
It's easy to be drawn in by the beautiful, glowing décor of the dining rooms at this Howard County Indian cuisine oasis, but when you leave, you'll mostly remember the impeccable service and food. Ananda does standards well, like bengan bhartha—eggplant roasted with coriander, onions, and tomatoes—but it excels with dishes like its impossibly tender lamb shank, served over vegetable biryani. Start with an order of palak chaat, crispy spinach with creamy yogurt and pomegranate and tamarind chutney. It's a pleasing combination of salty, sweet, and tangy flavors.
Must-Try:
The four pieces of gobinda, a roasted cauliflower appetizer seasoned with lime, chili, tamarind, and toasted sesame, are almost a tease. We could eat 40.
---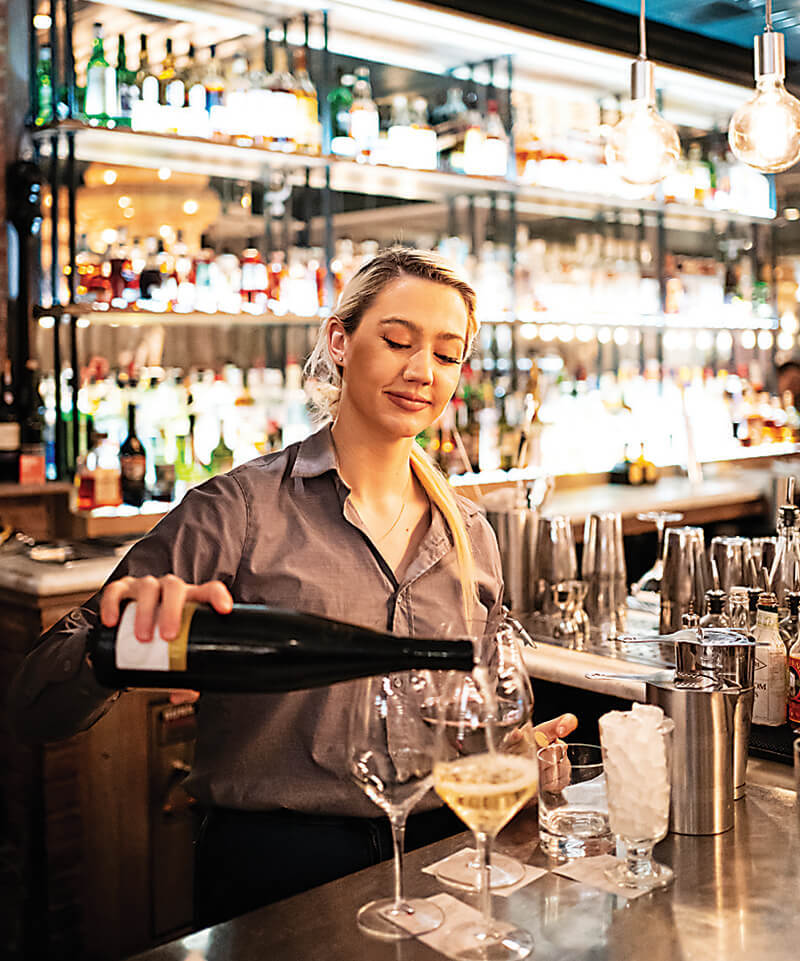 The Place for Oodles of Noodles
HARBOR EAST | 1012 Fleet St.
With his Phillies baseball cap, Under Armour jacket, and white chef's coat rolled under his arm, Julian Marucci looks more like a kid waiting at the bus stop on Fleet Street than one of Baltimore's most gifted chefs standing outside his restaurant. It's 10:30 on a Thursday morning in early fall, and Marucci is about to begin his 12-plus-hour shift at Tagliata in Harbor East. Although most diners don't think about what happens in a restaurant prior to opening, Marucci says that morning is the most important part of the day. "If we make mistakes or are not paying attention to details, like we didn't get a calamari delivery, or the pasta maker called out sick, it can put a huge damper on the day," he says.
With its dining room full of mover-and-shaker patrons, the stakes at this Italian steakhouse run high. At 37, Marucci is both executive chef and partner, spending much of his days overseeing his staff of 40 and running among the kitchens at "Tag," Italian Disco, and The Elk Room—all owned by Atlas Restaurant Group.
On this day, he's playing with vinegars, trying to create his own concord grape-saba vinegar mix that will, if all goes well, offer the sweetness of the fruit without the acid. He's also composing a new fall menu, jotting down words in his notebook: "Chestnuts, turnips, pumpkin, pear, rabbit, butternut squash."
Thanks to Marucci's artistry, Tagliata is known for its toothsome pasta dishes —and watching him make pasta is like watching a sorcerer at work. With nothing more than semolina flour and water, the chef performs parlor tricks as he makes, massages, rolls, and cuts the dough by hand. On this day, with the sweep of his fingers, he turns out a long, thin twisted piece of trofie from Italy's Liguria region. "Making pasta is creative and intuitive," he says. "I can add mushrooms or spinach or chestnuts to the flour."
Growing up outside of Philadelphia, Marucci debated between being a cook or a car mechanic. "I can still remember my mom saying, 'You should be a chef, you don't like getting your hands dirty,'" he recalls with a laugh.
After various kitchen jobs, he started as a garde manger and sous chef at Charleston, also in Harbor East, and then spent nine years as executive chef at Cinghiale before joining the team at "Tag." When Marucci came on board, he says, "I had to rethink my style of cooking. I knew that if we were doing the classics like chicken Parm, it had to be the best chicken Parm." So he decided to use air-chilled chicken, marinated in buttermilk, herbs, and sweet Calabrian chili, with breadcrumbs, tomato sauce, and mozzarella, all house-made.
As the day wears on, after various staffers have cleaned and cut artichokes for the fried chicken and the merits of paw-paw gelato have been discussed, Marucci stands at the pass waiting for guests to arrive. Tonight, some 200 diners will descend on the Tuscan-inspired space.
Hours later, caffeinated by gulps of iced tea, Marucci moves into overdrive. Tickets are expedited and then spiked on the spindle as the chef assembles a dish of squid ink campanelle with sea urchin cream sauce, snips microgreens for a swordfish dish, and finishes a tenderloin with a splash of olive oil. The lights in the dining room dim, the golden hour of dinner service is in full swing, and all the hard prep of the day has, at last, come together. Marucci pauses to reflect. When asked what inspires him to repeat the whole process by morning, the chef smiles broadly and says, "I've got this beautiful playground. What more could I want?"—Jane Marion
---
The Place to Belly Up to the (Sushi) Bar
Harbor East | 725 Aliceanna St.
With twice-a-week shipments from Tokyo's famed Toyosu fish market and a nightly DJ mixing house music, this is where we go for some of the best, albeit priciest, raw fish in the city—and a good time. Whether it's a simple spicy yellowtail roll for lunch or the massive Royal Platter (a sprawling selection of sushi, sashimi, and specialty rolls) for a party, it's all a hit here. One-of-a-kind offerings are finished with whimsical toppings such as sweet gourd, pickled eggplant, and citrus vinaigrette, but no-nonsense items like pristine pieces of amberjack, bigeye tuna, and fluke also abound.
Must-Try:
The mix of fancy mushrooms with ponzu butter and shisho is a great primer for the palate.
---
⇓ Article continues below ⇓
---
The Place for Steak If You're Not into Steakhouses
Harbor East | 1425 Aliceanna St.
Foreman Wolf's steak-centric spot continues to dish up a delightful, Argentine-infused experience, right down to the live trio that sometimes features a bandoneon, the traditional instrument of tango. The soaring dining area is flanked by the kitchen and a stately bar, while the mezzanine features cozier tables and an intimate mini bar with seating for about a dozen. Cocktails are crafty, the wine list slants South American, and the food is always delicious. We love the shrimp ceviche with its electric zing of fresh lime juice and chili spice. And don't miss the seared octopus for its succulent texture and lively dressing. But this is a steak restaurant after all, and a 24-ounce, bone-in rib steak is a plump thing of beauty, glistening with house-made chimichurri and cooked exactly to order.
Must-Try:
Don't skip dessert, otherwise you'll miss the apple-cinnamon empanada.
---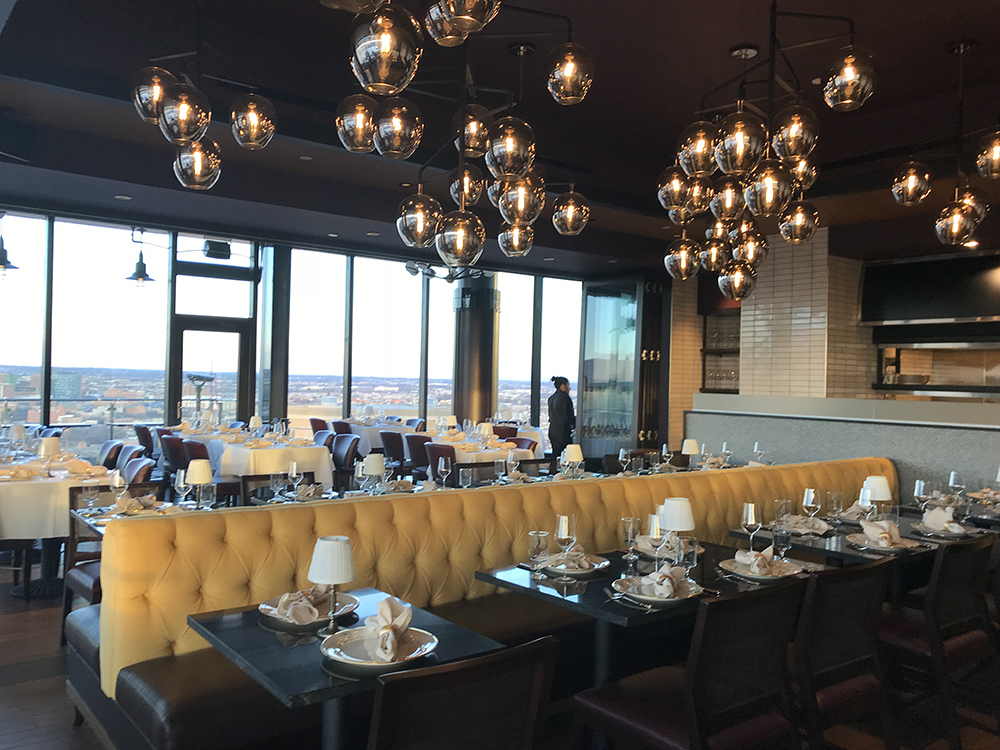 The Place for a (Dining) Room with a View
Harbor East | 400 International Dr.
At Bygone, no attention to detail is spared. The place drips in gold, feathers, and flowers. The backlit bar is stocked with rare elixirs, while the dining room—all velvet and floor-to-ceiling glass—sparkles and soars. With your head in the clouds (almost literally, from the 29th floor of the Four Seasons), the whole experience can feel a bit dizzying, but that only adds to the fun. Picture this: On one visit, a dollop of lobster salad on tomato focaccia amuse bouche wows and complimentary bubbly arrives at the table, followed by a plate of Dover sole artfully deboned tableside then smothered in smoked mussels and succulent prawns. A paper doily (remember those?) even gets placed under the ice-cream sundae, and chocolate truffles arrive with every bill. All these little touches add up to something big.
Must-Try:
Not all food has to be cooked to be deeply delicious. Case in point: The wagyu carpaccio.
Dining Tip
/ Go on a Tuesday
The third day of the week is when fresh products such as seafood and produce often arrive.
The Place Where Food Equals Art
Harbor East | 1000 Lancaster St.
The face of Harbor East has certainly changed in the 23 years since perennially James Beard Award-nominated chef Cindy Wolf and her business partner, Tony Foreman, opened this Harbor East jewel. Thankfully, Charleston stands the test of time. Tables are set with bouquets of red roses, French porcelain, and glistening glassware. Service is utterly immaculate. Presentation is cinematic. Dishes like a luxe lobster curry soup, a tangy artichoke and saffron risotto with arugula oil, and pan-roasted sea scallops atop tiny hills of saffron potato purée are made with purpose and precision. The wine list, too, is full of exceptional finds. There's a reverence in the dining room that borders on religion here, and for good reason—this is fine dining at its finest.
Must-Try:
While the prix-fixe menu rotates, thankfully Wolf's irresistible shrimp and grits is a constant.
---
The Place for Cassoulet, Pâté, and Other Francophile Forms of Fabulousness
Downtown | 206 E. Redwood St.
It was love at first whiff from the moment we walked into Steve Monnier's charming ode to the cuisine of his homeland, France. Just before Thanksgiving, the scent of smoking turkey legs wafted from the open kitchen into the well-appointed dining room. They weren't on the menu that night, but everything we ordered was sublime. Escargot maintained their earthy flavor, while garlic and herb butter added richness. Each individual element shined in the cassoulet Toulousain, a bowl of smoked sausage, pork belly, duck leg, and pork shank over a bed of tarbais beans. Coupled with outstanding service and a lovely atmosphere, Monnier has done his country proud.
Must-Try:
The fish and shiitake mushrooms in the maquereau grillé are wonderful, but the mackerel bone broth takes the dish to another level.
---
⇓ Article continues below ⇓
---
The Place for Oenophiles
Harbor East | 822 Lancaster St.
Half-Price Wine Night—why do so many people do it wrong? Know that you're not coming out ahead by ordering that $30 bottle. Not when you can indulge in Tony Foreman's stunning collection of Italy's best producers for half-off every Tuesday at Cinghiale's wine bar. House-made pastas like potato gnocchi with black truffles or anolini stuffed with duck and foie gras draw us in, while mains like grilled duck breast and roasted squab knock us out. Peruse the charcuterie station before you're seated at your table. You'll find an abundance of imported meats, cheeses, and other flourishes that will be hard to resist.
Must-Try:
Don't believe in ordering chicken in a restaurant? You'll change your mind after one bite of the chicken saltimbocca, a juicy breast wrapped in prosciutto on a bed of creamy polenta with Fresno chili.
---
The Place That Makes You Forget Every Other Margarita You've Ever Known
Remington | 225 W. 23rd. St.
Every year we debate. Does it feel fair to call Lane Harlan and Carlos Raba's small but mighty taqueria in revitalized Remington a Best Restaurant? And every Friday (or so it seems), as we make our end-of-week pilgrimage and take a spot in that never-ending queue for the best ceviches and tacos this side of Sinaloa (plus a bar program that earned a James Beard nom), we come to the same conclusion: Sí, sí, sí. As one fan summed up on TripAdvisor, "If Frida Kahlo and Diego Rivera went on date night, they would probably go to Clavel."
Must-Try:
If you're the only person in town who has never heard of queso fundido (melted chihuahua cheese with crumbled chorizo served with house-made corn chips), this, plus the aforementioned margarita, is your order. It's a Baltimore rite of passage.
---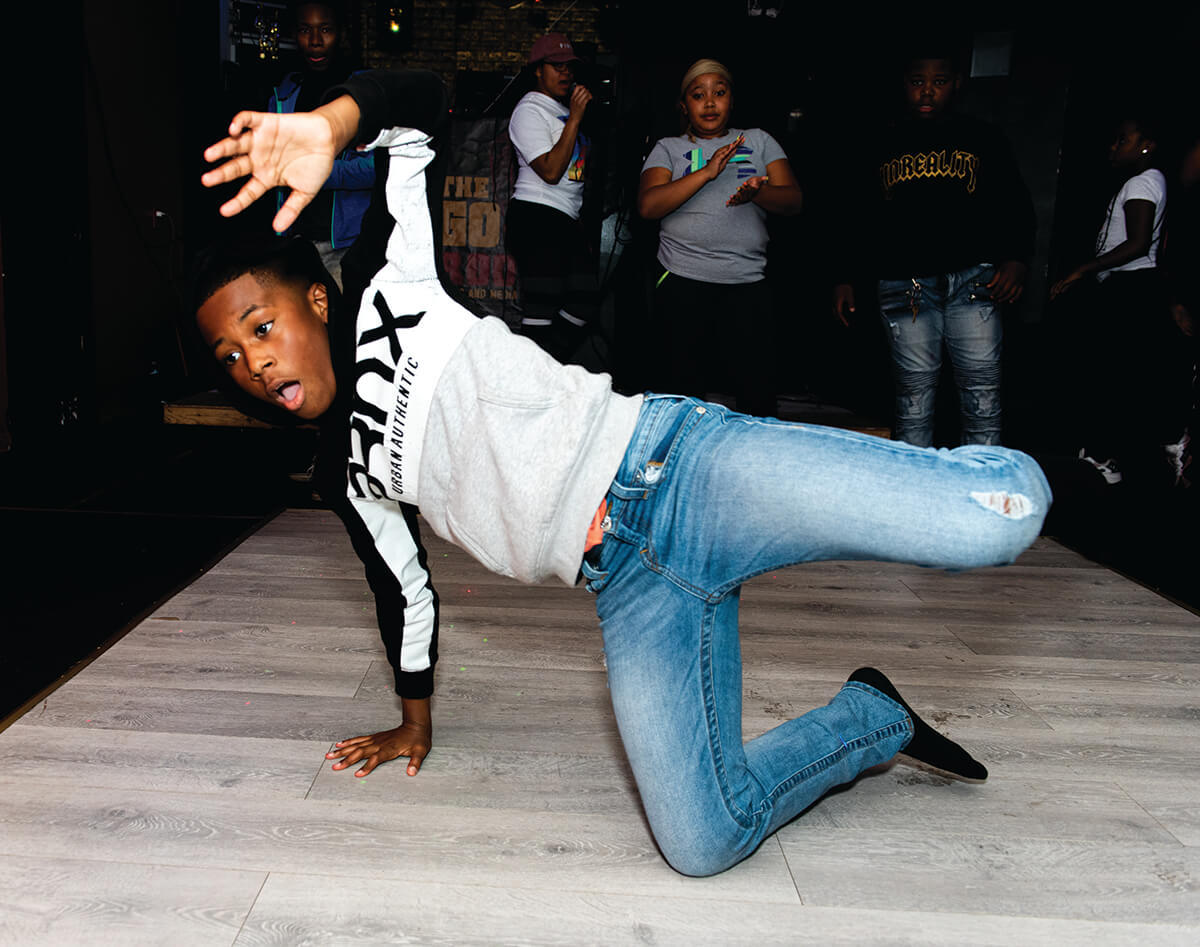 Inspiring
Baltimore

to see more, do more, and be more.
---
Find the Best in Baltimore